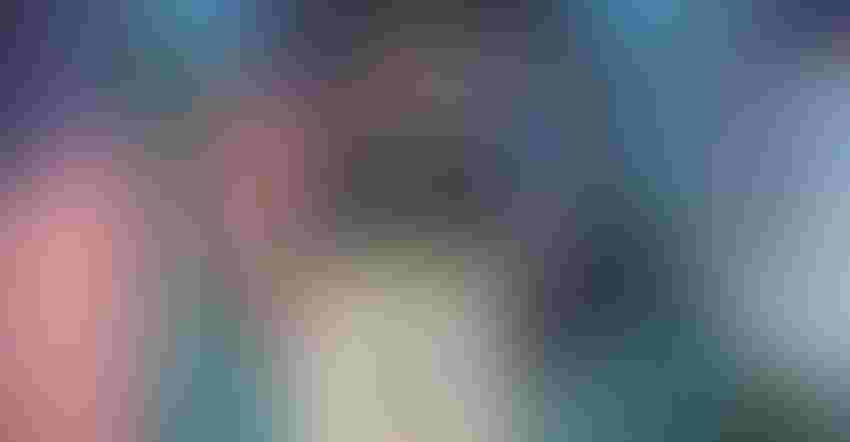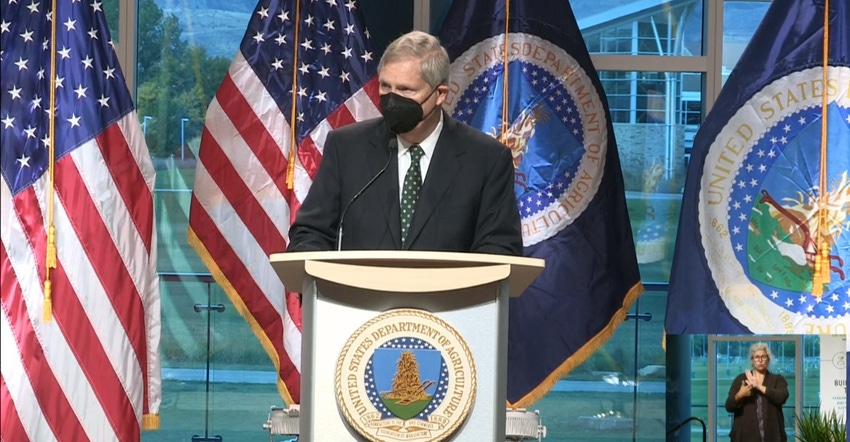 MORE MONEY FOR AG: While speaking at Colorado State University Sept. 29, Secretary of Agriculture Tom Vilsack unveiled an additional $3 billion under the CCC for ag priorities.
Through a comprehensive set of investments, USDA announced an additional $3 billion will be made available through the Commodity Credit Corporation to take action to prevent the spread of African swine fever, assist producers grappling with drought and market disruptions at ports and help school nutrition professionals obtain nutritious food for students.
Secretary of Agriculture Tom Vilsack outlined the investments during a speech Wednesday morning at Colorado State University's Salazar Center's Virtual International Symposium for Conservation Impact. Vilsack says the CCC, first established during the Dust Bowl in the 1930s, is a "powerful tool that allows USDA to be nimble, aggressive and prescriptive for challenges today and now."
The CCC, a wholly owned government corporation created in 1933, implements specific agricultural programs established by Congress and carries out activities under the CCC Charter Act. In recent years, the trade mitigation and coronavirus aid payments to farmers were allocated under CCC authorization.
"American agriculture currently faces unprecedented challenges on multiple fronts," says Vilsack. "The coronavirus pandemic has impacted every stage of our food supply chain, from commodity production through processing and delivery. Farmers, ranchers and forest landowners increasingly experience the impacts of climate change as severe storms, floods, drought and wildfire events damage their operations and impact their livelihoods. We know these challenges will continue into 2022, and others may emerge."
Drought relief and assistance
Vilsack says nearly 40% of the mainland currently faces some level of drought conditions, and more than 20% are experiencing extreme or exceptional drought conditions since April. From rising temperatures and heat waves, to early snow melt and low rainfall, record-breaking drought has affected producers across the country and has left ranchers with bare winter pastures and short on hay and pushed crop producers to adjust to running their operations with a fraction of the water usually available.
The package includes $500 million in assistance to target these challenges and enable USDA's Farm Production and Conservation agencies to deliver much needed relief and design drought resilience efforts responsive to the magnitude of this crisis. Livestock producers in the West have borne the brunt of the drought and forced to liquidate herds after spending a lifetime to build them up.
Vilsack says the CCC funds can help farmers address the high cost of feed and elevated transportation costs to obtain feed and implement measures to save and preserve water. "The goal here is for producers to stay on the farm and not sell," he explains.
Keeping ASF out of U.S.
An outbreak of African swine fever would devastate the economy and entire swine industry resulting in billions of loss production and force many farmers into bankruptcy, Vilsack says. It is critical to keep the disease out of the country, and the U.S. government needs to act aggressively alongside producers in the Dominican Republic and Haiti with recent confirmed ASF cases, he continues.
Vilsack says he's directing his staff to work with the Office of Management and Budget to transfer up to $500 million from the CCC to prevent the spread of ASF. These resources will be used for a robust expansion of monitoring, surveillance, prevention, quarantine and eradication activities through USDA's Animal and Plant Health Inspection Service.
The funds were praised by the National Pork Producers Council, which has been advocating for additional funding for federal efforts to protect America's 60,000-plus pork producers.
"To paraphrase then-Vice President Biden, this is a big freakin' deal," says Bob Acord, NPPC consultant and former administrator of APHIS. "This is unprecedented both in terms of the amount dedicated to one animal disease and of getting the funds upfront, before we have the disease in the U.S."
Port congestion
Vilsack says American agricultural producers are frustrated while carriers are leaving U.S. ports while ag products sit on the docks. "Exports are critical to those in agriculture and any disruption causes stress and concern," he notes.
Since early 2021, agriculture exporters have been facing unprecedented challenges in securing shipping container space on ocean vessels while contending with an accumulation of exorbitant detention and demurrage fees. As a result, over 70% of containers are leaving West Coast ports empty, an all-time record. An informal survey suggests that U.S. agriculture exporters' inability to perform is leading to a loss of 22% of their sales, according to a recent letter sent to President Biden from more than 70 agriculture associations.
Vilsack announced $500 million will be available to provide relief from agricultural market disruption, such as increased transportation challenges, availability and cost of certain materials, and other near-term obstacles related to the marketing and distribution of certain commodities, as identified as part of Vilsack's work as co-chair of the Biden-Harris Administration's Supply Chain Disruptions Task Force.
"U.S. dairy farmers appreciate USDA's allocation of Commodity Credit Corp. funds to alleviate the economic damage caused by recent backlogs at U.S. ports that are hindering access to critical markets overseas," says National Milk Producers Federation President and CEO Jim Mulhern. "Although dairy exports are at a record pace, it is coming at a heavy cost to our members and to exporters of U.S. dairy products. Foreign buyers are demanding even greater volumes while voicing growing concerns about U.S. reliability. We stand ready to assist the administration any way we can to help alleviate the ports crisis and aid those who have been negatively affected."
School lunch supply chain issues
The remaining half of the funds - $1.5 billion total – will be available to help schools respond to supply chain disruptions. Vilsack says food normally provided in school lunches also face significant shortages from suppliers or vendors unable to meet demand.
These funds will support procurement of agricultural commodities and enable USDA's Food and Nutrition Service and Agricultural Marketing Service to enhance the toolbox for school nutrition professionals working hard to make sure students have reliable access to healthy meals. USDA says the announcement builds on the range of work that USDA has been doing to identify ongoing issues school districts face during this difficult time and provide the resources, tools and flexibility they need to serve students healthy and nutritious meals.
"SNA greatly appreciates @USDAgov announcement of new funds for school meal purchases & the commitment to easing regulatory requirements during these challenging times." - SNA President Beth Wallace https://t.co/NTchnpUmUn

— SchoolLunch (@SchoolLunch) September 29, 2021
The School Nutrition Association welcomed the funds, as SNA President Beth Wallace says the announcement will also ease regulatory requirements during these challenging times.
Subscribe to receive top agriculture news
Be informed daily with these free e-newsletters
You May Also Like
---