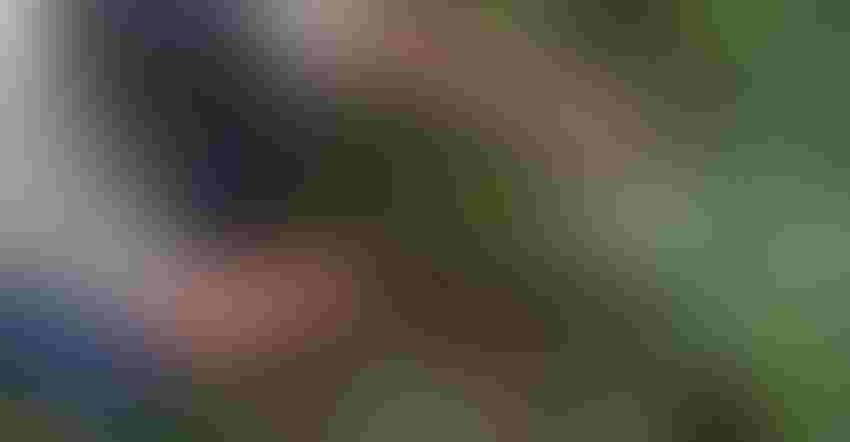 PLANT SPACING: Agronomist Steve Gauck pulls back the canopy on these later-planted soybeans to check spacing between plants along the row.
Tom J. Bechman
You've read about the value of spacing corn plants evenly within the row for years. Agronomists often talk about it at field days. University researchers even put a value on what it's worth. Bob Nielsen, longtime Purdue Extension corn specialist, concluded after doing research years ago that even spacing in corn could easily be worth 3 to 5 bushels per acre. At current corn prices, that's significant.
What about with soybeans? Is it important to space them evenly along within the row? It's not something agronomists have talked about, at least not until recently. Planting rates for soybeans are typically four to five times higher per acre than for corn. That's a lot more plants to keep track of if you're checking spacing and trying to determine if equal spacing matters. In fact, companies that make drones and drone software programs have mastered delivering corn populations from the air, but no one has mastered it for soybeans yet.
Related: Weed escapes show up in drone pictures
"We're hearing more people talk about the idea of striving for even spacing in soybeans like you aim for in corn," says Steve Gauck, a regional agronomy manager for Beck's, based near Greensburg, Ind. Beck's sponsors Soybean Watch '22. "Ideally, we would like to see soybeans spaced evenly along the row just like corn."
He notes that soybean plants can sense if they have a neighbor, and how close that neighbor might be. If two seeds are dropped almost on top of each other, the plants may react differently than if seeds are dropped an equal distance apart.
Observing differences in spacing
If soybeans are dropped too close together, that pair of plants may branch less than if they were spaced evenly with more distance between them, Gauck says.
"We pull up several plants during the season in different situations and observe how much branching occurred," he says. "Plants that are further apart from their neighbors tend to put on more branches. If plants are very close together, they're more likely to grow upward, with more distance between nodes, especially if they're planted later in the season."
Getting more nodes per plant is the name of the game if you're after high yields, Gauck explains. Soybean plants with one or more branches tend to produce more total nodes and pods per plant than those with only one main stem, he says. Plants where nodes are closer together also tend to develop more nodes and put on more total pods per plant.
"We may not be to the point where we can fine-tune soybean seed spacing precisely, but it is something worth paying more attention to in the field," Gauck says. "If we ever determine that there is a yield benefit, someone will figure out how to fine-tune planters to deliver precise spacing in soybeans."
For now, Gauck pulls back the canopy whenever he's in a field, observes spacing and makes mental notes.
Subscribe to receive top agriculture news
Be informed daily with these free e-newsletters
You May Also Like
---