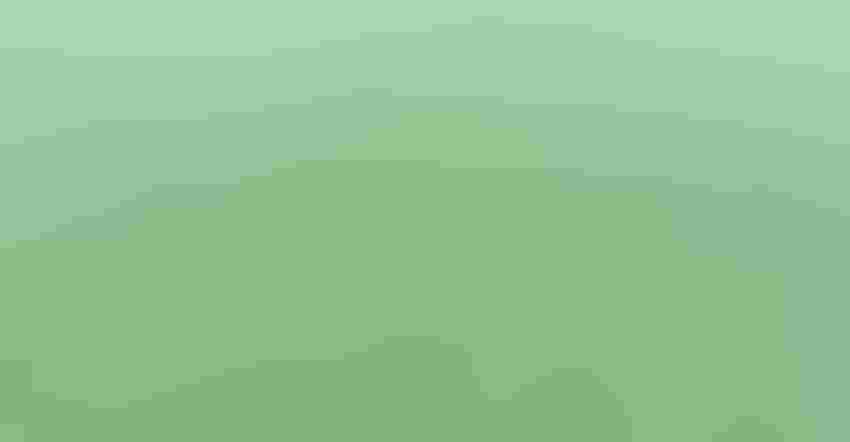 EYES IN THE SKY: This field features a large hill in the middle, which can obscure vision of the entire field from one end or the other. However, weeds can't hide in a drone image. The bright green patches are weeds.
Steve Gauck
When the soybean canopy on the camera's viewing screen starts waving, it may be time to pull the drone up to a bit higher altitude. "If rotor wash from the drone is visible, we're getting pretty close to the canopy," says Steve Gauck, a regional agronomy manager with Beck's, based near Greensburg, Ind.
Gauck brought his drone to the Soybean Watch '22 field recently to get a better picture of what was occurring over the entire field. Since this field features a large hill running across its upper portion, once soybeans are too tall to walk through easily, it's difficult to know what's happening on the far end of the field.
Related: Giant ragweeds pop out above soybean canopy
"You can find out with the drone in a matter of minutes," Gauck says. "And with updated software available today, you can have images ready to pull up and view on your tablet or computer shortly after you complete the flight."
Beck's sponsors Soybean Watch '22. The goal of the project is to follow a typical soybean field and determine what issues arise during the season. That should provide insight into what to look for in your fields, and hopefully management tips that you might be able to implement where you live.
Weed escapes
Everyone struggles with weeds, and they made their presence known in the Soybean Watch '22 field as well.
"The field looked fairly clean, with just an escaped weed here or there around the end of August," Gauck says. "There were a few scattered volunteer corn plants, and a clump or two here and there where a whole ear was left last fall. The operator elected not to add another herbicide to clean it up.
"Otherwise, there appeared to be just a rare waterhemp that didn't totally die with the last spray application, and a spindly giant ragweed here or there popping out from the canopy, seeking sunlight. It didn't appear to be anything major."
The camera on the drone flying at about 300 feet told a slightly different story. "It picked up a couple places where there were small patches of giant ragweeds popping through, not just one here and there," Gauck says.
Did he know they were giant ragweed plants immediately? No, that's why he brought the drone down closer to the canopy through manual control. "Once you get down close, it's easy to identify most weeds," he explains. "Giant ragweed has a distinctive appearance."
With the culprit identified, Gauck allowed the drone to resume its programmed flight, returning to its previous altitude.   
"What we learned was that giant ragweed is a key weed to keep an eye on in this field," Gauck says. "It's easier to keep them out when the field is in corn because there are better herbicides for residual control in corn. When the field rotates back to soybeans, giant ragweed will be a weed to target."
About the Author(s)
Subscribe to receive top agriculture news
Be informed daily with these free e-newsletters
You May Also Like
---