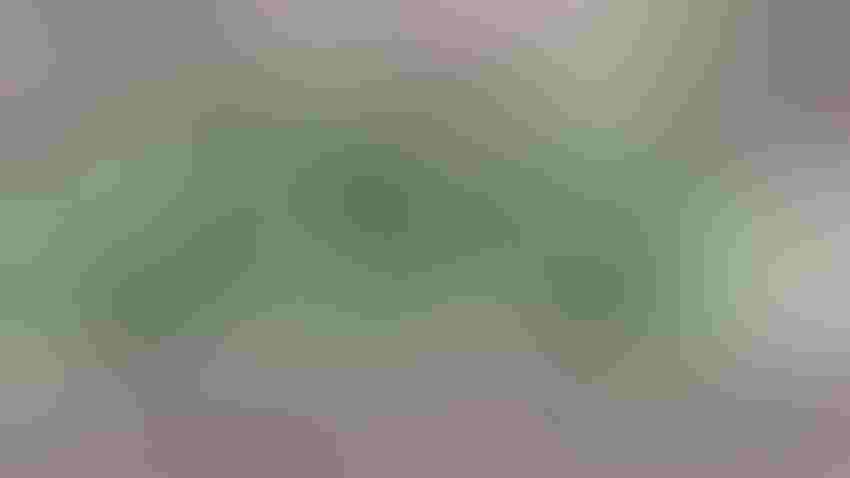 Peanut injury from Grazon P+D (picloram + 2,4-D).
Eric Prostko
At a Glance
Really need at least 2-3 years before planting peanuts after some pasture herbicides are used.
Peanut growers across the Southeast are very busy with harvesting. Thus, not many are thinking about where they might be planting peanuts in 2024. However, it is never too early to start planning ahead, especially when it comes to preventing preventable problems.
Frankly, it is an extremely rare event when someone calls and asks me to come look at a good field of peanuts. Usually, there is some type of problem such as undesirable crop injury or a gnarly weed population that requires my immediate attention. In certain situations, these problems can occur in peanut fields that were previously planted in some type of grass pasture.
One type of problem I typically see in peanut fields that were prior pastures is herbicide carryover.  Pasture herbicides such as Grazon P+D (picloram + 2,4-D) or GrazonNext (aminopyralid + 2,4-D) have relatively long soil-half-lives and will injure peanuts if planted too soon (Figure 1).
Really need at least 2-3 years before planting peanuts after these pasture herbicides are used. This is a great place to remind growers about the importance of reading/following all labeled instructions and regularly visiting with your friendly neighborhood county Extension agent!
The second type of problem I see in peanuts following pastures is perennial broadleaf weeds.  Although perennials such as dogfennel, horsenettle, goldenrod, and maypop passionflower can be managed in pastures, they cannot be effectively controlled with herbicides in peanuts.
For whatever reason, 2023 was a bad year for perennial broadleaf weeds in peanuts (at least for me).  Growers with perennial broadleaf weeds in peanut fields might want to consider fall applications of glyphosate (allowing for sufficient weed regrowth after harvesting and applying herbicides at least 2 weeks before first frost).  Also, it is probably a better idea to follow a pasture that was loaded with broadleaf perennial weeds with rotational crops where split applications of glyphosate can be applied in-crop (i.e. cotton, field corn, soybean). 
The third type of problem I occasionally observe in peanuts after pastures is related to soil fertility issues. It has been my experience after 31 years in Extension, that more often than not, soil pH/fertility issues in pastures are not addressed on a routine basis.  Peanut plants are excellent scavengers of soil nutrients but the nutrients have to be there to scavenge. 
The simplest remedy for this one is to apply lime/fertilizer prior to peanut planting according to the results of a recent soil test. Why should you listen to a weed scientist talking about soil fertility? You probably did not realize this but weed scientists are agronomists that have completed Navy SEAL-like training!      
All of the above mentioned preventable problems can be avoided by addressing soil pH/fertility issues prior to planting, not planting peanuts too early in old pasture fields that were previously treated with Grazon P+D or Grazon Next and/or not planting peanuts in fields that are laden with perennial broadleaf weeds. 
I am hopeful that you have a successful and bountiful 2023 peanut harvest season! 
As always, good weed!
Subscribe to receive top agriculture news
Be informed daily with these free e-newsletters
You May Also Like
---