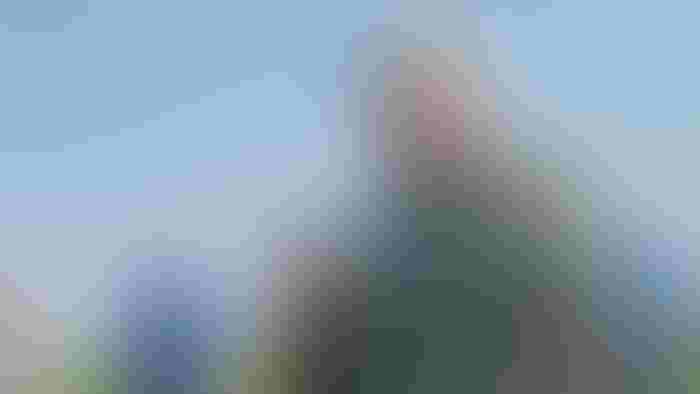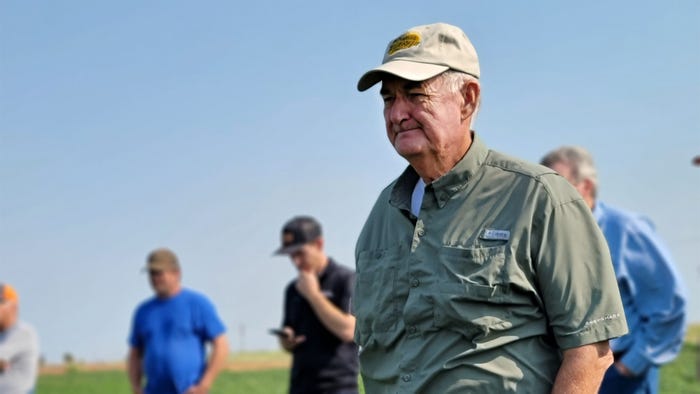 Ron Sholar retires as executive director of the Oklahoma Peanut Commission. He's not only served the peanut community but our country as well through the U.S. Army Reserves. Shelley E. Huguley
What began as a two-year commitment at Oklahoma State University for Ron and Linda Sholar evolved into 52 years of research, leadership, and service, all fueled a by love for the peanut industry and our country. They were recently honored for their service to the Oklahoma Peanut Commission (OPC) as Ron retired as executive director.
"My wife and I came to Oklahoma 52 years ago for what we thought would be a two-year stint," Ron told Farm Press at the Oklahoma Peanut EXPO. "I did my master's degree at Oklahoma State University. I went into the Army after that for my obligation. I had an opportunity to come back and be on faculty at OSU and do a Ph.D., and got my dream job as Extension peanut specialist and professor of agronomy. And we never left."
Ron was with OSU for 30 years. "We've been grateful for that opportunity," he says. "We're here on purpose for a purpose."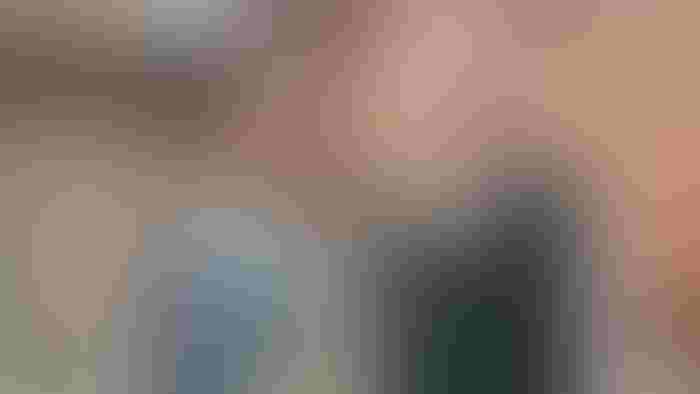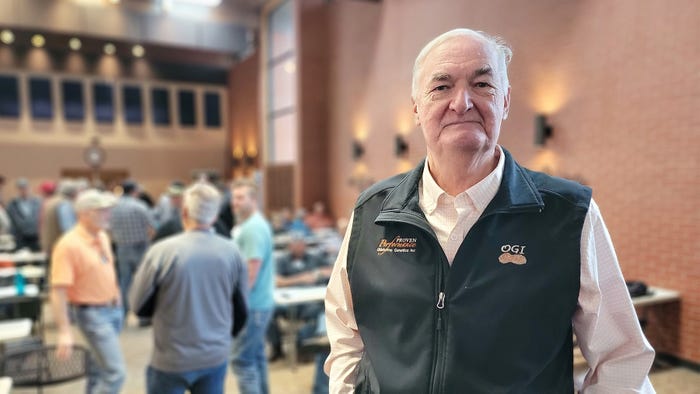 Outgoing Oklahoma Peanut Commission Executive Director Ron Sholar retired at the end of the 2023 Oklahoma Peanut EXPO. (Photo by Shelley E. Huguley)
While Ron worked in peanuts and Linda taught school, he simultaneously served in the Army Reserve for 39 years, with seven of those in fulltime service during the Iraq War. In 2003, he was promoted to Major General and later held three assignments as a Division Level Commander with his final assignment as Deputy Commanding General of the U.S. Army Reserve Command.
Upon his Army retirement in 2010, he returned to the peanut industry but this time with OPC. "It was almost like I never left," he said. "Partnering with growers again has been special. It's a different role with the peanut commission versus the university, but it's not all that different."
Linda echoes his sentiments. "Serving in the peanut industry again was like coming home," she says.
Ron's commission work has allowed him to remain involved with people, responding to their needs. "Not just responding but trying to be out in front of them, providing them with the information they need today, but also information they're going to need."
He says he's enjoyed continuing to work with growers, university researchers, and the other elements of the industry, like the shellers, the seedsmen, and the first purchasers. "It takes a village in the peanut industry, and I've enjoyed every day of this work.
"What Oklahoma's peanut producers do is important to me. I'm proud of the quality crop we grow these days," he says. "When I started, a ton to the acre was a good yield. They left that number in the dust long ago.
"All of our crop is irrigated now, and it's common for growers to make 5,000, 6,000, and even rarely, but it happens, 7,000 pounds per acre."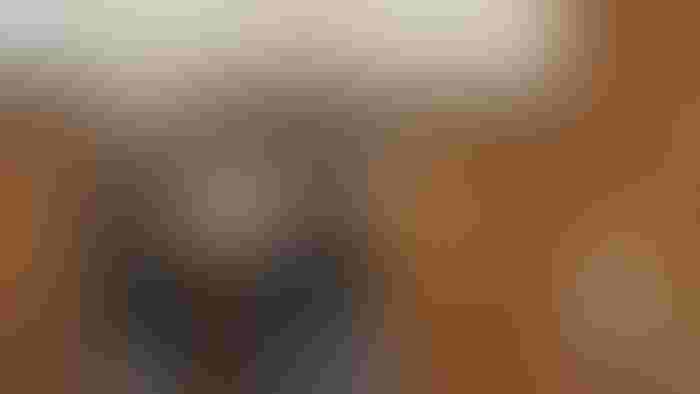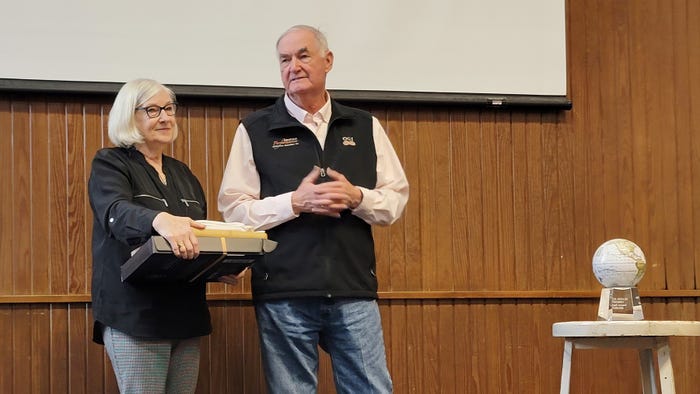 Linda and Ron Sholar receive gifts of thanks for their service to the Oklahoma Peanut Commission during the 2023 Oklahoma Peanut EXPO. (Photo by Shelley E. Huguley)
Ron also praises their commitment. "The quality of the grower, the attention to detail and their commitment is so much greater these days than 10 or 20 or 30 years ago. It has to be. Their input costs are so high and without the support of the government program, under which they operated previously, they're selling their product for a lot less, a lower price, so they have to be attentive to the details.
"Their inputs have to be meaningful. They cannot throw the kitchen sink at it and make a profit or they'll be a former peanut grower. So, I'm putting a bow on this part of my peanut career, but I never say never. I still have a lot of interest in the industry and expect to be active in one capacity or another."
Opportunities
Linda credits the peanut industry for providing some wonderful opportunities. Throughout Ron's Extension career, the Sholars also served through leadership within APRES, the American Peanut Research and Education Society. "We've been places and seen people and had more opportunities than we ever would have."
Linda praises her husband for how he's balanced his responsibilities throughout his career. "He retired from OSU just as the Iraqi war was exploding, and he felt like he was needed more in that area. But he never left his roots because when he retired from the Army, he was determined to do something in agriculture.
"He served 39 years in the Army while also working at OSU. It's been quite the journey."
Advances
As Sholar looks back over the last half-century, he notes several peanut advancements including the development of disease resistance and high oleic characteristics, which extend the shelf life of peanuts.
"That (high oleic characteristics) was a huge find based on science. It didn't happen serendipitously but based on hard work by our scientists. But to have that be the standard in the industry, some doubted early on whether that would happen, but fairly quickly, that's become routine."
He cites the increased size of the operations and "that we no longer grow dryland peanuts in this part of the country. They still do in the Southeast, where Mother Nature's a little bit better friend to them than out here. We grow all of our peanuts under irrigation, so our quality is uniformly high. That's a change."
He also notes the size of the equipment. "You don't see very many 4020 John Deeres out there anymore. They're all the John Deeres of today – very large. The 4020 would fit in the glove box now. Comfortably."
Future of Oklahoma Peanuts
Ron says he'd like to see acres increase in Oklahoma. "We're not where we were, but we're not where we're going to be. We have shellers who are interested in coming into the state.
"We tire of being the 9-1-1 supplier of the industry. We'd like to evolve again into being a more reliable, larger supplier. We're a modest size now. We'd like to grow that -- double that. And it's doable. We need other partners in the industry to make that happen. We can produce the quality crop, but we also need shellers interested in us."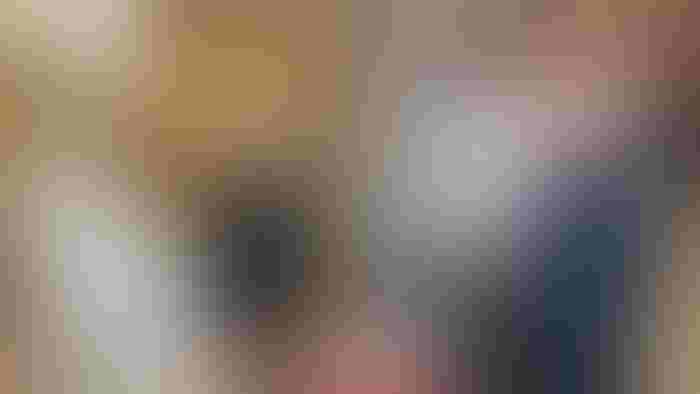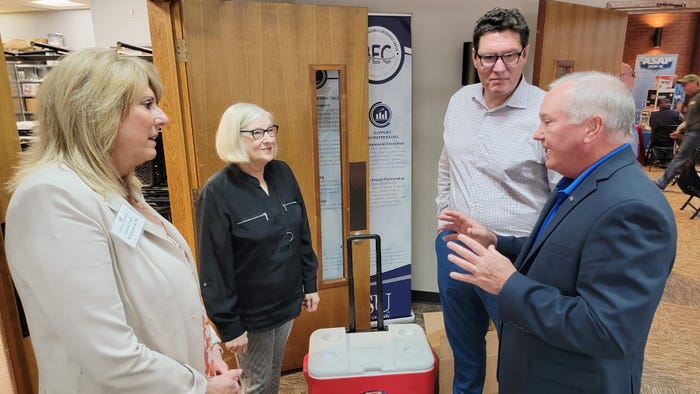 Peanut community: from left Laurie Crall and Linda Sholar, OPC, Ryan Lepicier, National Peanut Board, and Lead Researcher Marshall Lamb, USDA National Peanut Research Laboratory. (Photo by Shelley E. Huguley)
Sholar expects about 17,000 acres of peanuts to be planted in Oklahoma this year. "There's a sheller coming into the state that could grow that by 50% over time. We'd like double that and be at 30,000 acres, even 40,000 acres someday."
As Ron made his final sentiments at the Oklahoma Peanut EXPO, he thanked his wife, the crowd and the commission. "It's a special organization. It's a family organization. Those are not hollow words," he says.
"I'm grateful to have had this particular decade to work with growers in the industry. It was an unexpected journey after retiring from OSU but I'm grateful for it. Thank you and we'll see you on the turnrow."
David Nowlin will replace Sholar as the commission's fourth executive director. Take a look at this gallery to see photos from the 2023 Oklahoma Peanut EXPO.
Subscribe to receive top agriculture news
Be informed daily with these free e-newsletters
You May Also Like
---