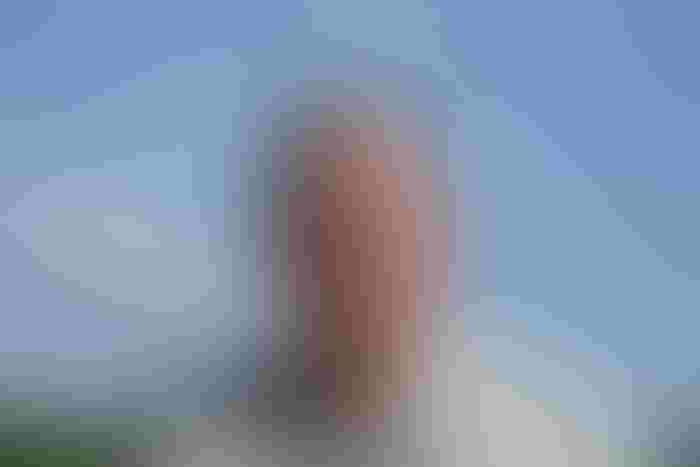 Dan West farms in Monroe County, Miss., and is the 2021 Peanut Efficiency Award winner from the Midsouth.Brent Murphree
When the 2021 Peanut Efficiency Award winner for the Midsouth, Dan West, Caledonia, Miss., grew his first 200 acres of peanuts. He was looking for a rotation crop for cotton.
"Our farm had been in continuous cotton for way too long," he said. "We understood we needed to change."
Corn had been the preferred rotation crop for West's cotton, but because of limited irrigation and the sandy loam soil, it had a tendency to be drouthy, which put the crop high risk if conditions weren't right.
After the planting quota was lifted for peanuts in the early 2000s, West spent a great deal of time with his crop consultant Bert Faulkner talking to peanut farmers and other consultants, obtaining as much information as possible.
In 2005 he jumped into the market and planted 200 acres of the Georgia Green peanut variety. That season he ended up with an average yield of 5,100 pounds per acre.
"From there, the process began to become peanut growers," West said. Sixteen years later, he rotates cotton, corn and soybeans around his peanuts.
"Peanuts have helped provide our farm with stability and has helped us stay viable during these past years of depressed commodity prices," he said.
Soil improvement
In addition to the stability peanuts provide his operation, West notes that the crop improves his soil, resulting in higher yields for the crops that follow his peanuts, which allows for greater profits on those other crops.
West, who has been farming for 51 years, has been working the past three with his grandson, Pallas Fair, 24, who graduated from Mississippi State University with an ag business degree.
"He has been a tremendous help with new technology," West said as he spoke with Delta Farm Press at the edge of a field while his 2021 peanut crop was being planted.
Fair was driving the planter and using an application on his tablet to manage the new planter during the visit. They plant on 36-inch, twin rows at about 160 pounds of seed per acre using a fungicide to get a start on preventing early plant diseases.
"One thing we do is plant a little higher rate of seed," said West. "We feel it helps our yield."
In 2020 West planted 750 acres of peanuts. He said that this year he had intended to plant the same number of acres, but because of cool, wet weather they didn't start planting until May 17.
"We are on plan number two," he said. "We may not reach 750 acres because we had a late start. We were through planting by this time last year."
He plants all of his acres with the Georgia-06G variety. It is a high-yielding, large-seeded, runner-type peanut variety, with a high level of resistance to the spotted wilt disease caused by tomato spotted wilt virus.
"The variety has been a high yielder for us," he said. "It's been a good deal. Good grades. Excellent grades."
He noted that a 72 is the base grade for peanuts and that his grades have been averaging in the high 70s.
West points to a number of other things that have helped increase his yields. The first is moving from 38-inch single row planting to 36-inch twin row.
"The growth is quicker to shade the middle of the twin rows," he said. "It conserves that moisture. If you don't cover that row it gets hot and dry. It makes a tremendous difference when you've got that vine all the way across."
He credits the two previous Peanut Efficiency Award winners, Joe Morgan and Van Hensarling, with giving him good advice.
"They said, 'If your growing peanuts, you need to go to twin rows,'" he said. "It's some of the best advice I received."
Strip tillage was another yield advantage he noted. Strip tillage helps retain moisture and nutrients in the soil.
Poultry litter
He has added poultry litter to his fertilizer program.
"It's a good amendment for the soil, if you can get it," he said. "It's very high in phosphate and a lot of minor stuff, but you have to watch potassium. Sometimes you have to add potassium or potash."
Poultry litter is cheaper than regular fertilizer, he noted.
"Because of our excessive vine growth, we are experimenting with a growth regulator," West said. The PGR helps hold back the vegetative growth of the plant, allowing it to focus on the development of the peanuts and helping with yield, grade and harvest efficiency.
He also notes that adding combine and digging capacity at harvest has allowed him to have a more timely harvest, preserving the quality of his crop.
Moving to newer and better fungicide materials have helped his yield, as well. It was more good advice he received from other peanut producers.
"The growers that I relied on told me not to skimp on fungicide – to make sure we had a good fungicide program," he said. "That was some of the best advice I got."
Joe Morgan says that preventative chemistries now used in peanuts have improved a great deal in the last few years. "The fungicides that we are now using are much better than what we had when I started in 1991."
The two major diseases West has to contend with are southern stem rot or white mold and leaf spot.
As noted he starts at planting time with a fungicide, Abound, to help foster good growth at planting. Typically he follows that with an application of Elatus, a broad-spectrum fungicide at day 40. At 70, 100 and 115 days he applies combinations of Elatus, Bravo or Revytek.
Weed control
Because West strip tills his peanuts, he uses roundup and 2,4-D for burn down before planting and a combination of Valor and Dual for preemergent weed control. For in season control he uses tank mixes of Select and Butyrac or Cadre and Butyrac, which gives him good results in his sandy loam soil.
His insecticide use is usually limited to a hit of imidacloprid a planting time.
As a result, his average yields have been roughly 5,500 pounds per acre over the past few crops on nonirrigated acres.
Brian Atkins, general manager of Birdsong Peanuts in Monroe County, Miss., where West sells his peanuts says that West is an excellent peanut producer.
"He's just a tremendous grower," Atkin said. "He is a pioneer in peanuts in north Mississippi and really the state of Mississippi for sure. He was the innovator that started to grow them here and then showed other farmers that we could grow peanuts in this area."
Morgan agrees, "He's a fantastic person, a good person and a good farmer."
Atkins said that West always does a good job regardless of the crop he's growing. He is a conservationist and takes good care of his land. He is also well respected in the area.
"He brought peanuts to this area and other people followed his lead," Atkins said. "There was a crop that proved to be profitable. If Dan hadn't had the vision to try and do something new, we wouldn't have had another crop to grow here."
West says his goal for his dryland peanuts is three tons per acre.
"We haven't gotten there yet, but that's our goal," he said. "With our stable yields and growing grades, peanuts have been a rewarding experience."
Subscribe to receive top agriculture news
Be informed daily with these free e-newsletters
You May Also Like
---