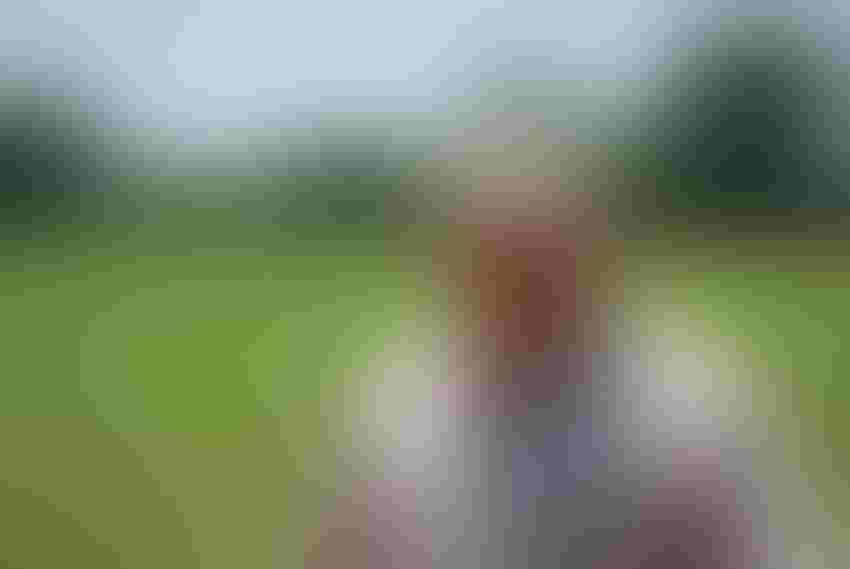 Last year, Graham Ginn grew 286 acres of irrigated peanuts and 80 acres of nonirrigated and averaged 5,471 pounds per acre on irrigated and 4,271 pounds per acre on nonirrigated. In all, Ginn grows about 1,100 acres of corn, peanuts and cotton.
Brad Haire
Graham Ginn wanted his crop planted early this year, mainly due to what happened last year.
The last week of May, Ginn's corn was well on its way to tasseling. Two days prior, he finished replanting the last of his cotton. The peanut crop had been in the ground about three weeks.
The Georgia-06G twin-row peanut field in Calhoun County, Georgia, located in the southwest corner of the state should have been much closer to overlapping, but a three-week dry spell coupled with record-setting, 100-degree-plus days hampered growth on everything. Center pivots in the distance pumped hard over corn.
Ginn, 39, is married to Julie. Their son Jackson is 14 and daughter Anna Grace is 12. Julie manages the business side of things. Jackson helps his dad, including planting last year and this year. The Ginn family farm is the 2019 Farm Press Peanut Efficiency Award winner for the lower Southeast.
It's hard to talk about agriculture or much of anything in this part of Georgia without a storm called Michael forcing its way into the conversation. It entered the Florida Panhandle as a Category 5 cluster of destruction Oct. 9 and imprinted itself on life around here. But let's try not to talk about that storm. Let's talk about Ginn's peanuts.
PRODUCTION
Last year, Ginn grew 286 acres of irrigated peanuts and 80 acres of nonirrigated and averaged 5,471 pounds per acre on irrigated and 4,271 pounds per acre on nonirrigated. In all, Ginn grows about 1,100 acres of corn, peanuts and cotton.
He was about half finished harvesting when the hurricane hit. The storm, coupled with excessive rain after it, cut his yields, as it did for most every other grower in the region. (See, there you go. We could only go three sentences farther without that storm meddling back into the story. Let's try again not to talk about it.)
In fall, he gets peanut land ready, either following cotton or corn on a what recently has been a two-year rotation, but he is working to get that rotation back to three years between peanut crops.
His cover crop consists of wheat and rye with the occasional radish on some acres. He strip tills his corn and cotton. His peanuts are conventional tilled. He is in the Natural Resources Conservation Service, Conservation Stewardship Program and maintains good field borders to reduce runoff.
"We do all this to reduce labor, fuel and equipment costs, and it helps make the red dirt we have a bit more loamy to work for peanuts behind the corn and cotton," he said, adding that he vertically tills corn and cotton stalks to breakdown in the soil, gaining some organic matter while reducing compaction.
He uses five-acre grids for soil sampling and applies variable-rate lime. He spreads with a Newton Crouch buggy tied into a Trimble FMX system. Based on samples, he applies extra phosphorus as needed for the coming season. He'll use a bottom plow to turn the peanut soil at about 12 inches deep.
He smooths the land out with a cultivator to break up clods. Before planting, he puts out Sonalan, or, if a field has issue with grasses, Dual Magnum. He uses a Monosem planter and shoots for seven seed per foot with a twin-row pattern, or around 165 pounds of seed per acre. In furrow, he places Abound fungicide, Velum Total and his inoculant, and additional Imidacloprid if planting before May 10, which he did this year, to offset thrips risk. 
Behind the planter, he applies Valor for pigweed control. Once peanuts are 45 days emerged, he'll go in with Cadre, Dual Magnum and 2,4-DB. The fungicide program starts at 45 days, which will include six to seven sprays during the season. He scouts for insects. Alfalfa hoppers give him trouble, and he does get worm problems from time to time, too. For insects, he uses chlorpyrifos, Lambda and Acephate 90 WDG.
RED-DIRT PICKING
He uses soil sensors in some fields and AgSense to pull that information. For irrigation scheduling, he uses Irrigator Pro, his consultant and, at times, gut instincts to make sure his irrigated peanuts do not stress from lack of water and to keep an active uptake of his systemic products. He uses a RoGator sprayer with swath control. He uses an app to track inversions on his field as needed, he said, which is useful information whether you apply a dicamba product or not.
Ginn shoots for harvest at 148 days but avoids inverting his irrigated peanuts immediately following a rain. It's best to show patience and let that red dirt dry out, and then get aggressive.
"In that situation if we can, we'll take the irrigation system and go back over and put around two-tenths (of an inch of water) and jump in there as quickly as we can and plow them up with the least amount of dirt as possible, which can be a problem with this red dirt," Ginn said.
He uses Trimble auto navigation with RTK technology to plant and to harvest. He uses both Kelly Manufacturing and Amadas harvesters. He likes to start picking when the peanuts are at 18 percent moisture, "and by the time we are finished we are close to field dry. We don't like to be field dry because then you run into shelling issues," he said.
'DON'T FARM'
Ginn learned how to farm from his daddy, Mike, who was repeatedly over the years the top peanut yielding farmer in the county. He was given many a plaque for it, too. But Mike did about all he could to dissuade Ginn from becoming a farmer. He knew the risk. The Ginns have farmed in the area for four generations. Mike learned to farm from his father Lige, and mother, Annie Laura.
Ginn's mother, Ginger, is a lifelong educator. Ginn's parents wanted him to get the best education he could and look off the farm for professional security. He did for awhile and received his master's degree in education administration and worked for several ag industry companies.
But five years ago, Ginn left industry work and became a fulltime farmer. He had the chance to start renting and working land from his father-in-law, Tom Jackson, and from others.
Hurricane Michael was the sort of thing his daddy warned about. He was also aware of the multi-season droughts farmers could do little about three decades ago. Technology, irrigation, better varieties, better practices, better data, using data to better place and use inputs couldn't stop a Category 5 hurricane from entering the Florida Panhandle Oct. 8 and push into your life. (There, we had to talk about it again.)
Eight months after the storm hit, Ginn and his family were still not back in their home, which was damaged by Michael. The home was badly damaged, but the delay in getting things fixed up and them back in it were related to insurance adjuster decisions about drying the house out and access to on-going quality contracting services, which were still in short supply in the area.
"But this year, I guess you could say most everyone around here is gun shy considering what we had last year," he said, which included wet weather early in the season which delayed planting and put the crops late.
"You can break a dog of being gun shy, but it takes time," he said, adding that faith, family, friends (and a good relationship with a good lender) has started to put things back in perspective and on track in south Georgia agriculture, despite the lack of any direct federal disaster aid coming into the region as spring 2019 turned into the summer growing season.
Subscribe to receive top agriculture news
Be informed daily with these free e-newsletters
You May Also Like
---