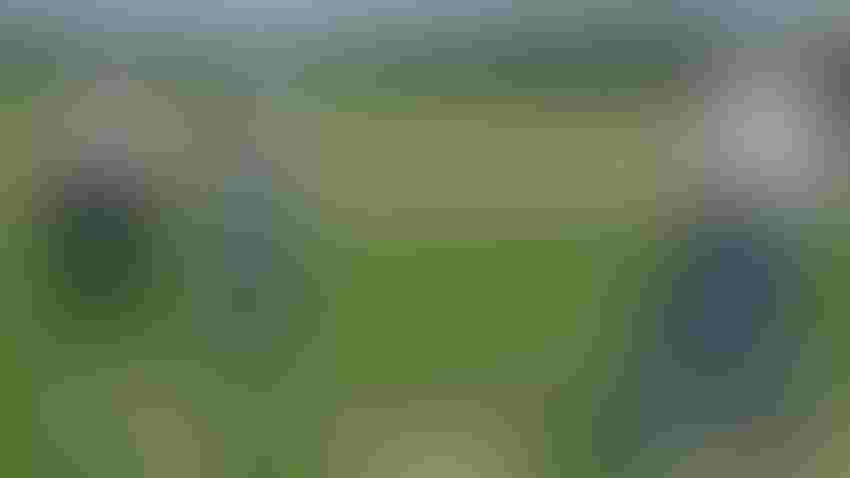 Hail that fell in mid-June destroyed this peanut field on Van Hensarling's southern Mississippi farm. Mississippi State Extension Peanut Specialist Brendan Zurweller and the one of the first Extension agents for peanuts, Malcolm Broome take a close look at the replanted crop. Broome is now executive director of the Mississippi Peanut Growers Association.
Pam Caraway
Brad Hensarling remembers when his dad was paid for the farm's peanut quota under the federal buyout program in 2002. 
"I got a shotgun," the younger Hensarling said. Van Hensarling had told his sons, Brad and Jared, that he'd buy each of them a shotgun when he sold the peanut quota. "We got Benellis," Brad Hensarling recalled. "We didn't let him off light." 
Hensarling chuckled over his son's recollection. "They got more than a shotgun out of it," he said. 
Indeed.  
Hensarling first leased and bought peanut quota in 1997. It was a deliberate move, but one borne out of desperation. 
"I'm not sure how I did it," Hensarling said, remembering poor soybean production and unprofitable years in the 1990s. "It took a real understanding banker. Buying cotton and peanut equipment and buying and selling quota. And having no collateral to speak of." 
By 1999, he amassed enough quota to produce 2.5 million pounds at quota price. He had no interest in producing more than that; the price for additionals, or peanuts sold outside of quota, wasn't profitable. Three years later the federal government enacted the peanut quota buyout program under Title 1 of the Farm Security and Rural Investment Act of 2002. Some farmers moved away from peanuts. Hensarling stayed. With limited agricultural land available, his crop choices then and still today are few. In a peanut/cotton rotation, Hensarling is most likely to make a profit in the legume years and the peanut crop helps increase the yield for cotton, which is strictly a rotation crop. 
Managing for high yield 
Instead, Hensarling doubled down on his faith in peanuts. He is a founding member of the Mississippi Peanut Promotion Board and has served two stretches on the Mississippi Peanut Growers Association Board. 
He also commits to supporting his peanut crop each year. "We use a premium management program," Hensarling said. "We stay on a tight spray system. We don't short-change it at all." 
In 1999, Hensarling produced 2.5 million pounds of quota peanuts on 950 acres. At that time he told Delta Farm Press that he only intended to grow enough peanuts to sell at quota price. He said: "I do not care to expand, only to do a better job of increasing yields per acre and decreasing the non-payoff inputs." 
That box is checked. 
Hensarling is growing more than twice that many peanuts on 940 acres. In the early years, Hensarling averaged 2,000-3,000 lb./A. Today, his five-year average tops 7,000 lb./A. 
Peanut prices aren't as high as the quota price was, but neither are prices as low as the additional price was under that system. Though the quota program provided market stability, he prefers operating in today's peanut market. 
"Under the quota system you had no control," Hensarling said. "You either bought quota or the government increased the amount of quota, depending on the market." 
While the base system now in place is a pain point for many, Hensarling sees that long-ago decision to add peanuts to the operation as a saving grace. 
"I don't know whether we could be farming today if it wasn't for peanuts," Hensarling said. 
Peanuts demand commitment 
Hensarling is one of a small group of farmers that Malcolm Broome calls "sincere about it" in regard to adding peanuts to their acreage. 
Mississippi peanut acreage is about the same today as it was when the quota system was in place: about 20,000 acres. It rose to about 48,000 acres in the years following the buyout but dropped in 2014 after generic base was eliminated from the program. 
"It was just too intense of a management commitment for them to stick with it," said Malcolm Broome, executive director of the Mississippi Peanut Growers Association. "They used the base issue as their excuse to get out." 
Broome, like many others, suspects base will again be an issue in the next Farm Bill. 
Nearer to Hensarling's heart is increasing the target price. 
"With the price of production, we've got some catching up to do on the target price," Hensarling said. 
Subscribe to receive top agriculture news
Be informed daily with these free e-newsletters
You May Also Like
---