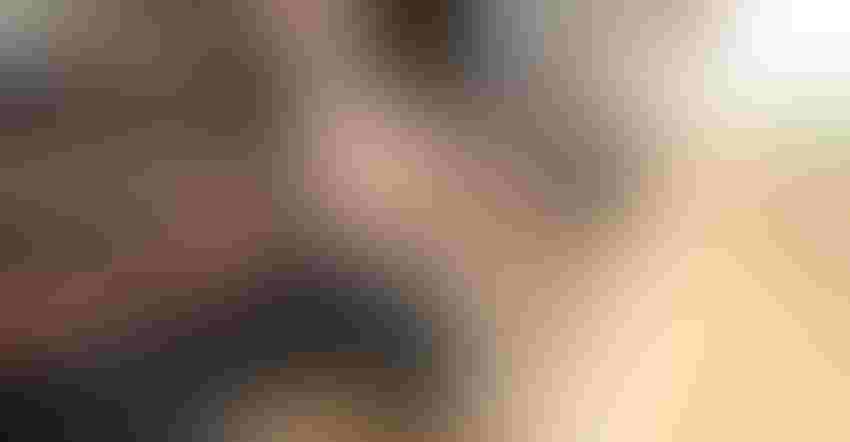 WINDY: Monoslope barns feature a feeding area upfront and a raised bed of compost in the back. The compost gets dried off by gusts of wind, funneled by a slope in the roof.
At Dean Bacon and Beef in LeRoy, Ill., cow comfort is the priority. That's why the farm converted its old mud lots to pasture and invested in two new barns in 2015: a finishing lot and a cow-calf monoslope barn.
That investment is paying off. On a 95-degree-F day at the beginning of July, the cattle herd was quiet, calm and relaxed, thanks to optimal airflow through the precisely engineered structures. The finishing lot has the capacity for 600 head, while the cow-calf lot holds 180 bred cows or pairs.
"They're cooler in there than we are out here," says cattleman Derek Dean as he talks outside the cow-calf lot. He manages the cattle operation with father, Rick Dean. It's part of a larger grain operation with family members Randy and Brack Dean, as well as Rick's wife, Barb, and Randy's wife, Chris.
Built by Longhorn Cattle and Swine Confinement Systems, the cow-calf monoslope barn stays open to the elements year-round. It's 450 feet long and 62 feet wide. Along with a finishing building that's 300 by 47 feet, the cow-calf barn is angled toward the south so strong winds gust through and dry out the beds of composting manure, corncobs and stalk bales.
"The more airflow you've got, the drier it is. The drier it is, the more comfortable they are," Derek says, noting the 27-foot-tall roof on the south side angles down to 17 feet on the north end in the cow-calf barn, creating better airflow.
They scrape the concrete alley where cattle feed every week, but leave the rest of the space to be cleared out once a year, so the area builds up and creates a comfortable yet dry mat. Energy from the composting effect under the mat helps keep calves warm through Illinois winters.
The sun shoots rays into the barn in the winter, and barely peeks in during the summer, adding to cow comfort.
"Building these was quite a process, but well worth it — especially this spring with all the rain and cold weather," Rick says, adding that they have comfortable rubber mats and a large fan in their feedlot barn.

FAMILY: Rick (left) and Derek Dean operate Dean Bacon and Beef in LeRoy, Ill.
The Deans also built a commodity barn with four bays in 2015. With this structure, they're able to buy feed in bulk when it's being sold at cheaper prices and store it away from rain.
"We're using our own grain and adding nutrition from the ethanol industry — [dried distillers grains], gluten meal, germ meal and a syrup product," Rick says, referring to corn condensed distillers solubles. "The ethanol byproducts really enhance our rations."
When asked how their efforts on cow comfort and nutrition are panning out, Derek concludes, "We're getting really good rate of gains. We're putting 3.5 pounds on a day from the time they're weaned to the time they go out. They are marketed around 1,400 pounds."
Subscribe to receive top agriculture news
Be informed daily with these free e-newsletters
You May Also Like
---