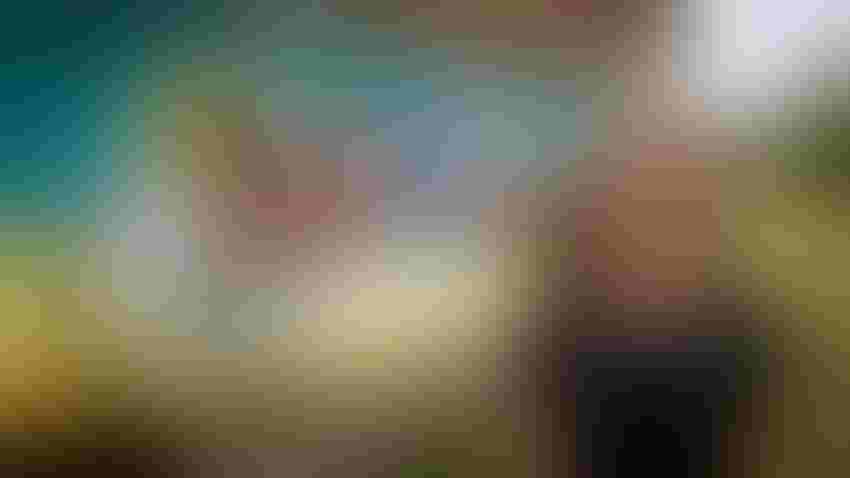 STATE FAIR MANAGER: Rebecca Clark's farm background, journalism experience and knowledge as a mother of four bring unique experience to her role as Illinois State Fair manager.
Betty Haynes
Illinois State Fair Manager Rebecca Clark says that if her younger self could see where she is now, she'd be surprised.
"I've wanted to be a journalist for as long as I can remember," Clark says. "I would put on fake newscasts in my grandparents' living room with Kermit the Frog as reporter and Miss Piggy as co-anchor."
Clark was raised on a Centennial Farm in Jasper County, Ill., where her family grew corn and soybeans. She went to Effingham High School and then Lake Land College, and later graduated with a journalism degree from Southern Illinois University Edwardsville.
Right out of college Clark worked at news stations across the U.S. before coming home to central Illinois, where she spent 10 years at WICS in Springfield. After starting a family, Clark became the public information officer for the Illinois Department of Agriculture. She then led communications for the Illinois Emergency Management Agency through Illinois' longest flood and the COVID-19 pandemic.
When the Illinois State Fair manager position opened up in 2021, Clark says she jumped at the chance to help promote the state's No. 1 industry.
"I'm sure that my dad is looking down on me very happy right now," explains Clark, whose father died in 2012. "With my background in agriculture on the family farm, things have really come full circle."
Clark says that IDOA has a family environment, and fairs have always been part of her own family's tradition. She says some of her favorite memories are the smells, sights, sounds and tastes of her local county fairs. Clark recalls placing bets on harness racing and the demolition derbies with her grandfather, all in good fun. The winner would receive a Pepsi, and no trip to the fair was complete without a box of saltwater taffy.
2017 was also a memorable state fair for Clark, as she was 6 months pregnant with triplets.
"There was never a better excuse to eat anything you wanted from the fairgrounds," she says. "I had more corn dogs and apple cider slushies than I can count."
But few fairs were more exciting than last year's, where Clark had the thrill of her first Illinois State Fair as manager. Clark hopes this year will hold some of the best memories yet, as programming and planning unfolds for the 2023 Illinois State Fair.
She took some time from the Illinois State Fairgrounds in Springfield to talk with Prairie Farmer.
What are you most excited for during the 2023 Illinois State Fair? I'm really excited about monster trucks, the Multi-Purpose Arena coming back on line, and to provide entertainment on the west side of the fairgrounds. I'm also excited to be able to go to Master Showmanship. I really enjoy everything about that competition and everything it represents — how you have to win at the county level to be able to compete at the state fair. We did a lot of work in the off-season to move the schedule around so it's a little bit kinder on exhibitors.
What achievement are you most proud of? We recently announced the Sensory Friendly Fair Initiative, where we're trying to make improvements to the fairgrounds for those with special needs. I went to a couple seminars where I listened to stories of kids who have tried for years to come to the fair. For those with autism or sensory processing disorders, the sounds and the smells can be too overwhelming to even get out of the parking lot. I'm proud to expand our inclusivity to make sure that everyone who comes to the fair can have a good time.
How do you think your experience as a journalist helps what you do now? My strong suit with the fair is marketing. I'm kind of the target demographic of the average fairgoer. I am the mom with four kids who is looking for entertainment options, or little getaways for the family. I think that helps when we're planning the fair to know what fairgoers want. What will bring them to the Illinois State Fair? From the journalism perspective, I'm able to effectively communicate our plans to the media.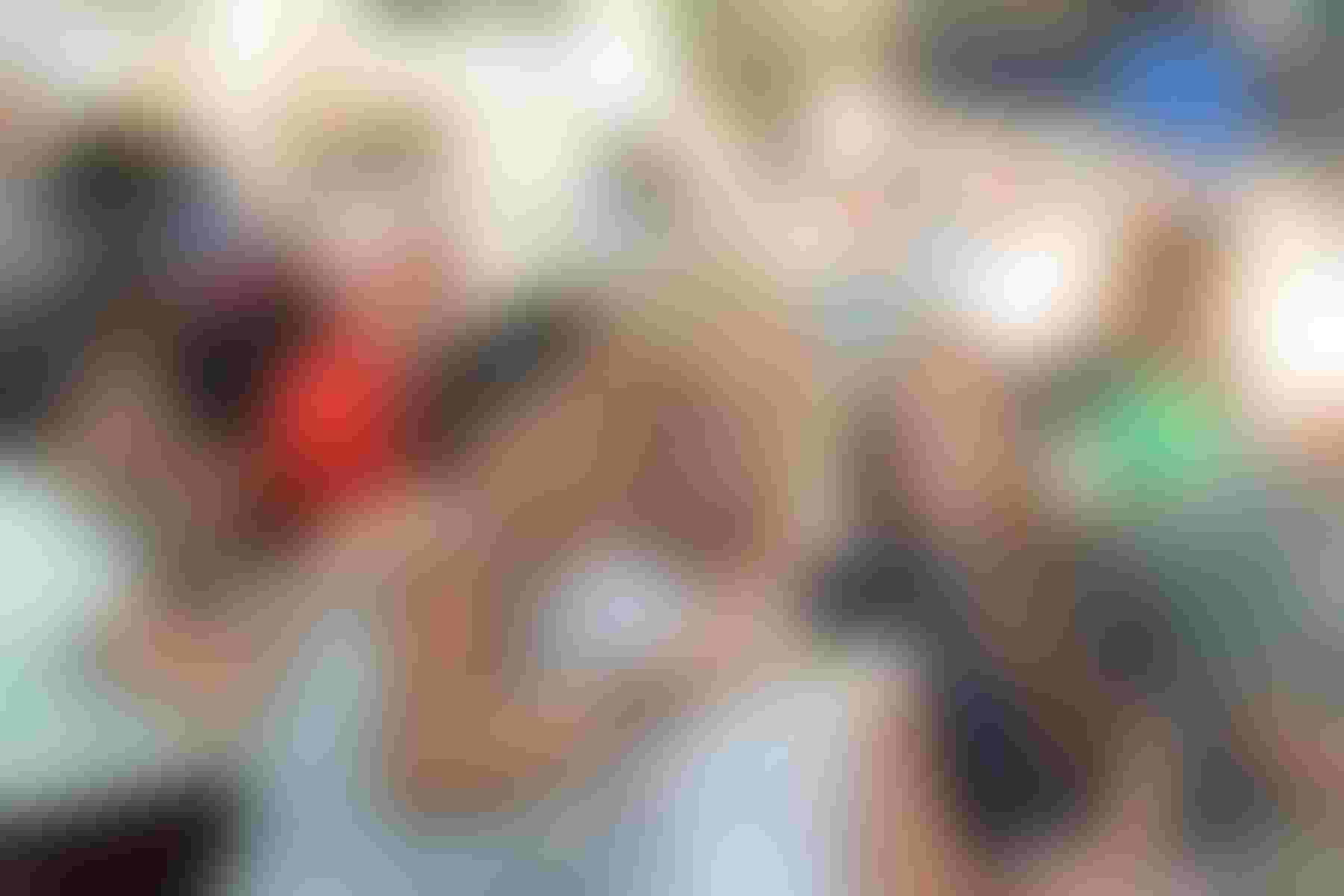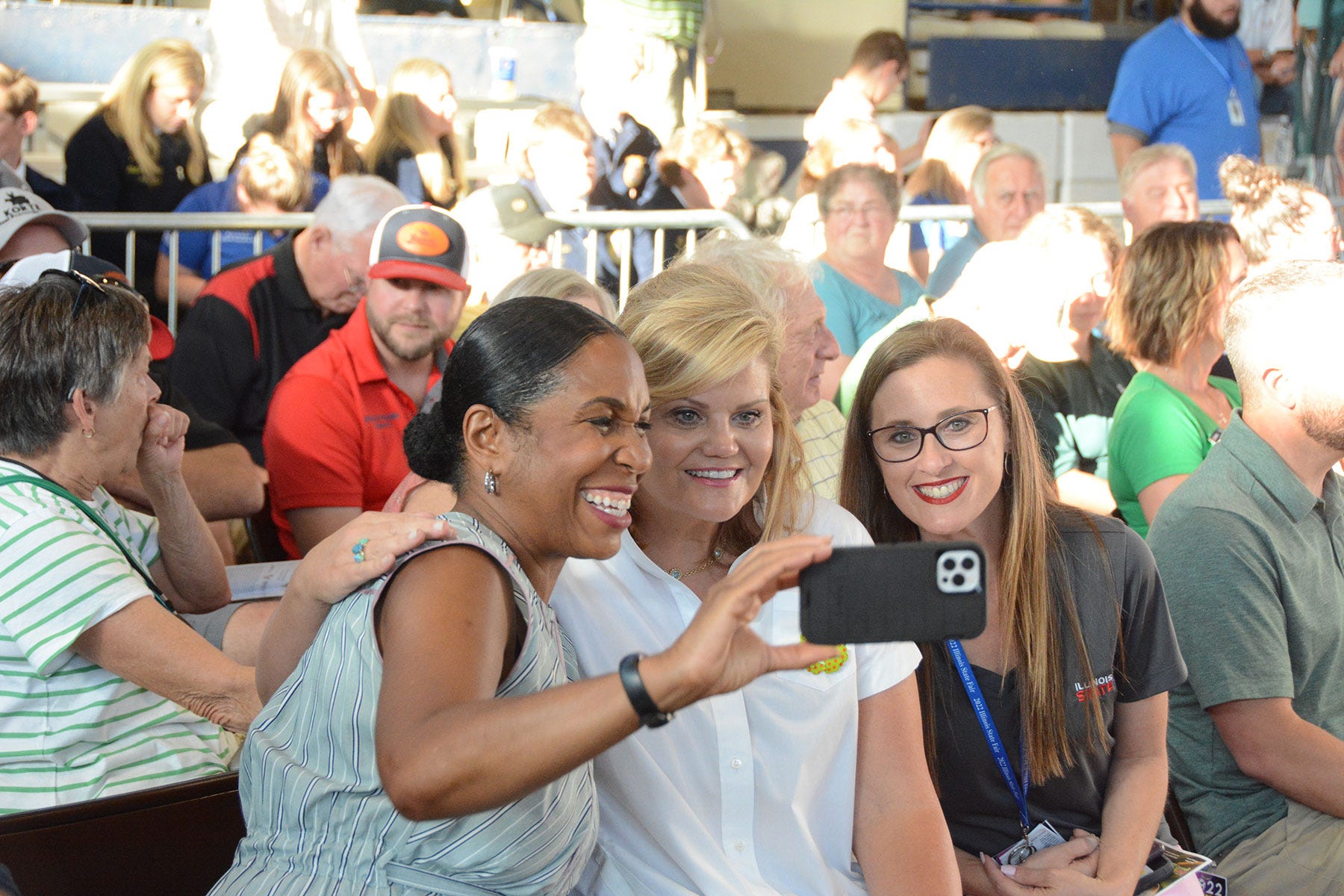 SALE OF CHAMPIONS: Illinois Lt. Gov. Juliana Stratton (left), Illinois First Lady MK Pritzker and Illinois State Fair Manager Rebecca Clark pose for a selfie at the 2022 Sale of Champions. (Photo by Holly Spangler)
Could you talk about the timeline for repairing or replacing the Orion Samuelson Junior Livestock Building? We just did some structural repairs to the Junior Livestock Building, and there is a roof project planned and funded. We have to go through the procurement, architecture and all of the red tape of state government that's required for repairs. We must walk before we can run. When the roof is repaired, we can work on electrical updates. There are things that must be done in order for repairs to be done the right way. We have a good improvement plan in place, and just have to be patient. We've been blessed with a $58 million capital improvement plan here on the fairgrounds for addressing years of deferred maintenance. We're chipping away a little bit at a time, but it's important to keep an eye on the future.
When will Phase 2 of the Coliseum be completed? Phase 2 is underway as we speak. We're improving the ADA accessibility and putting new seating in the Coliseum. We will be able to use the facility for this fair, but the project will not be complete until 2024.
How do you respond to folks who say the Illinois State Fair isn't an agricultural fair the way that some neighboring state fairs are? Everywhere you look, we are a concrete fair. We're in the middle of the city and aren't afforded the luxury of more acres. However, we do a great job of weaving agriculture into everything that we do by finding ways to introduce fairgoers to agriculture. When you come into Gate 6, we have sweet corn growing along the tunnel when you walk in. We also created an ag tour to teach fairgoers about the different aspects of agriculture, where they talk to farmers themselves. Do I wish that we had another 366 acres of land to do crop demos on? Absolutely. But we do a very good job with the 366 acres that we have.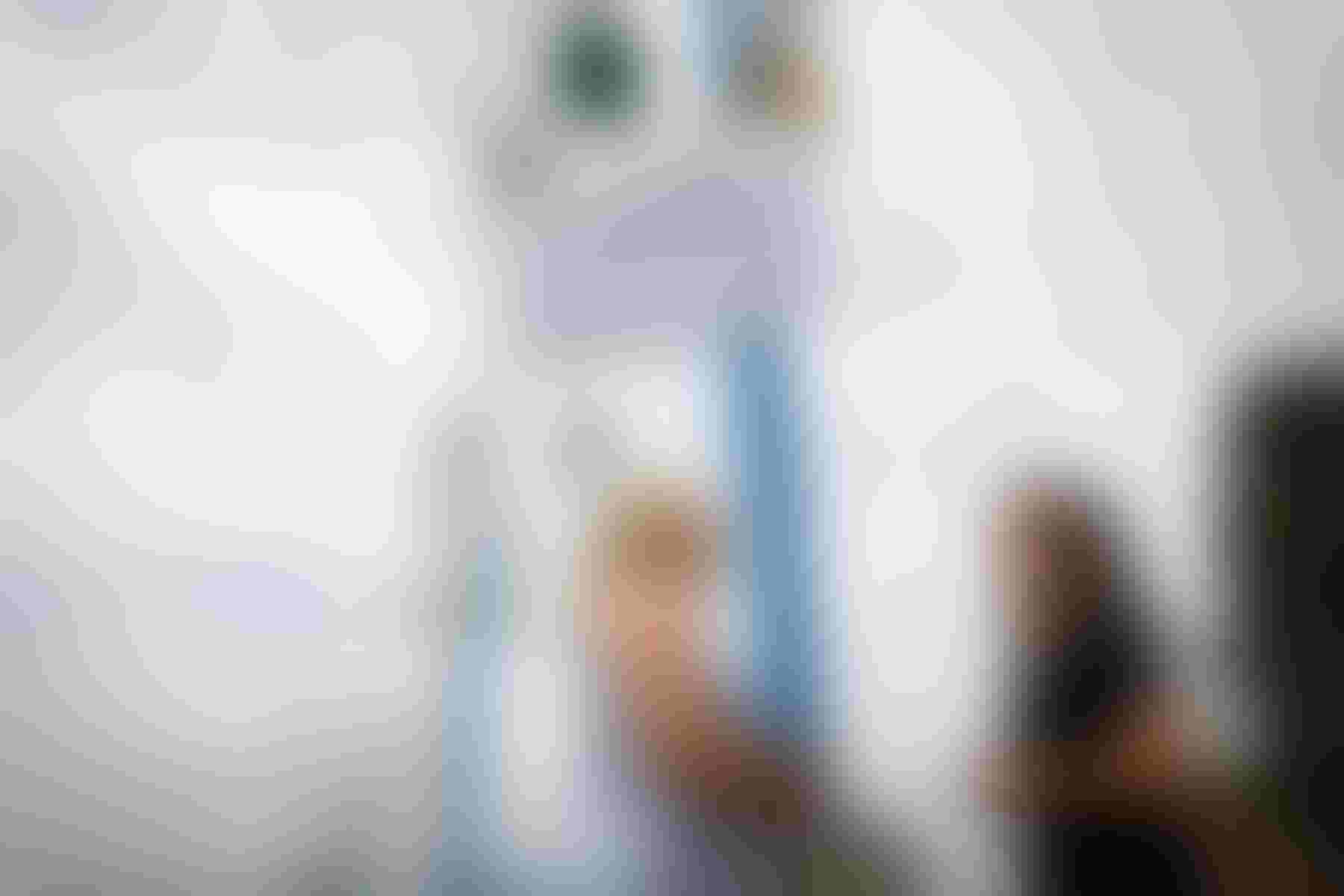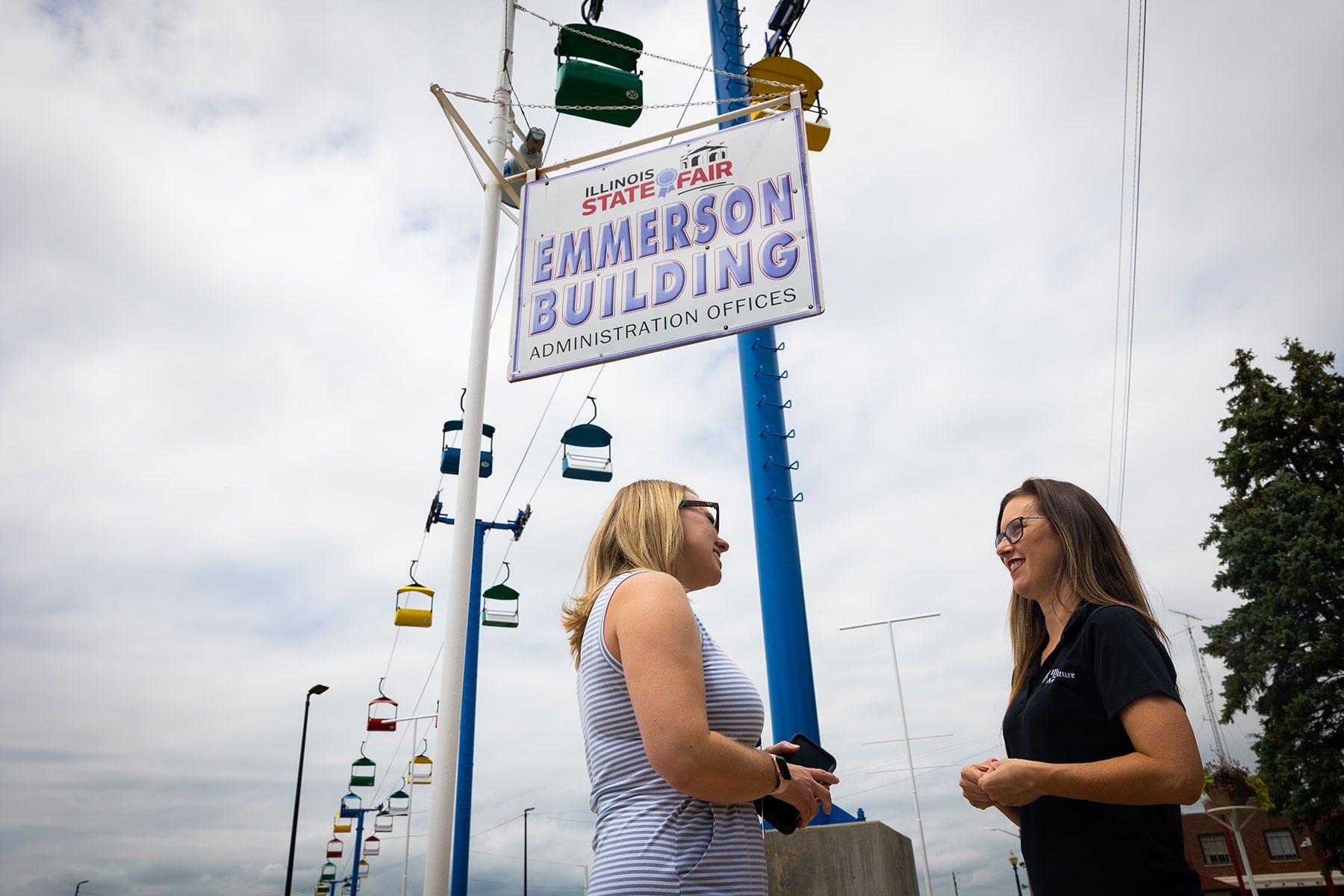 TEAMWORK: Illinois Department of Agriculture Public Relations Officer Krista Lisser (left) and Illinois State Fair Manager Rebecca Clark discuss plans for the upcoming fair. Clark says teamwork makes the dream work. (Photo by Betty Haynes)
What is your advice to future generations? Kindness can go a long way. You never know what someone else is going through. They may be battling cancer or suffering financial hardships at home.
What is the hardest part of your job? I'm a people pleaser. Coming to the realization that I can't make everyone happy has been a big hurdle. There's someone that's always going to be upset.
What is your idea of perfect happiness? A quiet morning at home with coffee and a good book
What is your greatest fear? Snakes
What is your most treasured possession? My children
What motivates you? I want to be a good role model for my kids. I want them to see the value in hard work.
Where is your favorite spot in the world? Our family farm, where I have many wonderful, happy memories
How do you spend your free time? On my days off, I can usually be found at the ballpark for my kids' ballgames.
What's the best piece of advice you've ever received? Do unto others as you would have them do to you.
What's your guilty pleasure? Chocolate
Which words or phrases do you most overuse? Teamwork makes the dream work.
First live performance? The Wallflowers
What's your go-to mantra for hard times? Just breathe.
If I listened to your Spotify playlist, what would be the song you've listened to most? If my kids are with me, then it's anything Disney. Occasionally, I can sneak in some Tim McGraw, Carrie Underwood or Alanis Morissette.
If your mother wrote a book about you, what would it be called? "The Little Girl with Big Dreams"
What is your greatest regret? I'm not big on regrets. Instead, everything is a learning opportunity.
What is the quality you admire most in a person? Kindness and compassion
Favorite tractor? My dad's John Deere 4020
Truck? The blue Chevy pickup I learned to drive stick shift in
Fair food? Apple cider slushies from the IDOA tent
Livestock? Pigs
Technology? The navigation in my car — I'm directionally challenged.
Team? Cardinals
Reading right now? "100 Days of Joy and Strength" by Candice Cameron Bure
Best decision? Marrying my husband
Family? Husband, Nathan; son Evan, 8; daughters Allison and Ellie and son Aiden, all 5
2023 Illinois State Fair admission and daily schedule
Here's a look at ticket prices and special days:
Free for ages 12 and younger

$10 for ages 13 to 59 on Fridays and Saturdays

$5 for ages 13 to 59 on remaining days
Aug. 10. County Fair and Horse Racing Day
Aug. 11. Agriculture Day
Master Showmanship Contest, Junior Livestock Building
Aug. 12. Kids Day
Junior Livestock Parade of Champions, Coliseum
Aug. 13. Veterans and Gold Star Families Day
Free admission for veterans and their families
Aug. 14. Senior and Scout Day
Free admission for scouts in uniform and visitors age 60 and older
Aug. 15. Twosday
$2 admission for adults and seniors on this day
Aug. 16. Governor's Day
4:30 p.m. Governor's Sale of Champions, Coliseum
Aug. 17. Republican Day
Aug. 18. First Responder and Healthcare Heroes Day
Free admission for police officers, firefighters, EMTs and health-care workers
Aug. 19. Park Conservation Day
Aug. 20. Family Day
Subscribe to receive top agriculture news
Be informed daily with these free e-newsletters
You May Also Like
---