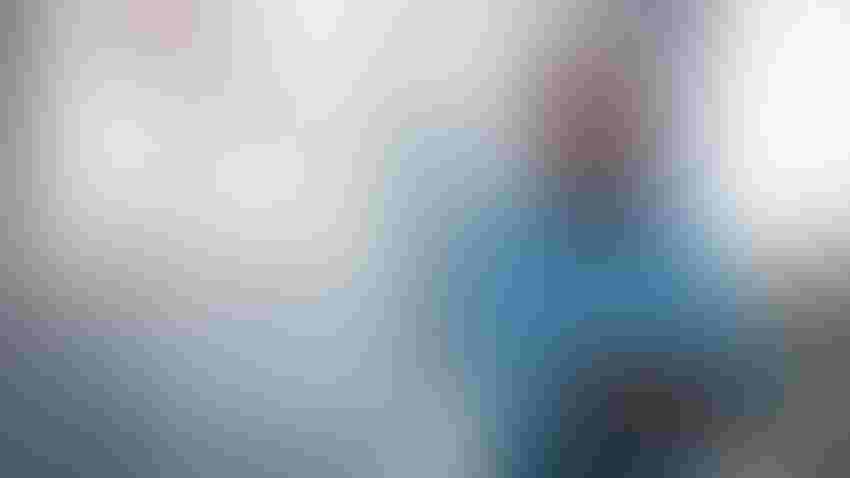 PORK PRESIDENT: Chad Leman, Illinois Pork Producers Association president, says the challenges of 2020 really made him value the association. "When packer shutdowns were occurring and we were struggling to get pigs out of barns, having Illinois Pork staff and board members to communicate the problems we were facing with packers and legislators was paramount," he explains.
Photos by Betty Haynes
Chad Leman says his best farming advice is simple: "Work hard, have a plan, hire good people, control what you can, and trust the Lord with the rest."
Leman, Eureka, Ill., has undoubtedly lived this advice as a farmer, husband, father and, now, as Illinois Pork Producers Association president.
He's the third generation to call Leman Farms home, and has built it to include a Pioneer seed dealership, corn and soybean crops, and 110,000 market pigs per year. They work with 10 contract growers throughout central Illinois and have space for 9,000 pigs on the home farm.
"Our contract growers have been a real win-win because it's difficult for us to find labor, and this way we can continue to grow," Leman says. "It's also allowed some of our contract growers to bring their sons back to the farm, because they have additional income from a barn or two."
Addressing labor shortages on Illinois hog farms has been one of his priorities as IPPA president.
"I'm passionate about finding small and midsized hog farmers some help, so I really focused on education around visa programs," he explains. "Then on May 11, the Supreme Court upheld Prop 12, which has since become my priority."
Leman works alongside his father, wife and daughter, plus eight other employees. Most recently, he hired two workers on TN visas to work in the family's hog barns. For years Leman was reluctant to serve on the IPPA board, but knowing the farm is in good hands has given him the flexibility to serve as president.
"As the size of our operation grew, I realized farmers don't have time to meet with legislators and advocate for ourselves," Leman says. "Like any good businessman, you hire somebody to do the things you can't do, and that's where Illinois Pork Producers steps in."
He took some time from Leman Farms during harvest to talk with Prairie Farmer:
What's the secret to keeping eight good employees? We are fortunate. Our hog production manager has worked here almost 32 years. We have two other employees who have both been here for almost 15 years. What has worked for us is recognizing what employees are good at and then giving them the freedom to do it. I'm not looking over their shoulders second-guessing their decisions, and just provide direction where needed. We brought two TN visas from Mexico in March. They have a terrific work ethic, great attitudes and show up six days a week to get stuff done.
How can farmers bring the next generation back to the farm? My daughter Tess joined the farm full time two years ago. There are tremendous opportunities in this business, primarily because not a lot of people want to do this. It's hard work, seven days a week, taking care of animals. You're at the mercy of the market and the weather. Working with the land and animals is extremely gratifying, but nothing happens overnight on the farm. Everything is a process, and there's a lot of capital investment involved. The next generation must keep their eyes wide open to what they're getting into.
What is the hardest part of what you do on the farm? The most difficult part of my job on the farm is the marketing aspect. I'm constantly faced with decisions on offsetting risk, knowing that I could be giving up higher margins. How many of our commodities should we hedge? How far out should we go? What will the cost of production look like in three months, in six months or next year?
Can you talk about what's planned for October Pork Month? We have a few collegiate pork promotions planned. We're grilling at the University of Illinois football game on Ag Day and will be highlighted during halftime. We also work with high schools across the state in our Pork and Pigskins State Championship, where we award the best pork product made by a competing high school. We're always working to educate retailers, grocers and restaurants on recipes for how to properly cook pork.
What is one thing you wish consumers knew about raising pigs? Consumers are getting further removed from the farm. They no longer have a grandpa or an uncle who they could go visit on the farm, and many believe their food just comes from the grocery store. I wish consumers would trust that we are the ones most capable of taking care of our animals. Having an animal that's well fed and well taken care of is in our best interests. I also wish we could get more pork in school lunches, because it's extremely healthy and delicious.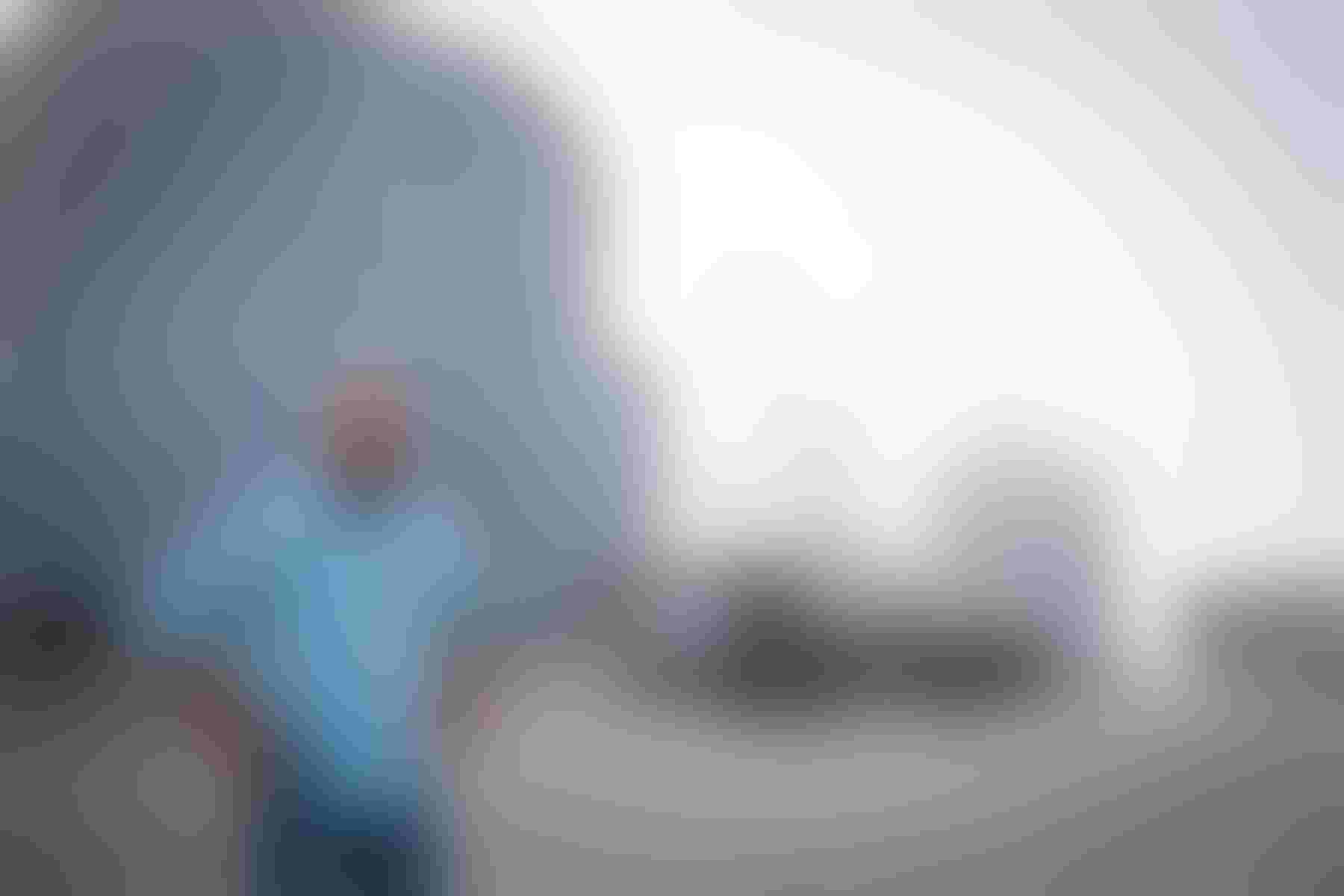 HARVEST: Chad Leman's favorite part of farming is working together as a team. "Right now, we have the monumental task of harvest, and it's rewarding when everyone pulls together to tackle it head on. At the end of the day, there's a camaraderie that comes with working as a team," he says.
What's the best piece of advice you've ever received? My wife's grandpa, Edwin Ringger, owned Ringger Feeds in Gridley, Ill., that eventually sold to United Feeds. He once told me, "Don't ever expect employees to care as much about your business as you do." He was right.
What do you want your legacy to be? To be a good husband, a good father and a man of faith.
What is the quality you admire most in a person? A good work ethic. I can forgive a lot of mistakes if you work hard.
What motivates you? This farm needs to put food on the table for our family and employees. I'm motivated by the well-being of the farm and the people who work here. It's rewarding to see the farm continue to grow — and a good feeling to know the farm will be passed to the next generation.
Where is your favorite spot in the world? Being by the lake at our home with my wife, Staci. We built our home last year after living on the farm for 24 years. I'll admit, it's nice to leave the farm and go home.
What is your greatest fear? I don't spend much time being scared. I trust that the Lord won't give me more than I can handle.
Which living or deceased person do you most admire? My late grandpa Vernon Leman. He was the most patient, kind and generous man I've ever known.
Which words or phrases do you most overuse? "When in doubt, panic." Or, when in doubt, do something urgently.
If your mother wrote a book about you, what would it be called? "The Hard-Headed Son"
What's your guilty pleasure? Farm YouTube. My favorite channels are Ivers Farms and Sonne Farms. Ivers Farms does a great job bringing in the perspective of both the older and younger generations.
What podcasts do you listen to most? "Fearless with Jason Whitlock" for sports and social perspectives, and "The Megyn Kelly Show" for politics
Best live performance? Chris LeDoux back in the '90s
Which talent would you most like to have? To play the piano
How do you spend your free time? Riding horses. After high school, I went to work on a ranch in Idaho where I developed a team roping hobby.
What is your greatest regret? I should have stayed out West longer. I made $500 per month and knew that wasn't sustainable, but I learned so many life lessons out there. My dad told me I needed to get a job off the farm before I came back to the family farm, and he was right. I think it's human nature to be in a hurry for the next stage of life.
Leman in brief
Favorite tractor? I'm a fan of anything new in John Deere's lineup. I'm also looking forward to autonomous tractors — sitting in the cab for hours isn't my favorite.
Truck? Dodge Ram
Livestock? Horses
Technology? iPhone
Team? Dallas Cowboys
Book? Bible
Best decision? Marrying my wife, Staci
Family? Wife Staci; daughters Tessa, 24; Darby, 21, and husband Hunter; Sofie, 19; and Sierra, 18
Subscribe to receive top agriculture news
Be informed daily with these free e-newsletters
You May Also Like
---