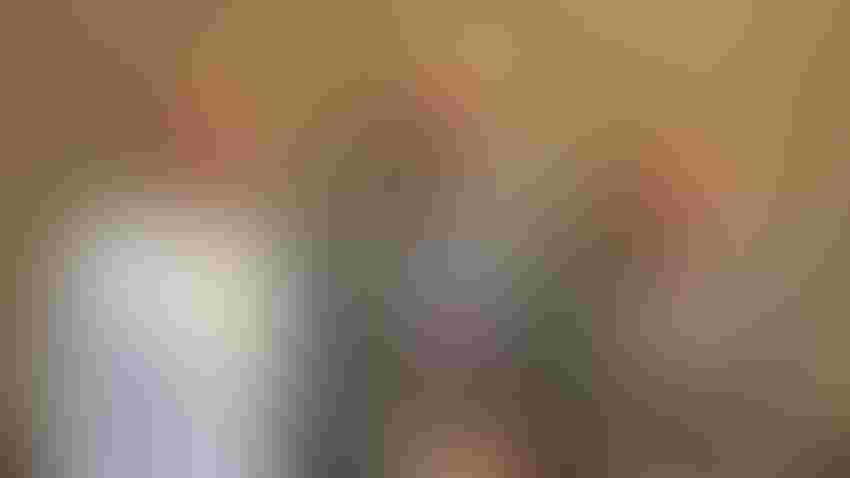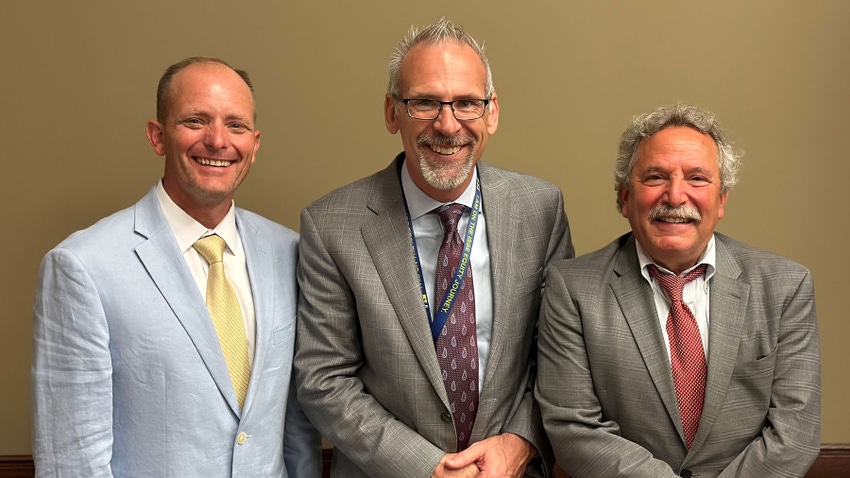 AG EDUCATION: Tony Sanders, Illinois state superintendent, says his last school district shared ag and career classes with another district: "It was another opportunity for the kids to have a pathway to whatever it is that they wanted to do in life." Sanders (center) is shown with Allyn Buhrow, Ashton, Ill., farmer and chair of the Illinois Leadership Council for Ag Education (left), and Bill Kling, ILCAE member (right).
Holly Spangler
When Tony Sanders was named Illinois state superintendent earlier this year by the Illinois Board of Education, he came to the position as superintendent of U-46, a 38,000-student public school district in Elgin with five high schools — the second-largest school district in the state.
So when the Illinois Leadership Council for Agricultural Education invited Sanders to address their meeting during the Illinois FFA Convention, he jumped at the chance. And learned a lot. Here's a look at what he learned, and what he hopes for ag education in Illinois.
What did you learn about agriculture in your first ILCAE meeting? I'm recognizing really the growth that's occurred in this industry over the last 20 years. At the state board of education, we need to continue our focus on agribusiness as one of our sectors of focus.
But this wasn't new information for you. Right. I've lived in rural Illinois, so I know the contributions of agriculture and that it's the No. 1 industry in the state. But it's always good to hear that again and be reminded of that in this new role.
Funding is the problem nearly every rural school district deals with. What's the solution for rural schools that want an ag career program — or want to support their existing ag program? Since 2018, the state Legislature has invested $1 billion through an evidence-based funding formula for public education. That's the primary driver. Those resources are the most flexible for school districts to use. As a former superintendent [at Elgin], it allowed me to invest $20 million a year extra in capital expenditures, specifically around career and technical education programs for our students.
So that's a funding priority for the Legislature? Yes, that would be my first focus on everything budgetary. We want to make sure the Legislature invests in that. Everything else that they provide on top of that — career technical education funding, agricultural education funding, tuition reimbursement funding — I see that as icing on the cake of the evidence-based funding formula.
Where does ag stand in the CTE options? I think it's part of a suite of options. What I loved about our ag ed conversation was the cross-curricular piece, which I'd never really thought about.
How so? Agriculture professions that students are going into are high science, high math. So why not somehow allow them to get credit for the science and the math portion? That is something new to really start thinking about.
The other is the cross functionality between all the other CTE programs that exist like welding, automotive. In my district, we were just starting to do electric vehicles and diesel, but how do we expand that across the state to multiple districts and recognize that it's not just one or the other for students? They can choose a variety of things and still be successful in any agribusiness.
How does a rural school district meet the needs of the student who wants to weld as a career and the student who wants to work in digital and precision ag technology? And those kids are in the same class! Partnering with neighboring schools is one way to get it done. In my previous district, we used our regional system to build programs with synergy. We had five high schools in U-46, and we offered welding, precision manufacturing, automotive, culinary — anything you could think of. But we didn't offer vet tech or FFA, so we partnered with another school district that did. Students in both districts could share in all those programs.
We have to stop competing with one another and start complementing one another in public education. School districts may not have the capacity locally to do a full-fledge program. The more we do together, the better we are.
Subscribe to receive top agriculture news
Be informed daily with these free e-newsletters
You May Also Like
---