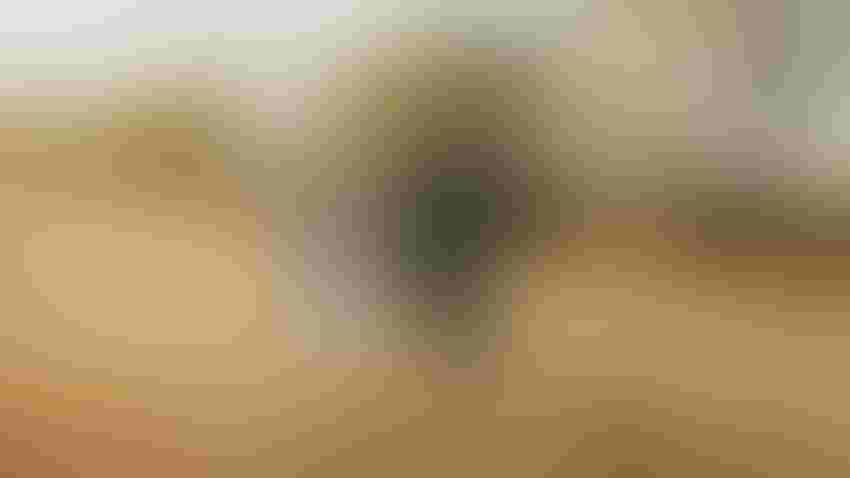 COW-FOCUSED COUPLE: Megan and Tanner Overby still enjoy focusing on the cattle side of their operation, even with crop and pasture acres.
EK Designs
From growing up on their respective family farms to now farming together, husband and wife Tanner and Megan Overby work hard to build their operation's success. Their farm near Binford, N.D., is home to Red and Black Angus, along with crop and forage acres.
Megan and Tanner farm with his father and two siblings, and everyone plays a part in either the crop or cattle. Even when Tanner went to college, staying near the farm was always a priority.
"I went to Lake Region State College and got my two-year degree in accounting, but I always was coming back to farm," he says.
He chose the accounting program for its bookkeeping, a skill he could use when he returned home. Today, he farms full time, mostly on the cattle side.
Megan grew up on her family farm near Michigan, N.D., where she was involved in 4-H and FFA. Unsure of a specific path after high school, she went to Concordia College in Moorhead, Minn., to study in a pre-health program before returning to the ag world.
"I realized I wanted to get back to my agriculture roots and ended up transferring to NDSU where I graduated with an animal science degree," she says of her time at North Dakota State University.
Megan spent nearly a decade working in agriculture radio, where her passion for the industry continued to grow. Now she serves as the northeast field representative for North Dakota Farm Bureau.
NO PLACE LIKE HOME: While Megan's work often takes her traveling off the farm, Tanner says he's happiest in Griggs County where he can be close to the cows. (Megan Overby)
"I love Farm Bureau as an organization, and I'm passionate about the work I do, and the schedule allows me to farm around work, too," she says.
Farming with family
With pasture, forage and crop acres, everyone shares the work. "Whenever you're working with family, there's always tensions that can happen, but we all work really well together when it comes down to it," Tanner says. "My dad mostly works on the crop side, while Megan and I run the cattle, so we have a good system in place."
They grow nearly all of their feedstuffs, including corn for silage and alfalfa for haylage. "We have some of our alfalfa under a pivot, and that's been really helpful for us," Megan explains. "In the last two years, we've started chopping that. And then as soon as we have it off the ground, we can get started growing the second and third cutting."
With their on-farm production of their feed and forage, Megan says they have quality control on their side. "We're able to feed them a good quality, and really only supplement with powders or lick tubs, and sometimes add in some [dried distillers grain] for our backgrounding calves," she states.
Looking forward
With everyone playing their part on the farm, each family member capitalizes on his or her strength.
"Megan is fantastic with record-keeping, and she's always bringing new ideas to the farm she's picked up from other operations or conferences," Tanner says.
Megan says at times Tanner sees her ideas as "a little crazy," adding that they "usually meet in the middle and trial a few things here and there to always be improving."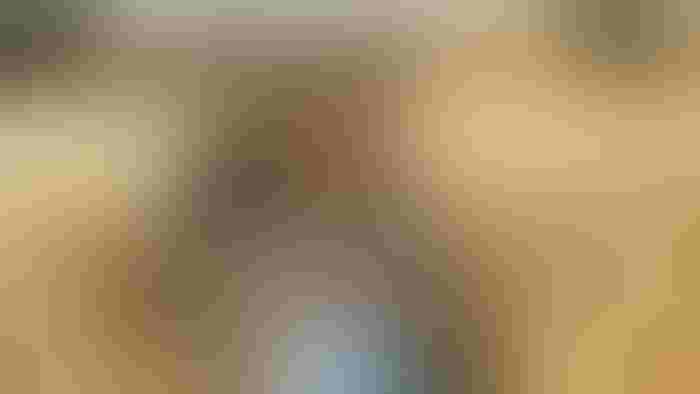 LEAN INTO STRENTGHS: Tensions can mount when dealing with cattle, but Megan and Tanner say they work well together by focusing on their respective strengths. (EK Designs)
The couple purchased the original farmstead from Tanner's parents and have slowly been making infrastructure updates. "There's always improvements to be made, and we're focused on the cattle handling facilities to make moving cattle easier," Megan says.
With cold springs the last few years, they say they're grateful for their new calving barn. Other improvements include adding new genetics to their herd to achieve the ideal cow.
"We spend a large part of our winter looking at genetics, whether that be new bulls or replacement quality females," Megan says. That effort includes building a relationship with their seedstock producers, so all parties are familiar with the Overbys' genetic program for the herd.
Next, the Overbys want to see cows who possess maternal traits and ideal carcass characteristics. "Our mama cows don't get much attention, so it's important to us that they can take care of themselves and their calves, and keep their calves fed," Megan says.
While their cows calve near the farmyard, easy-calving animals are a must for the operation. And with backgrounding as a piece of their operation, adding in genetics to improve carcass quality is another factor.
"We're not afraid to pull a calf if we need to, so we will sometimes add Simmental influence animals into our herd for calves that have that natural definition and muscle in the heterozygous cross we get out of them," Megan explains.
Down the road, Tanner says they plan to fully take over the farm when his dad retires. "It'll be mostly myself, Megan and maybe my brother running the farm when that time comes. We have a few years yet, but we're in it for the long haul," he says. "We're always open to add more cows if the opportunity presents itself, of course."
Farming with family can bring disagreements and frustrations, but for the Overbys, the good times are what stand out. "At the end of the day, we're a well-oiled team, and we all work together to keep the cattle happy and the farm moving forward," Megan says.
Subscribe to receive top agriculture news
Be informed daily with these free e-newsletters
You May Also Like
---