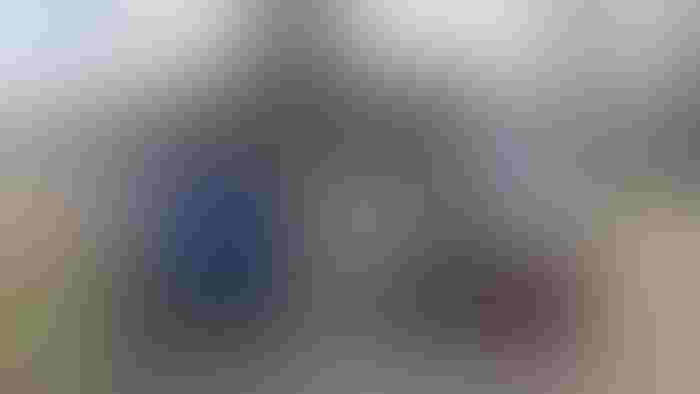 by Allison Lund
Visitors still have a chance to visit with this year's Featured Farmers as the Indiana State Fair nears its end.
The Featured Farmer program, sponsored by Corteva Agriscience, highlights farm families from across the state. One farm is recognized each day of the fair, which runs from July 28 to Aug. 20, except on Mondays and Tuesdays.
Fairgoers can meet the farmers in the Glass Barn at 2:30 p.m. every day. For more information, visit indianastatefair.com.
The first 12 featured families were introduced already. Read about them here and here. Here are the final six families: 
Day 13
Aug. 13 — Carterly Farm. Carterly Farm in Boone County is helping raise the next generation of agriculturists. Margaret and Charlie Carter, along with their daughter, Kelly MacKinnon, achieve this goal through their cattle leasing program with the local youth.
The Carters have a dairy farm, and they started leasing cattle to 4-H members in 1998. They started with three members, but the program now supports 45 members. The children pick their show animals in April and begin working with them when school gets out for the summer. The Carters are proud to get youth interested in ag, but they are also glad to help teach life values such as responsibility and time management.
Day 14
Aug. 16 — Cornucopia Farm. Kevin and Linda Baird are excited to help families create fun memories at their Washington County farm. Cornucopia Farm is a diversified agritourism operation that raises corn, soybeans, cattle and pumpkins. They also offer a variety of other fall activities.
The Bairds receive help from their sons, Michael and wife Valerie, and Jared and wife Kayla. The family is glad to be a destination for folks looking to create annual traditions with their families. They love seeing people return to the farm each year, and they enjoy educating people about ag.
Day 15
Aug. 17 — Whaley Farms Partnership. John and Brooke Whaley run Whaley Farms Partnership with their sons, Brock and Blake. The corn and soybean operation based in Newton County spans five counties in Indiana and one in Illinois.
John finds that farming provides an infinite learning curve as technology changes and farms are passed from one generation to the next. It has been fascinating for him to see the farm operate more efficiently.
One thing that will not change is the family focus of the farm. John wants to make the operation sustainable so his sons will have the opportunity to join someday.
Day 16
Aug. 18 — At Ease Orchard. Joe Ricker started At Ease Orchard, Hancock County, with the mission of connecting veterans to agriculture. Upon retiring from the military, he decided to pursue his interest in beekeeping, and the operation has grown from there.
Ricker collaborates with a variety of partner organizations to keep his nonprofit running, such as AgrAbility, Heroes to Hives and Veterans IN Farming. Through grants and donations, he helps veterans learn more about beekeeping and other aspects of ag. Over 40 veterans have worked with Ricker and his partners this year alone.
Moving forward, Ricker hopes to continue to expand and help veterans find therapeutic benefits in agriculture. He wants to keep pulling the right people together to help provide those opportunities.
Day 17
Aug. 19 — Dutch Country Organics. Dutch Country Organics works to keep small family farms profitable. The operation in LaGrange County is the connection between small local farms and large retailers. Most of the small farmers are Amish.
Lamar Bontrager, CEO and one of the founders, works with Dion Scott, president of live bird operations, and the rest of their team to provide farmers with organic birds. They then manage the egg grading and marketing for the farmers.
With wild egg price swings, the operation recently purchased a feed mill to supply its own feed. They are adding layers to production and plan to continue adding birds  over the next 18 months.
Day 18
Aug. 20 — Sunset Ridge Berries and Blooms. Spreading joy comes naturally for Rhonda and Ken Schafer of Sunset Ridge Berries and Blooms. The couple started the Owen County flower farm with a small patch in 2020 and has continued to expand.
In addition to flowers, the Schafers grow pumpkins and berries. They offer U-pick, and they also hold workshops and other events to help visitors learn and have fun. Their family helps often, including their daughters, Morgan, Brooke and Kara.
Looking ahead, the Schafers hope to become an agritourism destination and continue to expand their workshops.
Lund is a Farm Progress intern. She writes from West Lafayette, Ind.
Subscribe to receive top agriculture news
Be informed daily with these free e-newsletters
You May Also Like
---