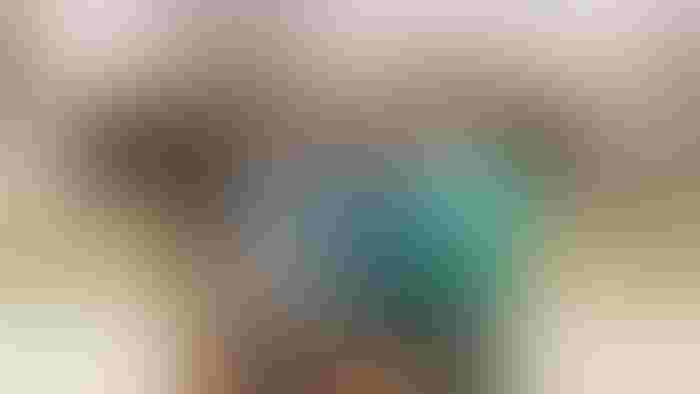 by Allison Lund
This year's class of Featured Farmers, sponsored by Corteva Agriscience, is set to make their appearance at the Indiana State Fair from July 28 to Aug. 20, except on Mondays and Tuesdays.
One Indiana farm will be recognized each day of the fair, and visitors will have the opportunity to meet and interact with the farm families in the Glass Barn at 2:30 p.m. every day. Find out more at IndianaStateFair.com.
Here are the first six families to be featured. The rest of the families will be introduced in the coming weeks.
Day 1
July 28 — Hill Farms. Hancock County has seen four generations of pig farmers in Marc Hill's family. He and his wife, Heather, are keeping that tradition alive after Marc's parents, Steve and Debi Hill, started Hill Farms 50 years ago. The family also raises corn, soybeans and wheat.
Hill Farms works to educate the community and give people a look at where their food comes from. The Hills sell pork at a local farmers market and local orchard, and they love to answer any questions people may have about their farm.
Moving forward, Marc and Heather's goal is to remain sustainable in their farming practices and in their mission to keep the farm operating into the next generation with their children: Addison, Reese and Hadley.
Day 2
July 29 — Hackman Family Farm Market. Hackman Family Farm Market, Jackson County, raises fresh produce and cattle in addition to a corn and soybean operation. This year, the farm has 180 acres of watermelons planted and a variety of other produce. Watermelons have been a part of the operation for several generations.
The produce is sold through retail and wholesale, as well as through a new food subscription service for Jackson and Washington counties that began last year.
Tom and Ruth Hackman keep the farm running with help from their children: Victor and his fiancee, Courtney Barker; Jacquelyn and her husband, Klayton Jasinski; Megan and her husband, Chad VanLiew; and Allison.
Day 3
July 30 — Morgan Brothers LLC. Carter and Brent Morgan operate Morgan Brothers LLC with their father, Brian, and their recently retired uncle, Darrell, in Vermillion County. They run about 2,700 acres of food-grade corn and soybeans, and conservation is top of mind.
The farm is 100% no-till, and they have run no-till acres since 1992. They also install all their own tile after seeing a significant yield boost for both corn and soybeans.
Rather than just expanding acreage, they find it important to do everything they can to improve each piece of ground to increase production.
Day 4
Aug. 2 — Risin' Creek Creamery. Award-winning cheese from award-winning goats is the focus for Risin' Creek Creamery in Morgan County. Tim and Sheena Vanzant raise about 130 dairy goats, with the bulk being Nubians.
Prior to jumping into cheesemaking, the Vanzants were active in the show circuit and received a variety of awards and recognition. They found they were drawn to the genetics of the animals and wanted to continue to breed a better goat.
They began making their own cheeses in 2010 and had the business going by 2015. They travel to many farmers markets throughout the year and have won numerous awards at national and international cheesemaking competitions. Next up for the operation is to begin bottling goat milk and breaking into the larger retail market.
Day 5
Aug. 3 — Groth Farms. Al Groth and his team run Groth Farms in Randolph County with a focus on experimenting and evolving. The corn and soybean operation incorporates a variety of technical concepts, such as testing different hybrids, nitrogen levels, seeding rates and soil types.
Strong relationships are key to a successful operation, according to Groth. They are close with their Pioneer seed dealers, district agronomist and soil consultant. Groth farms with Shane Love, Roger Cox and Isaac Thornburg; all worked for him starting at a young age and ended up back at the farm.
Aside from Groth's wife, three daughters and eight grandchildren, he holds close bonds with his farm partners. He finds it important to work with people who value family and farming.
Day 6
Aug. 4 — Marble Hill Farm. Located at one of the highest points in Monroe County, Marble Hill Farm is dotted with 140 Shetland sheep, 40 Lowline Angus cattle, a flock of chickens and a variety of specialty crops. Kip and Whitney Schlegel have set out to care for the land as best they can.
The farm emphasizes improving soil and water quality. They use rotational grazing and cover crops, and are developing a new comprehensive nutrient management plan. Their practices offer a unique teaching opportunity for local youth.
The Schlegels are inspired by the beauty of their land and hope to maintain it as a farm for generations to come.
Lund is a Farm Progress intern. She writes from West Lafayette.
Subscribe to receive top agriculture news
Be informed daily with these free e-newsletters
You May Also Like
---