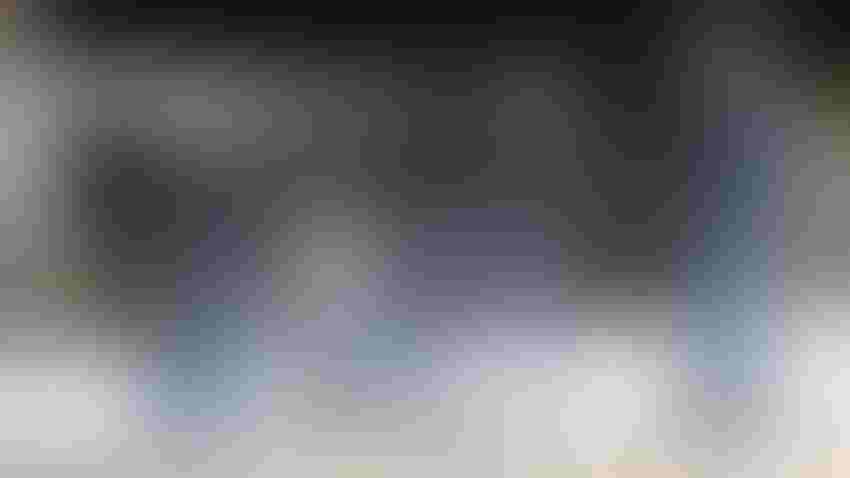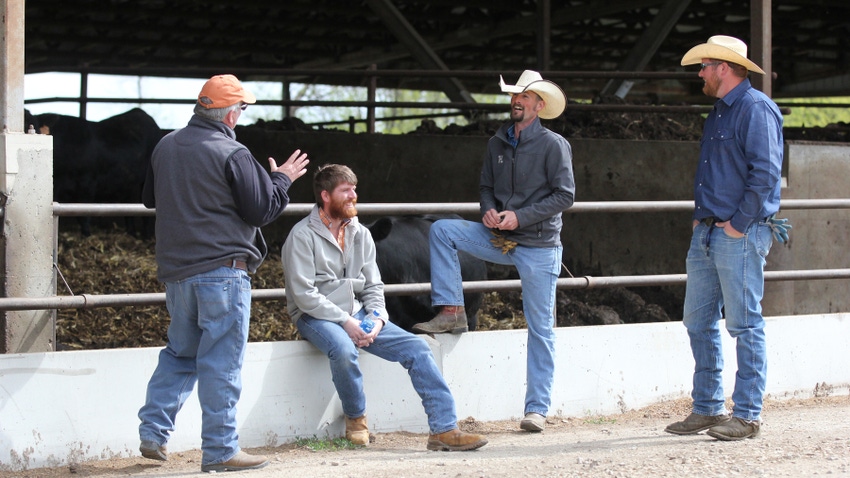 CATTLE MANAGERS: Larry O'Hern of O'Hern Stock Farms in Vermont, Ill., says farm and ranch employees must be compensated well, have a good quality of life and have clearly defined roles. Pictured are O'Hern (left), his son Dan O'Hern, cattle manager Matt Taylor and assistant cattle manager Lawrence Knott.
Courtesy of Illinois Beef Association
Finding and retaining employees has been top-of-mind for many businesses in 2023. The ag industry is no exception, experiencing nationwide labor shortages for rural veterinarians, packing plant employees, and farm and ranch employees.
"There is no simple solution," says Russell Plaschka, director of ag marketing at the Kansas Department of Agriculture. "Every producer belongs to an operation that's unique and different from each other. How you advertise it and how you connect to young people or people looking to change careers is key." 
The view from the classroom
There are many misconceptions about working in ag, and often farmers and ranchers can have unrealistic expectations about new hires. 
 "We want somebody to be able to hit the ground running," Plaschka explains. "But in today's society, it's getting tougher to find young people who want to work in ag but don't have their own operations to go back to." 
There's also been a career shift away from traditional farm or ranch work, paired with a generational shift to a demographic that is more removed from ag than ever before.
"Today's younger generations are switching jobs a lot more often and looking for that next step," says Plaschka, comparing millennials, Generation Z and Generation Alpha to their baby boomer and Generation X counterparts, who were more likely to keep the same position for most of their career. 
Institutional knowledge may also become challenging as long-term employees near retirement. Transitional planning is important for new employees to learn from their older co-workers. Plus, employers need to understand that younger generations have different work expectations. 
"Work-life balance is a big issue for the newer generations coming into the workforce," Plaschka says. "They want to be a part of their kids' lives, prioritize their families and have personal lives." 
Plaschka says the wage and incentive packages offered on many farms and ranches may be due for an overhaul and advises the following for a better employee retention package:
increased wages to reflect higher cost of living and competition with other sectors 

enhancements to wages via referral bonuses or sign-on bonuses

performance-based wage increases 

paid vacation time or paid time off 

work vehicle for employee use 

paid employee housing, especially in rural areas where housing may be limited 
"I've heard producers and business owners say they don't get any days off themselves," Plaschka says. "Well, we need to truly appreciate that the employee is just that — an employee and an integral part of the operation — but not the owner." 
Recruitment has also become a challenge, particularly for the boomer-generation employers. AgCareers.com, social media and newspaper advertisements are viable options, but Plaschka recommends leaning on current employees for referrals and networks.
"If you've created an environment where they are happy and they're staying, then they're going be talking about it," Plaschka explains. "They should be talking about you and the environment you've created for them." 
Connecting with students at area ag programs could be another worthwhile recruitment option. Plaschka and the Kansas Department of Agriculture team have created an immersion program to give students a hands-on experience for different ag careers.
"It's about giving students a true experience — not a guest speaker, not a tour," Plaschka says. "Give students an experience, whether those students are in high school, community colleges or technical colleges. Get young people excited about ag."
The view from the ranch
Larry O'Hern of O'Hern Stock Farms in Vermont, Ill., has eight employees who help him and his son Dan manage their farm's 1,500 mother cows; 3,000 yearlings; 2,000 fat calves; and 4,000 acres of corn and soybeans.
"Clearly cut roles and responsibilities are a must," O'Hern says. "If you've got an employee working 80 hours a week, you need two employees."
On the cattle side specifically, O'Hern's cattle manager, Matt Taylor, has been employed with the family for 12 years, and his assistant cattle manager, Lawrence Knott, has been with the family for six years.
"The work culture is imperative where they have the ability to make decisions and have some respect and integrity in the process of the things we do," O'Hern says. "The cattle business has a culture that surrounds it, and if we don't embrace that or have employees that embrace it, it's going to limit their happiness."
O'Hern describes that culture as one where they work cattle on horseback and treat employees as family. And every employee's compensation package at O'Hern Stock Farms is tailored to meet their wants and needs, combining wages and opportunities for buy-in on the ranch.
"It's important to understanding the employee's total life picture and what their interests are, and make sure you don't take their life away from them," O'Hern says. "The farm can't consume their entire life. We have developed a work structure where they have family time or opportunities to pursue hobbies."
The view from D.C.
Allison Rivera, National Cattlemen's Beef Association executive director of government affairs, says she sees several needs specifically in animal agriculture, where there's a shortage of skilled and nonskilled ag workers, year-round workers and veterinarians.
"We need more rural veterinarians," Rivera says. "We see kids coming out of vet school, they have huge debt, and they immediately want to move toward the employment opportunities that will help them pay down the massive amounts of debt that they left vet school with. Unfortunately, a lot of times, that's not going to be staying in their rural communities and working in animal agriculture." 
Rivera says some of the biggest labor challenges for cattle producers right now are competition with other employers, wages, and simply trying to use H-2A workers and worker retention. And although H-2A labor reform remains a priority for NCBA, the political dynamics of the 117th and 118th Congress have made labor and immigration discussions challenging. 
"The conversation we heard on the House and Senate side last Congress was that Congress can't do anything on ag labor or anything in the broader immigration space until the border is secured," Rivera says. "Our comment back to those members of Congress was that we believe both can be done at the same time."
NCBA will continue to push for ag labor needs to ensure that Congress understands the unmet labor needs in animal agriculture.
"We're going to look to the H-2A program as a vehicle, but the bottom line is, we need a workable year-round ag labor program for beef producers," she explains.
Subscribe to receive top agriculture news
Be informed daily with these free e-newsletters
You May Also Like
---