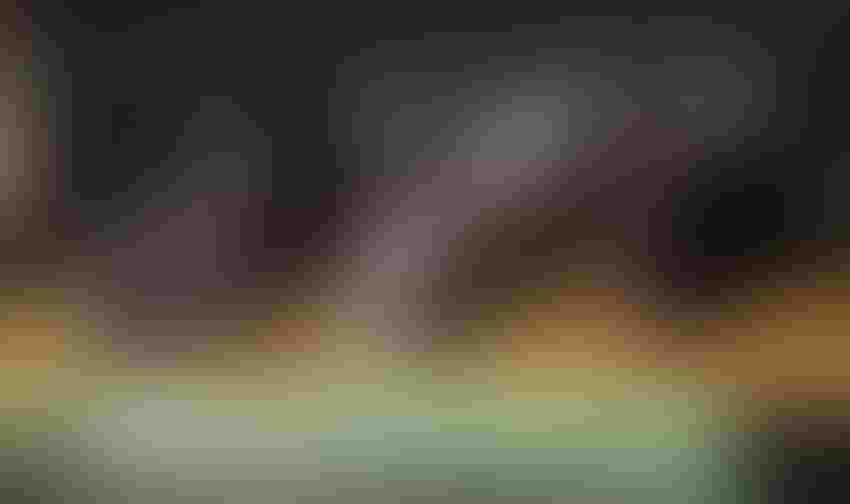 Holstein dairy cows feed.
USDA ARS
Dairy, hay and livestock producers in the West face no shortage of challenges in early 2021, including trade disruptions, a developing drought that could lead to herd reductions and continuing economic fallout from coronavirus-related business closures.
Western dairies are still reeling from an oversupply of milk that will leave producers with margins low enough to qualify for Dairy Margin Coverage program payments, and profitability challenges for dairies will persist, said Shannon Neibergs, a Washington State University agricultural economist.
Hay producers are seeing backlogs in their shipments to Asia because companies there are willing to pay a premium for empty containers they'll use to ship more of their products to the U.S., Neibergs said. In the meantime, drought risks in the Southwest and Southern Plains threaten yields, he said.
For cattle ranchers and processors, recovery from the COVID-19 market shock has brought inventory, prices and exports close to 2019 levels, he said. But the ongoing drought and limited cow-calf profitability will place a hold on expansion plans, and markets will start to see herd liquidation if drought persists.
With La Nina pushing storms to the north, the prognosis for winter and spring in much of the West is poor grazing ground and higher feed prices, said Neibergs, director of WSU's Center for Risk Management.
"Just to show where this weather pattern is going, for Nevada you're looking at supplemental hay purchases, and if you can't find hay in Nevada, you'll be looking for it in Utah or Oregon," he said Wednesday during a livestock webinar hosted by the University of Nevada-Reno. "In a drought, the transportation of hay is quite a distance."
Emerging drought
The emerging drought was a frequent topic in UNR's annual Cattlemen's Update conference, which was held virtually this year because of coronavirus-related restrictions on public gatherings. The series of Zoom webinars was held Tuesday and Wednesday.
According to the U.S. Drought Monitor, most of the West is in some level of drought, with the most extreme conditions currently in Utah and Arizona. The U.S. Seasonal Drought Outlook map shows a giant swath of brown everywhere but in the Pacific Northwest, with brown signifying a persistent drought. The Pacific Northwest is expected to get above-average rainfall this winter, while everywhere else anticipates another dry season.
"The summer was particularly hot and dry and we're behind on our winter wet-up," said Stephanie McAfee, a UNR professor and Nevada's state climatologist. She added the region has "a moisture backlog" and the seasonal forecast is not encouraging.
"We're not seeing a strong indication that we'll be having a nice, wet spring," she said, urging producers to plan for winter and spring drought.
La Nina oceanic conditions have affected feed grain yields and prices throughout the Western Hemisphere. Drought in South America pushed corn and soybean yields down just as China was rebuilding its swine herd, so the shift in demand and supply caused a late-autumn rally in corn and soybean prices that continued into the New Year, Neibergs said.
"Those international trade impacts are having an effect on our feed costs now," he said, noting the change is affecting a dairy industry whose margins were already tight.
Dairy impacts
Class III milk prices took wild swings in 2020 as pandemic-related school and restaurant closures created such a surplus that some milk was destroyed, but then the USDA's food box program brought a sharp rebound in June and July, he said. Prices have swung up and down as federal milk purchases have kept many dairies afloat.
The pandemic caused a similar upheaval in the hay and cattle industries, which are also trying to stabilize after a tumultuous 2020.
Hay production
Alfalfa hay production increased by 21% in Washington state last year as potato contracts were cancelled and growers were looking for an alternative crop to plant, Neibergs said. But dry conditions and restricted access to water pushed overall hay yields down in the Southwest – by 29% in California and 27% in Nevada, according to the USDA's National Agricultural Statistics Service.
As hay acres dropped in California because of the tight water supply and high land values, some hay acres in recent years were converted to almonds for almond milk, one of the leading non-dairy protein sources, Neibergs said.
Overall, alfalfa hay production was down 6% last year in the 11 Western states and down 4% in the entire U.S., the agency reported.
The reduction didn't offset a backlog in hay stocks after exports plummeted last summer before starting to rebound in the fall, according to the Hoyt Report. Because of a container shortage, it paid more to sell empty containers to some Asian and Middle Eastern countries than to fill them.
Still, the outlook for the hay industry in 2021 calls for slightly profitable returns, according to Northwest Farm Credit Services' most recent quarterly Market Snapshot. A weaker dollar favors exports, and higher prices for protein substitutes such as soybean meal will provide tailwinds to hay producers, the report predicts.
Cattle market
Cattle producers, meanwhile, are hoping the volatility the industry has seen in the last 18 months will begin to stabilize in 2021, said Wade Small, executive vice president of business development for the Boise, Idaho-based Agri Beef.
Amid the developing drought and higher corn prices, some cow-calf producers held their calves over in the fall looking for a better market, which hasn't materialized yet. In the first quarter of 2021, feeder cattle "are going to struggle to find a bid, and we'll have to work through that," Small said during the UNR webinar.
In the second half of the year as carcass weights start to come down and there are fewer cow numbers, producers may see prices rebound, he said. And as the coronavirus vaccine is distributed and infection numbers abate, "we'll hopefully start to see some recovery in demand on the food-service side of things," he said.
"I think there's light at the end of the tunnel, but the tunnel might be a little bit longer than we anticipated given the changes in feed costs," Small said.
Subscribe to receive top agriculture news
Be informed daily with these free e-newsletters
You May Also Like
---