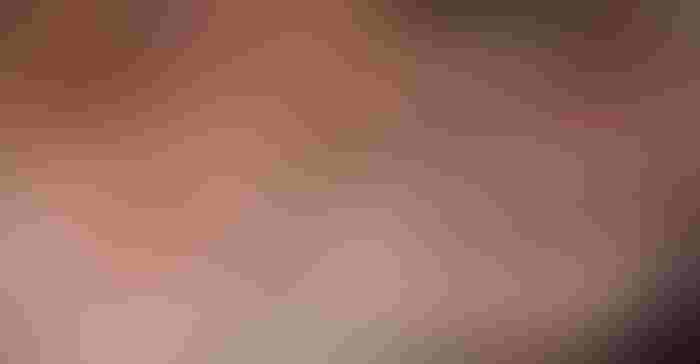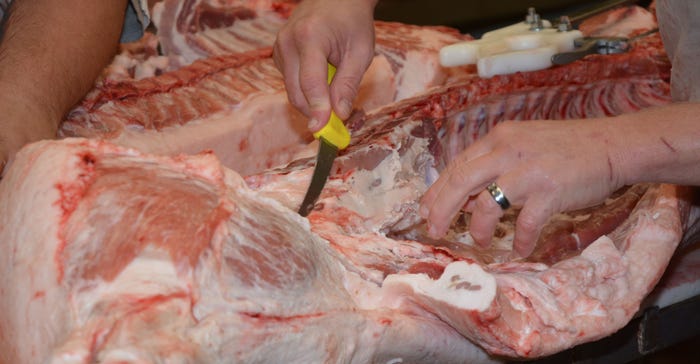 The first class of students enrolled in Ridgewater College's meat-cutting program will soon be wrapping up their fall semester of instruction and off-campus lab learning.
Ten students — in and out of state—are enrolled in the new program, based in Willmar, Minn., and taught by meat cutting instructor Sophia Thommes. Lab practice time is held off-site and in butcher shops located near the students. Carlson Meat Market in Grove City, Minn., is one of the butcher shops that partners with the school.
"We like having students come through here and get into the field," said Jesse Weseman, meat shop plant manager, who participated in an on-site media event Oct. 17 that highlighted the new meat cutter training. "We're short-staffed most of the year," he added.
Carlson's is a small family butcher shop that's been serving the community for more than 100 years. Current owners Joel and Jamie Inselmann purchased the business in 2020 from the Carlson family and offer custom processing of beef, swine, buffalo, elk and deer. Weseman said they butcher, on average, around 75 cattle, 20 hogs and five bison per month.
The Grove City butcher shop is not alone in its challenge to hire skilled meat cutters. Across the nation, bottlenecks in meat processing became glaringly evident during the pandemic, when farmers could not send their livestock to slaughter. Over the past two years, state and federal funds have been approved to help with secondary school meat processing training programs and to provide grants for meat-processing facility startups, modernization and expansion.
Colleges make courses flexible for students
Ridgewater offers an 18-credit certificate that can be completed in one semester, or students can take individual courses. Classes run in four-week blocks, with a mix of in-person and online instruction and off-campus lab time. With the online offering, the program has attracted students in Florida, Iowa, North Dakota and South Dakota. Six of the 10 students are in Minnesota. Two of those students have lab time at Carlson Meats.
The other in-state and out-of-state students take instruction from owners and/or managers at butcher shops close to where they live. Thommes keeps in regular communication with students and shops about lab experiences, which average 15-20 hour per week . Thus far, instruction has focused on cattle and hog butchering.
Most students are working on certification, Thommes said. However, courses offer flexibility for those who consider butchering more of a hobby. For example, hunters interested in processing their own meat are interested in a new wild game animal processing class that starts Nov. 14. Ridgewater plans to offer advanced and entrepreneur meat-cutting certificates in the future.
According to the Minnesota Department of Employment and Economic Development, meat cutters can earn from $16 to $27.75 per hour.
Ridgewater will offer the meat-cutting certification program again for spring semester 2023, which starts Jan. 9. Visit ridgewater.edu/meat-cutting to learn more about the program.
To learn about Central Lakes' program, visit clcmn.edu/meat-cutting-and-butchery.
To learn more about Carlson's, visit carlsonmeatshop.com.
Read more about Minnesota's efforts to assist small and medium-size meat processors at Local meat processing: Rebuild begins, April 21, 2022; and Report examines state of Minnesota's small meat processors, Aug. 4, 2022. 
About the Author(s) Paula Mohr has been editor of The Farmer since 2004. She enjoys covering a wide range of topics that are of interest to Minnesota producers.
Subscribe to receive top agriculture news
Be informed daily with these free e-newsletters
You May Also Like
---