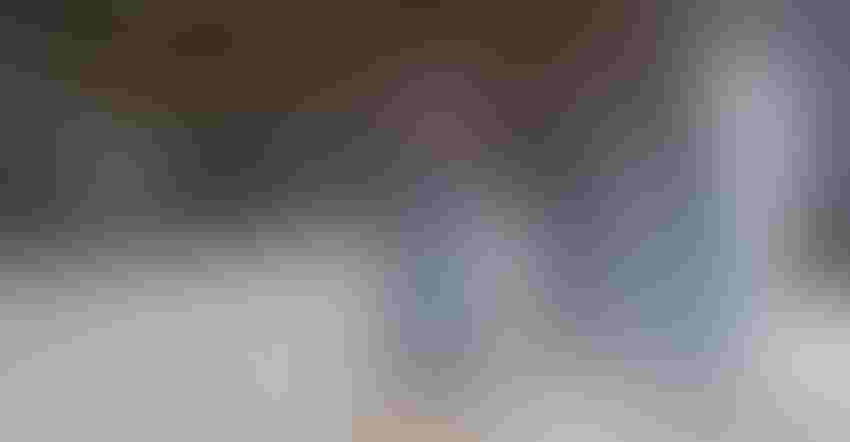 COMMUNICATION: Shown here with Illinois beef producers Jamie and Larisa Willrett on their Malta, Ill., operation, Josh St. Peters (center) says his position as executive director of the Illinois Beef Association is unique. "I get to measure the success of my work today around opportunities for farmers and benefits for our farmer-members. I love that."
Photos by Betty Haynes, Illinois Beef Association
That Josh St. Peters, executive director of the Illinois Beef Association, didn't grow up on a farm isn't a big anomaly. Lots of people come to agriculture without a farm background. But it's his path to ag that'll make you smile.
St. Peters grew up in Bond County, Ill., with parents who worked in town. You have to go back a generation or two to find farmers in the family. But they had neighbors who farmed, with kids his age — and they brought him into the fold.
From there, two pivotal people exposed him to all the agricultural career possibilities: Lynn Weis with the county 4-H program, and Steve Zimmerman, his high school ag teacher. If you're thinking of the Lynn and the Steve in your own life, you're not alone. They are the people who inspire possibility.
"Steve instilled in all of us that there's room for all of us in this industry," St. Peters says. "You need to find the place that you're the most excited about and be all in."
St. Peters' career has taken him from the radio waves of WGN to the newsroom at Illinois Farm Bureau, to head of corn marketing for Pioneer, to a vice presidency at a major ag marketing agency, to a stint as a business consultant and now, back to his original love as he tells ag's story with Illinois beef producers. Here's a look at his path:
Was there a particular lesson you picked up in Steve's ag classes? A lot of times in his intro to ag class, he would turn us loose to research an ag topic and present it to the class. It wasn't him saying, "This is what you need to know." He taught us to investigate something that was exciting for us. It was welding or ag technology for some people, and no matter what, we could learn from it. For me, it was animal science and ag business. That got me really excited about ag communications and marketing work from the get-go.
Was there an FFA experience that really cemented ag as a career choice? I never was drawn to the officer thing — I was chapter and section officer, but I didn't want to run for state office. I really liked the chance to participate with record books, and I got my State and American degrees and was the state Star in Agribusiness and a national Star finalist. I loved that experience because on the state and national level, you're competing against those folks, but you get to know them really well. It was so cool to know there were other people like you, interested in the same things you are.
What — or who — directed your college decisions? Lynn Weis and Steve Zimmerman were both strong proponents of the University of Illinois College of ACES. They went out of their way to make sure I spent time on campus for 4-H and FFA events. One of the connections they made for me was Kathy Reiser, who was working in ag communications. She connected me with Jim Evans and Del Dahl. I thought I wanted to be an animal sciences pre-vet student, but I met them and that changed my course. I ended up graduating in ag communications in December 2003.
How did you land an internship with Max and Orion? Kathy introduced me to Orion Samuelson and Max Armstrong.
The consummate connector! Yes! After my internship, I did some projects and stringer work for Max. He never questioned my age or experience, he just challenged me. He'd send copy back and say, "Try it again." Or he'd send a story back and say, "You missed the mark." He wasn't just doing me favors — he was challenging me to get better at the art of storytelling. And I'm grateful for that.
You've really had a network of people who brought you down the agricultural path. Yes. I've been blessed with a tremendous network who were willing to invest in me and mentor me throughout my career. I try every day to do that for my team. Paying it forward or giving back is a real thing. It really is important. In ag and rural communities, we strive for that. It's the thing that's kept me anchored in ag for my entire career.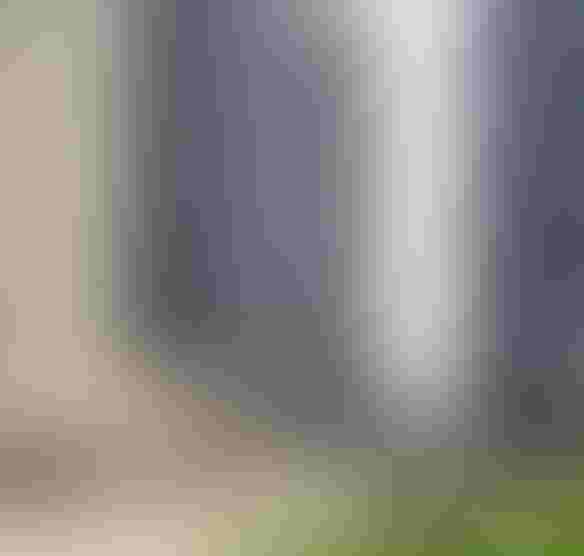 You've worked with a lot of really different types of organizations: media, agencies, business entities and now a farmer organization. Ag knits them all together, but what's been the biggest difference in those groups? The biggest difference is that I get to measure the success of my work today around opportunities for farmers and benefits for our farmer-members. I love that. It really is one of my favorite things about the role at IBA. I get to wake up every day working for the industry and the members.
You've worked a lot with strategic leadership and organization — something a lot of people might say doesn't sound super interesting! What interests you about that? That's the one piece in my career that sparked my interest as a farm broadcaster, and today: What are challenges that the industry needs to overcome? We have no shortage of those in agriculture today, unfortunately. Sometimes it's big macro issues like water, or regulatory issues or local issues — all challenges that are critically important for the global supply chain. Consumers need affordable, healthy protein.
What have you learned about people? Always assume good intent. It's easy in ag to feel like the rest of the world is out to get us because they don't understand us. If we approach engagement with the outside world assuming good intent, we can find a lot of commonalities. Hopefully that opens the door to dialogue, sharing information and educating about our industry.
How have you known when it was time to make a change in your life — taking a job, accepting a promotion, leaving a company, etc.? I am blessed to have a partner in life who is a great compass for me. My wife, Maggie, is a people person to her core. She's been a great confidante around where I get excited and what it is that gets me fired up and enthusiastic about the work I'm doing. When IBA called, I'll never forget sitting in the living room and she said, "I can't think of anything else that you'd be more excited to do than this." She wasn't wrong.
Tell us about your cattle. We run 120 pairs in partnership with Maggie's brother, Chandler, and his wife, Cara. They're mostly registered Simmental-SimmAngus. We background and feed cattle across a couple locations in McLean County. Cows are a 365-day-a-year endeavor! It's a passion. It's not just a job, it's a lifestyle.
But you're able to fit it in with your day job. I'm headed to an important meeting in Springfield later today, so I had to clean my boots this morning! But yeah, it's conversations in the barn lot at 6 in the morning and working to pull twins at 11 at night. It's part of it. It's not just the love of the cattle and the business, but it's those experiences as a family that really make it worth the long hours and tough schedules.
And you get to see it come full circle? There's a spark in my father-in-law's eye when he gets to watch our kids in the thick of it. You see it come full circle; none of what we're doing today would've been possible if it weren't for the sacrifices of prior generations, family or otherwise. That deep-seeded feeling in agriculture of leaving it better for the next generations — there's something really special when you see that happening in your own family.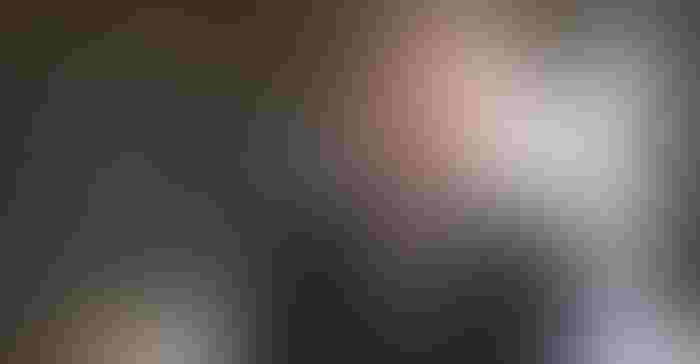 ST. PETERS REFLECTS
On telling ag's story:
"As people, we all have a lot more in common than we realize. Step back and be open to that."
On what FFA did for him:
"I thought it was the end of a really great six years of high school ag education, but Steve laid the foundation for things that are still instrumental in my career and what I do to serve Illinois agriculture."
On working in ag:
"The people we are able to surround ourselves with really are a phenomenal community."
On working at IBA:
"That's how we measure success: Are we making a difference for the farmers?"
On building consensus:
"Align people around what makes us alike or common. For IBA, that doesn't just mean cows. It's ideals and perspectives around rural communities, the ag economy, and beyond. In agriculture, there's a deep desire to leave something bigger and better for the next generation."
ST. PETERS IN BRIEF
Livestock? Beef heifers
Truck? Chevy
Tractor? Green
Team? St. Louis Cardinals
Technology? Any Bluetooth device
Best Decision? Calling 4-H House and asking Maggie Bane to go out on a date
Best advice? Don't forget where you came from; I still like spending time in Bond County.
Family? Wife Maggie and children Owen, 13, Colin, 11, Maren, 6
Subscribe to receive top agriculture news
Be informed daily with these free e-newsletters
You May Also Like
---