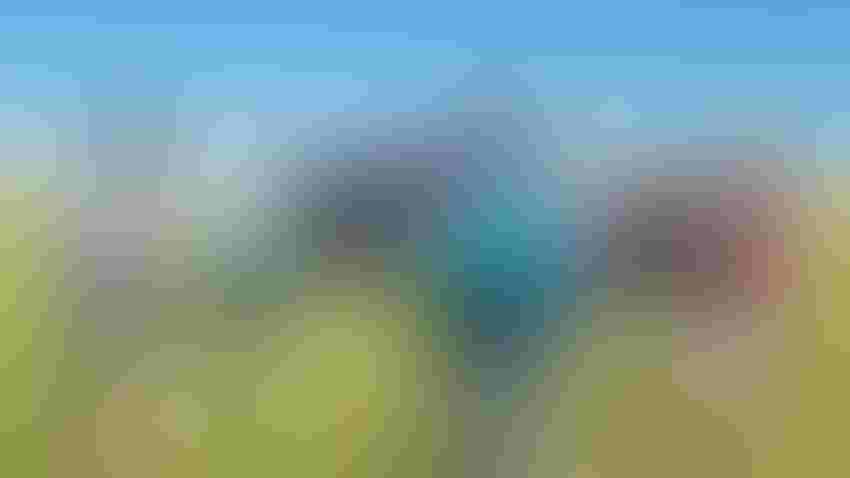 The peer advisory group gathered monthly on a different member's ranch to discuss their successes and issues as they incorporate the regenerative ranch management practices.
Pancho Abello
When Joe VanZandt walks across his ranchland in Wheeler County, he observes the soil, the plant growth, water availability and the cattle. Like most ranch owners, he knows how each connects and contributes to a successful ranching operation.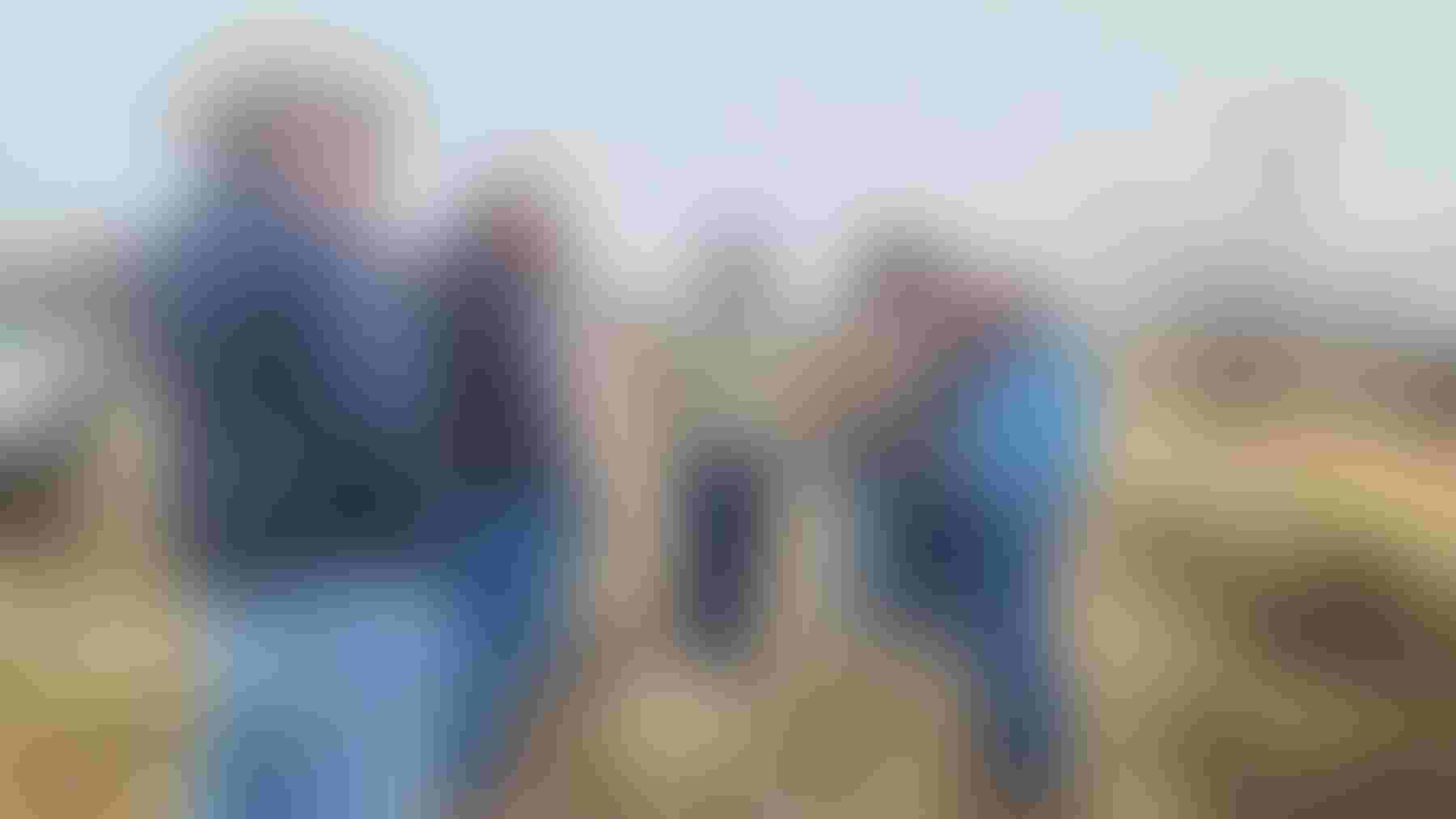 Joe VanZandt, far right, discusses the grass growth on his property with a group of ranchers who were participating in a peer advisory group focused on regenerative ranch management. (Texas A&M AgriLife photo by Pancho Abello)
Ranching is a family affair for the VanZandt's. The family's multigenerational ranch in Mobeetie is why he, his wife, Janie, and now his grandson, Josh Reid, have all taken the Grass Grazing and Animal Management School coordinated and taught by Tim Steffens, Texas A&M AgriLife Extension Service range specialist and West Texas A&M University assistant professor in Canyon.
It's also why he and his family joined a peer advisory group formed for alumni of Steffen's school. This peer group was formed through a Southern Risk Management Education Center grant received by Pancho Abello, AgriLife Extension economist and assistant professor in the Department of Agricultural Economics in the Texas A&M College of Agriculture and Life Sciences.
VanZandt said they did not hesitate to join the peer advisory group when it began meeting across the Texas High Plains and neighboring counties in Oklahoma. They were eager to meet and learn from other ranchers about resource management, finances, profitability and succession planning.
"This peer group has been very beneficial," VanZandt said. "I wasn't sure if, as an older person, it would help me. However, we went to a different operation each month to see what they were trying to do and learned about their specific circumstances. We benefited from seeing how other people have adapted their operations to fit their situation, because no two operations are the same."
Peer-to-peer education expands ranch management understanding
Steffens teaches "profitable, regenerative grazing management," which he explains is not typically practiced by many ranchers.
VanZandt had heard about the rotational grazing method, often called holistic management, since it was first developed and promoted. But most ranchers didn't understand how to incorporate it into their operations. They knew it involved smaller pastures and moving cattle around, but they didn't pay close attention to what was happening to the land these cattle were grazing.
Experimenting and learning new management practices can lead to underperforming cattle at first, so some producers walk away from the new method before they get things right, he said. But over time, ranchers have refined the process. They've implemented more adaptive grazing management practices to evaluate both the cattle and the grass in the paddock, then move the cattle according to grass condition and not planned days.
Steffens agrees. The basics of the regenerative grazing ranching style is to manage when, where and how many animals are grazing a particular spot at a particular time, how long they stay and how often they come back. Sometimes, he said, adopters of the practice may feel they are alone or the only ones making mistakes.
Abello said he found a way to overcome that feeling of isolation when he was working on a 17,000-acre farm and ranch operation in Argentina. He participated in two peer advisory ranching groups for many years and wanted to bring that learning style to this AgriLife Extension program and this ranching group.
"I owe a lot of what I learned and how I grew professionally to being a part of those groups," he said. "They were groups formed by ranchers and farmers who were willing to share their experiences and make the most of each individual's skills to reach solutions to their problems and make decisions in their own businesses."
Building the two-step learning process
Steffens and Abello said they believe this peer advisory group concept is perfect for ranchers who are willing to continuously improve their business, productivity and resources. Initially, the school provides 40 hours of in-depth training on profitable and productive livestock management to achieve lifestyle, livelihood and landscape goals. Then, to complement the programming within the school, the peer group serves as a reciprocal advisory board.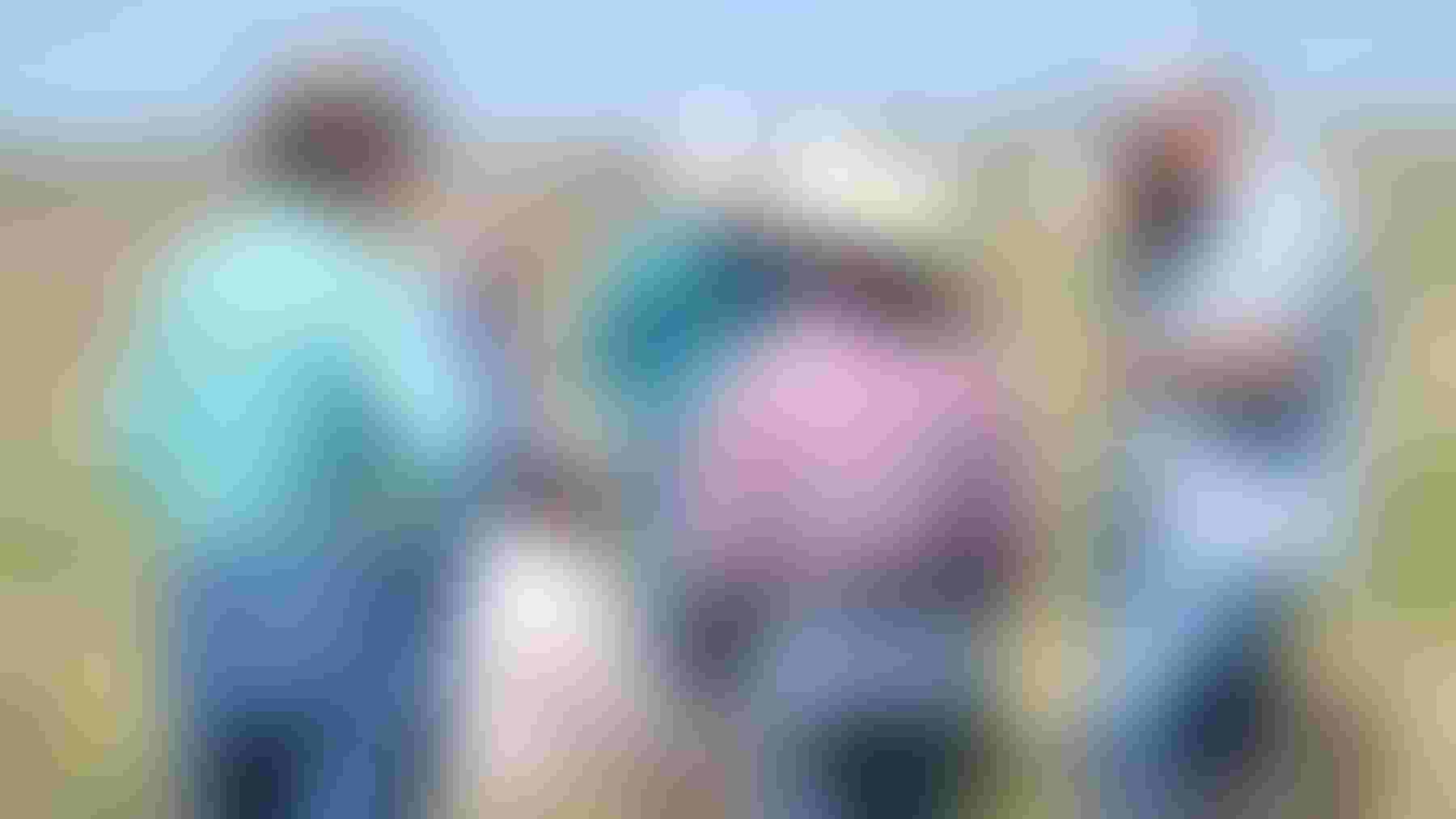 Ranchers from across the Texas Panhandle and neighboring Oklahoma counties discuss the soil and grass properties on the peer advisory group ranches. (Texas A&M AgriLife photo by Pancho Abello)
"Our whole concept behind establishing the peer group was to allow the ranchers to bounce ideas off one another," Steffens said. "Although everyone has been through my school and they have a common paradigm, they all come with different viewpoints."
Abello said this first peer group included young and older producers as well as a mix of men and women – a very diverse group in age and gender. Although the peer group was comprised of people from different walks of life, they came together and bonded because of their views on how to manage their grass and ranch.
"Like in every group, as time goes by, the group bonds and the participants start sharing more information. About halfway through the year, they started sharing everything," he said. "We talk about every aspect of the business. We discuss all the issues an operation has, and the rancher host gets input from the others."
Learning in school, learning in the pasture
VanZandt, a former AgriLife Extension county agent, and his family have attended the school multiple times. He said he learns a bit more each time and hears something different from the people involved.
Abello elaborated on the importance of ranchers continually expanding their ranching knowledge, even if they have been in operation for a long time.
"By adapting new grazing techniques, you may not only help profits, but you can help the sustainability of your business in the long term," he said. "For example, the better I manage my soil and grass, the better I will be prepared for a drought. Also, the better the soil quality, the more productive the land will be for future generations. Of course, we want to be more profitable right now, but we also need to learn how to sustain that profitability into the future."
Providing an example from his business, VanZandt said he had to sell cows and calves in the summer two years ago. He needed to reduce his cow herd to a more manageable stocking rate, so he could leave grass cover on the pastures and not graze it to the ground.
"We've learned in Dr. Steffen's school to leave a good cover on the ground to serve as a food source for the soil microorganisms when they die off," he said. "On our sandy loam soil, a lot of the acreage was broken out 100 years ago or more; the rolling country was stripped of its cover of grass, and the replenishing nutrients from the cover died off. The soil began to blow away."
VanZandt said some of his ranch has been in his family since 1901, and it hasn't been farmed, so it has good topsoil still in place. However, the neighboring farmland he purchased was severely eroded and washed away.
"My goal was to figure out how to make this ol' wore-out land better by managing the grass and cattle," he said.
In the peer advisory groups, one benefit of seeing other operations is learning how they adapted in similar situations and picking up some tricks of the trade from each other, VanZandt said. Not everything fits all operations.
Starting small to grow the community
Initially, Steffens created the school to help beef cattle producers find more profit and better steward the land, wildlife, cattle and other natural resources in the Panhandle.
But now, through the peer advisory groups, he and Abello know this AgriLife Extension-based educational process could lead to a much larger community of practice and understanding that invites participants to continue learning from one another long after the school is over.
Steffens said while the initial group consisted of 12 early adopters, the peer advisory group opportunity is open to all the alumni of his schools.
"I'm hoping we will get more groups going," he said. "I'm doing another school right now. Once the word gets around about this peer advisory group and others see how they can learn from one another, I hope this first group will move to an advanced level, and another group will start again at the beginning."
Source: Texas A&M AgriLife Extension, AgriLife Today
Subscribe to receive top agriculture news
Be informed daily with these free e-newsletters
You May Also Like
---