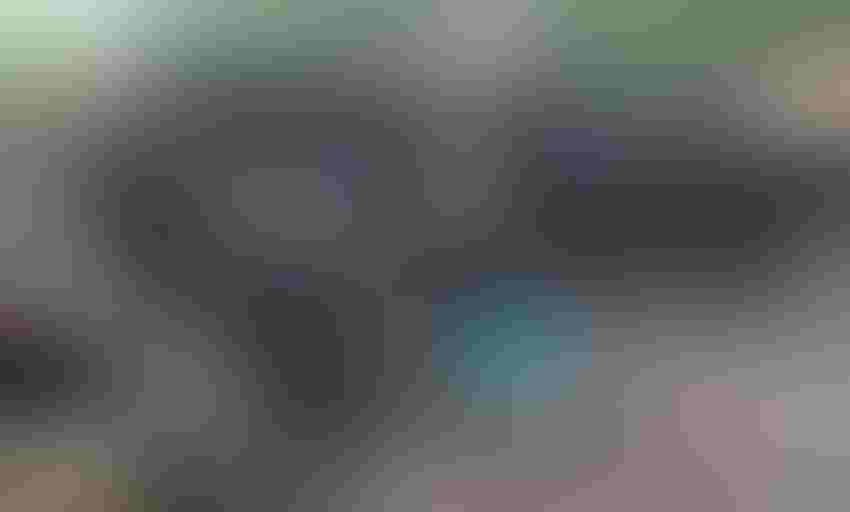 Somewhere between a slightly spirited jazz concert and the most perturbed of the Jurassic Park reptiles—that's the sound of calves being weaned en masse. Forever separated from the comfort of mama's protective watch, these little bawlers are unaware of just how long they'll live in this limbo land, so it's no wonder they holler until they are hoarse.
Does being able to see mama make it better or worse? For those weaned within eyesight, they say it's worse. Possibly trumped only by the experience of having a mom who says her goodbyes and then immediately runs off to graze calf-free. When mom's condition clearly shows her previous devotion to milk production, can you blame her for enjoying the brief respite? Still her latest contribution to the world is left to fend for itself, along with 150 cohorts who share the exact sentiment.
The consolation—an unlimited supply of hay and a calf feeder perpetually full of grain. But misery loves company and also the chance to do laps up and down the trap 24-7. Who can possibly put on weight during this time of distress?
Though they dearly miss the opportunity to pass through fences at will (here the fences appear impenetrable), they do seem to be entertained by the show playing daily (and nightly) at the barn. Only the weanlings get the full scoop of what really happens after hours. I overheard them talking the other day.
"Did you see the cat fight that broke out last night? A stray Siamese got his butt whipped by that tail-less tabby."
"Yeah, I think he went back to his woods hole of shame. They all act so tough but scatter immediately and hide in the truck cab and on top of the hay as soon as the human with a ponytail and her little humans come to feed us. It's like they're taking naps all day."
"Yeah, I don't blame them. I am amused by the little human that throws objects at the bigger human and then cries when she swoops him up after he slid under the gate when she was on her phone. He's loud but funny. I think he just wants to chase us around the pen."
"Probably so, but I think the baby human is the funny one. He's always crawling around in the sand and can somehow get covered in tractor grease when he's only been out of his car seat for five minutes."
"They are all a lot more laid back than those dogs in the pen at the house. Man, they come running full speed at the fence when I walk even remotely close. This may sound crazy, but I feel like I'm being watched."
"I feel like the opposite is true for the horses. Have you even seen them today? I wanted to ask why their pasture isn't covered in mud and manure like ours. But I feel like they're avoiding us. Like they're too good to speak or something."
"Speaking of speaking, isn't it time to start hollering again?"
Bearden is a biologist with the Geological Survey of Alabama. She writes about the exploits on her family's ranch in Alabama.
Subscribe to receive top agriculture news
Be informed daily with these free e-newsletters
You May Also Like
---