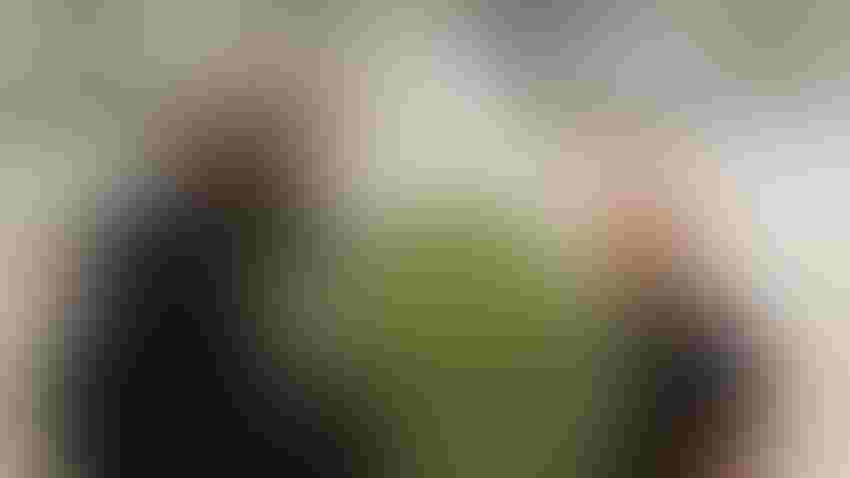 Pictured from left are Harold Singletary, BrightMa's CEO, and Jean Marc Villain, COO. BrightMa is exploring new uses for hemp fiber.
Courtesy of BrightMa Farms
Hemp cultivation launched in South Carolina in 2018 with much fanfare, lots of anticipation and plenty of promise of eventual profits for farmers. However, the excitement proved to be premature, as few farmers realized profits and many lost money. With dozens of states scrambling to launch hemp programs as a result of the 2018 Farm Bill, which legalized the growing of hemp, the market became saturated.
After an initial pilot program, more than 200 state permits were issued to grow hemp. That number gradually declined over the past few years and currently stands at 130. However, most with permits aren't currently cultivating hemp. Just a few are growing hemp for CBD.
"We have seen kind of a shift," said Will Attaway, program coordinator for the South Carolina Dept. of Agriculture's Hemp Farming Program. "The CBD boom has slowed everything down. We are starting to see more farmers move toward fiber and industrial uses. That's the direction I would like to see it go. Right now, the CBD market is flooded. If farmers don't have contracts, they have a hard time."
Former Clemson coach among first growers
South Carolina's hemp growers, for the most part, tell the same story. Some had early success only to have the market fade away.
"I thought it would work out," said Tom Garrison, a longtime Upstate farmer. "When this thing with cannabis came out, we saw the train leaving the station. With all the things that are happening with the technology, I thought this might be a golden opportunity to get in on the ground floor, like my dad used to do."
Garrison worked with another nearby farmer, Danny Ford. Both men grew about 20 acres. Garrison grew for two years and Ford for three. Those years were filled with hard physical work and negligible income from hemp. The two farmers were among 20 chosen for the pilot program, and the only two from the Upstate. Most in the program at that time were former tobacco farmers in the Lowcountry.
Ford, best known as the former football coach at Clemson and Arkansas, has farmed since he retired from coaching in the late 1990s. He considers himself to be a "hobby" farmer but saw hemp as a good opportunity.
"Everybody had a different idea on how to raise it," Ford said. "The way we started, we would not do again, because we didn't know what we were doing. We made a lot of mistakes, but did pretty well, considering. I still use the oil today, because I believe in the medicinal side of the product. I've seen the evidence of it helping with arthritis."
Successful hemp farming requires the farmer to be in control of it from seed to final product, Garrison said, with the right to sell the final product. That has been the recipe for success in other states. Trying to sell the raw material on the market won't work, he said.
"The way the hemp program started in South Carolina is some people thought they were going to make a lot of money, but nobody had a great plan for how to do it…the distribution, what to do with the product and who was going to oversee it," Ford said. "The agricultural department could have had a better plan. They were a bit scared of it at the beginning, because of the liability."
"We didn't have the experience," Garrison said. "I've grown vegetables, and it is comparable to growing vegetables on plastic. This plant is sensitive. It was a learning curve. When you grow two years with all that labor and no income from it, I just said no."
Midlands hemp experience
In the Midlands region, business partners Joe Watson and Robbie Wilkens tell a similar story. Watson, along with sons Reed and Jeff grew hemp and Wilkens used it to make CBD products.
"The first couple of years were very good," Watson said. "It grew quickly, and we found there was a demand; it was very lucrative. Then everyone started growing it, and the supply very quickly overcame the demand…We were promised the world. Everyone was. Not everyone in the hemp business are crooks, but a lot of crooks came out to try to get into the hemp business. They would tell you anything to get you to plant it. Then when it came time to harvest it, they were gone. The only way we would ever do it again is if someone paid up front for the crop."
The Watsons continue to work with Wilkens in a business called Indigo Ridge Hemp to make CBD products. They have enough hemp stored to supply the business for a few years.
"If we got a windfall and started selling, we would grow it again on a larger scale," Watson said. "It's not the easiest thing in the world to grow, but it's not the hardest either. We were growing all organic, so it fit in with our organic program here on the farm. The first year we had about 16 acres, and the next year a little more. We got up to 82 acres on our biggest year, the third year."
But Watson doesn't blame state agricultural officials for the hemp industry's lackluster performance.
"I can't say it was the fault of the State of South Carolina," he said. "Too many people were turned loose, and it ended up with too many people growing too much of it. We do have good conditions here to grow it, because of the heat and humidity of the southeast. If you have a wet autumn, you may have problems, but it was nothing we couldn't handle."
Wilkins operates Indigo Ridge Hemp. It sells a wide variety of CBD products. That endeavor is doing "okay" in a crowded market, he said.
"From a grower's perspective, there is just a glut on the market," Wilkins said. "We probably still have 50,000 pounds sitting in Tennessee, that we processed to preserve it, waiting to be turned into Delta 8 or whatever they are going to make out of it. We did not make any money on the growing side."
A growing success story
Harold Singletary is one of the exceptions in the Palmetto State's hemp program, taking a different path than his counterparts around the state. He launched his hemp operation in 2018, and soon after, pivoted from the CBD market to industrial.
Singletary named his operation BrightMa Farms, after the nickname of his great-great grandmother, a field hand slave named Katie, who was freed from a plantation in 1865 at the age of 25. BrightMa Farms is a certified Minority Business Enterprise with corporate offices in Charleston and industrial hemp campuses in Berkeley and Orangeburg Counties.
"When we began operations in 2018, everyone was excited about CBD, across all 50 states," Singletary said. "A lot of heavy cultivation went into that space, and basically oversaturated the market. Above and beyond that, in South Carolina with their hemp laws, you are not allowed to sell your CBD flowers to any dispensary in the state. You can sell it out of state, but they don't allow CBD flowers in the state."
BrightMa is on a 10-acre campus zoned for agriculture on property Singletary owns in Monck's Corner. The company's indoor infrastructure is there, with 20,000 square feet underroof, 15,000 of which is a fully automated greenhouse.
"We also saw an issue in the fact that genetics were being brought into the state from everywhere else, not necessarily bred for South Carolina growing. With us being a live nursery, and being able to breed, we pivoted during COVID when we saw the market trend. I'm an accountant, so we look at market analysis trends and opportunities, and we began working with scientists, and realized that fiber and grain was the long-term play."
BrightMa Farms has been pushing the transition to industrial hemp and has been involved with product development with fiber and grain for more than two years.
"We work with Commissioner of Agriculture Hugh Weathers; he has been out to the farm several times. We had a visit from NASA as well. But there is also the propaganda damage against cannabis and marijuana, that has demonized this amazing plant. We have to try to change that narrative, on top of bringing solutions for farmers," Singletary said.
Singletary has also been working on a hemp-nylon resin composite for potential use by automakers, including Ford and Volvo. The resin can be used for indoor door panels and anything currently made of plastic. It is lighter, stronger and has a biodegradable component, which fits in with the move to put more electric vehicles on the road.
"Henry Ford in the 1930s built a 90% hemp car and ran it on hemp ethanol," Singletary noted. "Marijuana laws in 1937 threw that research into a vault. The value proposition has so many upsides to it. Anything in a car that is made of plastic can be replaced with hemp, including the carpet and flooring."
"Most farmers have their heads down and their minds on their fields," Singletary said. "We are out here trying to build eco-systems that can create wealth and put supply chains in place where farmers can grow Most farmers who tried hemp are not currently producing it, because they don't have the market to integrate into. We are bringing the markets to them."
On the drawing board for Singletary is a foray into the textile industry. However, South Carolina does not have the processing facilities to handle hemp fiber.
"We are trying to bring about these infrastructure solutions that would allow circular eco-systems for all the plants that come out of the field."
Singletary is a fifth-generation farmer who grew up on a 100-acre farm on James Island. Many family members had their hands in the soil.
"Farming has been in my family. I'm an accountant by trade. I never wanted to be a farmer, so I'm doing ag-tech innovation. My greenhouse can be operated from my MacBook and my phone. It's fully digital. We are using technology to our advantage, but we work with many farmers, so that they can win as well. We sometimes broker, even if it is not our product, we can help them move it to market, because of our vast network."
Singletary believes hemp offers big opportunities for minority farmers in the South.
"BrightMa's goal is to move from a tortured past to a bright future. We are standing in place to create generational wealth to help minority farmers. We position them for research, for R&D projects, for working with HBCUs, so that they can see opportunities to farm like a business, not just for survival."
Waiting game for medical marijuana
Many current and former hemp farmers are holding onto growing permits in hopes that South Carolina will one day will legalize medical marijuana. A bill legalizing it passed the S.C. Senate in 2022, but wasn't taken up in the House. It didn't advance in 2023, but supporters are hopeful the tide will turn in 2024.
Ford continues to renew his state license to grow hemp in case South Carolina joins the 38 other states that have approved medical marijuana.
"Even though I've always been against marijuana, I believe now, if I'd known how the medical forms could help people, I would have been for it," Ford said. "Like other things, it can be used to excess and in the wrong way. We believe it has medical benefits for certain people. And if it can benefit anybody on this earth, I'd like to help them."
Ford cautions that if medical marijuana gets the green light in North Carolina first, South Carolina will lose a lot of tax revenue as South Carolinians drive across state lines.
Watson thinks medical marijuana will get the green light in the coming years.
"That type is strictly indoor-grown. We have a small facility that could be set up for indoor grow, but we would have to have a much better offer than we got for the hemp. It would have to be a guarantee to buy."
Wilkens cautions that the same difficulties faced by hemp farmers could return in medical marijuana grow operations.
"The same thing is going to happen on the marijuana side, as has happened in other states," he said. "They don't limit the amount grown, and then the supply and demand are unbalanced. From a farming perspective, it is going to be very difficult to grow marijuana, if it becomes legal in South Carolina, and make money. We've all thought that medical marijuana was on the way to becoming legal for the last 10 years, and nothing has happened. It only takes one senator from the Upstate to stop it, and that is basically what has happened."
Subscribe to receive top agriculture news
Be informed daily with these free e-newsletters
You May Also Like
---