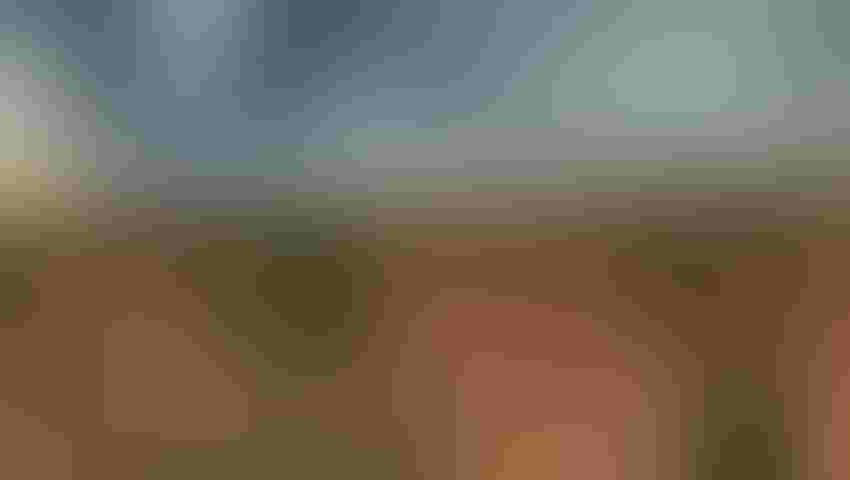 Hemp grows in the Arizona desert.
Integrated CBD LLC
At 10,000 acres, Integrated CBD LLC is definitely the big dog on the porch when it comes to growing hemp in Arizona and one of the largest operations on the entire West Coast.
"Weather-dependent, we'll plant over 8,000 of those acres in mid-to-late February 2020," says Farm Manager Richard Phelps after a successful first crop (1,200+ acres) harvested in October and a second crop (1,800 acres) slated for completion in late December.
Integrated CBD was one of the early birds waiting to move forward once the 2018 Farm Bill legalized production of industrial hemp.  In May, Arizona Governor Doug Ducey authorized the state Department of Agriculture to approve qualified applicants to grow and process industrial hemp.
It didn't take long before forward-thinking entrepreneurs started planting.  Some growing indoors (over 160,000 square feet under glass) with a few plowing farm fields for open-grow.
In June 2019, Integrated planted the first hemp seeds in Arizona since Prohibition.  According to the state agriculture department Industrial Hemp Program Manager --- "the first legally-planted hemp seeds in the last 50 years."
"Hemp is no longer a small greenhouse operation, but a multi-billion-dollar market," said Jeff Dreyer, co-founder and COO of Integrated, a pharma-grade manufacturer and custom formulator of hemp-derived CBD products.
"We're trying to do things the right way with all land and processes certified as organic," according to Patrick Horsman, President and CEO.
155,000-square-foot facility
Based in Scottsdale, and working with $78 million in debt and equity raised since January of this year, Integrated is occupying a 155,000-square-foot production facility in Phoenix that, when completed, will represent the largest throughput CBD oil extraction plant in the U.S producing well over 100,000 pounds of biomass daily.
That's in addition to the 10,000 acres of drip irrigated farmland in Yuma that is already growing crop.  "Our first harvest has been tested by the state and none of the crop was hot, so we did a good job managing cannabinoid levels," said Horsman.  Company goals for next year include production of 18 million pounds of product.
 "We have different strains," he said.  "Some are photosensitive that you plant in the spring to be harvested about now as the days get shorter and plants cease flowering. The planting we're doing now is a non-photo-sensitive crop that takes about 75 days or so before it flowers and is ready to harvest.  So we'll grow the auto-flowering crop in the spring and fall shoulder seasons and run some 8-9 months of photosensitive crop that is generally larger and produces greater yield."
Experimenting with 8 different kinds of seed, Phelps says: "There's a couple of varieties that have proven better than the others, but I don't know if we want to share that with competition right now."
Beginning with both raw desert and some previous farmland acreage, "We cut and filled to level things off, then ripped deep in two directions 36 inches apart.  Disking came next and all weed seed got plowed under, before we ripped again.
"Because we're in an unmanaged irrigation district, we drilled about 50 wells at 1200-1700 feet and tied them into a main system, a grid of underground PVC, before we installed drip tape 10" deep across all the fields, hooking up the tape to mains that allow us to turn on individual fields that average about 38 acres."
Farm encounters challenges
Because this is a pioneering effort for these hemp farmers, there were challenges.  "A lot of these seeds came from Colorado, Oregon, and California and they weren't really acclimated to our desert conditions," says Phelps.  "We have super sandy soil and saltier ground and a lot of the varieties didn't perform very well.  When they did perform well, there was a lot of phenotype variation within the variety, so it will take some time to get the correct genetics for this region.  It's all experimental and you have to learn what will work best for you under your specific conditions.
"Our first planting was done in the middle of the summer and we learned pretty fast it wasn't the ideal time to plant, but we wanted to be first to market and have a product out early.  So planting windows are important to develop a good root structure and ensure that a full canopy is available to help plants handle the heat.
"Fertilizer-wise, hemp needs more nitrogen, which can be a challenge growing organically, but between compost and liquid fertilizer blends, we're managing that.
"I've never encountered a crop this sensitive," he says.  "We transplanted a lot of acreage and you have to hit the timing just right, along with the right amount of irrigation and the exact amount of fertilizer.  I know of guys that lost their whole crop because one or two things went wrong.  This is one crop you just have to stay on top of."
Sometimes luck is also a variable.  "We're pretty secluded here, not surrounded by a lot of other farms, so pollution and pest problems have been minimal --- no aphids, no leaf hoppers.  We've been lucky in that regard."
Labor not a problem
Labor has also not been a problem.  "We've got a couple dozen core guys who live on the farm and run day-to-day operations and we bring in contract temporary labor as needed for hand weeding or packaging.  We had as many as 300 workers in the field transplanting our initial crop."
Horsman, a self-described entrepreneur and former Wall Street hedge fund manager, said it was too early to discuss further expansion.  "Ten thousand acres is a lot of production, so we'll get through that first but as market demand increases, we have the ability to add more land and replicate the extraction plant."
Subscribe to receive top agriculture news
Be informed daily with these free e-newsletters
You May Also Like
---