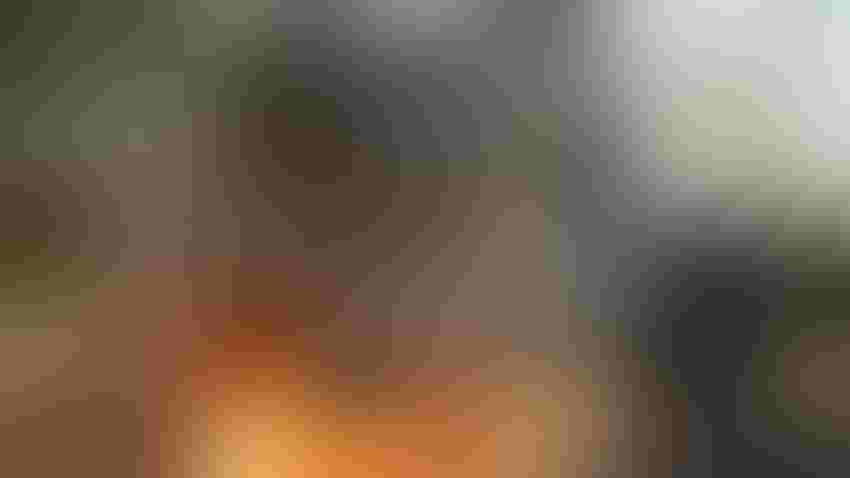 Caution: Flammable. Combines are subject to fire risk from several sources. For Tyler Muzzi, a piece of debris likely caused enough friction to spark a fire that destroyed his Case 8010 combine in about six minutes. Muzzi believes hot, dry conditions contributed to an abnormally high number of combine fires in northwest Mississippi this season.
Doreen Muzzi
On a good day, a harvest equipment operator is seated at the front of a tinder box. 
On a bad day, a spark ignites the tinder box. 
Tyler Muzzi had one of those bad days in late September. 
"That combine went up in about six minutes," the Cleveland, Miss., farmer said. The employee who was driving the combine was okay. 
Bryan Smith, of Indianola, Miss., was driving when his soybean combine went up in flames a few days before Muzzi's. He's also ok. 
"It's not really scary, you're just anxious to put it out because you don't want to lose the machine and we still had soybeans to harvest," Smith said. 
Around the state, Mississippi State University's Leslie Woolington said, the number of harvest equipment fires is average. For northwest Mississippi, Smith and Muzzi suspect the number of combine fires is higher than usual. "I can think of at least 10. It's usually one or two at the most," Smith said. 
Farmers suspect the hot, dry conditions are intensifying an already volatile situation. Crop moisture is lower. Dust is heavier. 
In an average year, Woolington tells farmers to rely on their senses to stop fires before they spread to the equipment. "Use your senses – sight and smell – and if something smells different or sounds different, stop and check it before it turns into something," she continually says. 
That's part of the problem, Smith said, a driver can't see anything different in a cloud of dust, and everything smells hot. In his case, the dust was heavy, and he was a quarter mile away from anybody else. "I couldn't see anything until I turned around. When I turned around it was on fire," Smith said. "Normally we would catch a fire because the crop's a little wet. This year, it's hot and dry. If it catches on fire, it's gone." 
Woolington agreed. "A fire will smolder for a while," she said, "but it's hard to notice because there's so much dust." 
Maintenance matters 
Smith and Muzzie practice daily maintenance, and Woolington preaches it. 
"The protocol is you blow all the dust out of it, you check it to make no grease is dripping, nothing is rubbing," Muzzi said. 
"We go through the whole process every day," Smith said.  
Woolington can only suggest one more step. "If they're getting after it," Woolington said, "they might want to clean out at lunch time, too." 
Muzzi isn't sure even that would help. "The thing this year is the humidity," he said. "Twelve months out of the year most years, the humidity is high. But this past month it dropped." 
Muzzie and Smith both suspect they lost their combines after a piece of debris was pulled into the thresher causing friction that sparked the flames. 
Even with the load in flames, Smith and his team used six extinguishers from emergency kits on three different pieces of equipment to battle the fire. They got it down to smoldering, but it reignited before the local volunteer fire department arrived.  
Just as Smith was equipped to battle the flames, Woolington recommends both a 10-lb ABC extinguisher and a larger water extinguisher on every piece of equipment. A water extinguisher has more power and can shoot a stream deep into smoldering hay or another crop, whether it's soybean or cotton.  
Losses lead to lessons 
Losing the combine is only the first blow. Losing the crop is a second. Smith, fortunately, had recently dumped his load. Muzzie, unfortunately, lost a full hopper of soybeans. 
Having to buy a new combine in a high-interest economy is a hard punch. Looking at high interest rates, Smith, who generally trades combines every two years, had decided to hold onto his JD S780 an extra year. "Now we have to replace a combine that I had 3 or 4% interest on with one that has 7 or 8% interest on it," Smith said, noting an insurance payout wouldn't cover the cost of a new piece of equipment. 
Smith also expects his insurance premiums will go up. One lesson he's taking from this experience is to go back to buying John Deere insurance on his combines – a practice he only recently changed. 
"If a combine burns, it won't impact all of my other equipment on the farm," Smith said. "It cost more for sure to go through John Deere, but one combine burned in 10 years and the insurance premium is going to go up on everything I have – every truck, every tractor, every grain cart." 
For Muzzi, the lesson is to develop a strong relationship with an insurance agent that's knowledgeable about agriculture. "When you're looking at a policy and it's 100 pages long, it can get very confusing very fast for somebody that's not in the insurance industry," he said. 
Though a final determination wasn't made at press time, Muzzi is concerned that the circumstances are going to leave him exposed. His employee was driving his tractor, using his dad's head, and harvesting his dad's field. "We're going to be dealing with multiple insurance companies," Muzzi said.  
Additionally, Muzzie spent $20,000 fixing the threshing unit on the combine the week before the fire. That's a separate coverage. 
"I learned a lesson that I need to go through my coverages on everything and make sure that I'm covered in ways that I know could cause a problem in ways other than the generic ways that other people might not have a problem with," Muzzi said.  
Muzzi and Smith recognize the financial implications hit both ways. 
"Dealing with insurance is complicated," Muzzi said. "Just like I don't want to pay more out of my pocket than I have to, they don't want to have to pay more out of their pocket either." 
And when a company pays a claim, Smith believes, it finds ways to recoup the loss. "When you lose a combine worth $400,000, they're going to make sure you pay for it," Smith said.  
Subscribe to receive top agriculture news
Be informed daily with these free e-newsletters
You May Also Like
---