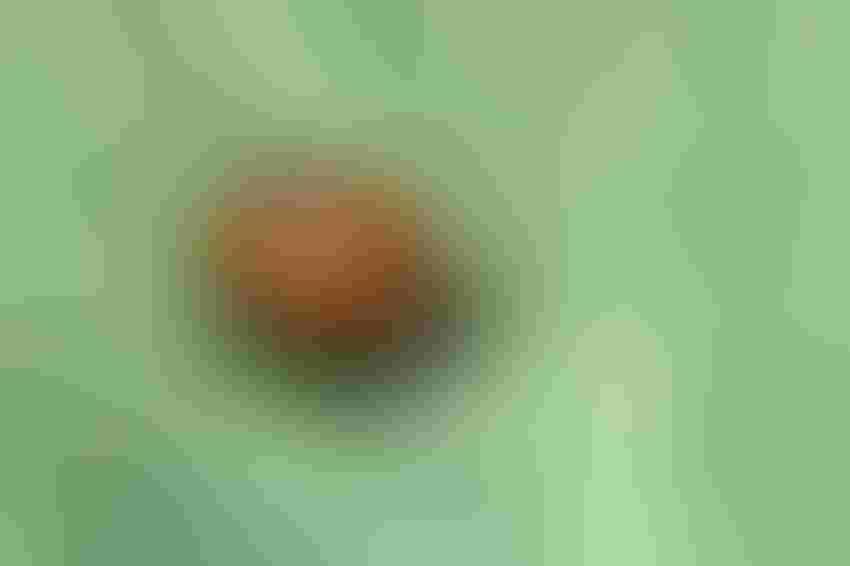 Harmonia axyridis.
USDA ARS
Andrea Botezatu was working as a winemaker in Canada several years ago when the vineyard encountered an infestation of ladybugs.
Far from the cute little bugs examined in childhood science projects, the vineyard-dwelling innsects have been recognized recently as causing a fault that has been identified in wines across a wide range of terroirs.
Compounds introduced by the bugs are introduced into the grape must during processing. Ladybug taint is "horrendous," Botezatu said, because of the time it takes to weed out potentially contaminated grapes.
"You're tired anyway during harvest," said Botezatu, now an enology specialist for Texas A&M Agrilife Extension in College Station.
Afterward, she decided to take part in research to find solutions. She and other scientists put out a paper in 2021 reviewing a range of vineyard practices that seek to reduce ladybug densities, as well as treatments aimed at reducing the contaminant load.
They concluded that while prevention of ladybug taint is preferable, there are several winery interventions that can remediate the quality of wine affected, according to a summary of their research.
"I couldn't consider any level 'safe' when you're dealing with these beasts," Botezatu said Jan. 24 during a panel discussion at the Unified Wine and Grape Symposium in Sacramento, Calif.
Ladybugs, or Haronia axyridis, are just one of many environmental factors in vineyards that can affect the taste of resulting wines, Botezatu and other panelists said.
Not just smoke taint
While the West's wildfires in recent years have familiarized many with the problem of smoke taint, in which compounds from fresh smoke permeate grape skins and give wines an ash-like taste, other environmental factors ranging from frost to nearby land uses can also affect wine taste, they said.
"Climate extremes are at the forefront of our minds, but there are other impacts to the quality of wine grapes," said Alisa Jacobson of Turning Tide Wines in California.
A big problem for vineyards in colder climates is frost taint, which is sometimes called "rose taint" because resulting wines often have a floral or rose-like aroma.
In 2019, a series of freezes in Washington state led to reports that some vineyards left up to 40% of their Cabernet Sauvignon grapes out in the field, said Scott Frost, a researcher from Tufts University in Massachusetts who analyzed the damage.
As cold breezes move through vineyards, they freeze the leaves, which results in "crispy potato-chip like leaves on the vine," Frost said. During harvest, tiny shards from the leaves stick to grapes and wind up in the fermentation process, he said.
"In the end, a freeze kills," he added.
Frost made some wine from vineyards affected by the 2019 freezes and conducted a sensory panel. They noticed a significant reduction in tannin, which adds complexity to wine flavor.
"I think the leaves were screening out some of the tannin," Frost said. "There is a whole host of compounds released with the introduction of frozen leaf material."
The panel discussion, titled "T'aint Just Smoke Taint," was among the morning breakout sessions that kicked off the three-day conference, which is being attended by about 12,000 West Coast wine industry professionals, according to organizers.
The conference continues today, Jan. 25, with the much-anticipated State of the Industry presentation, which will provide a comprehensive update on wine plantings and markets. The symposium, which also includes a trade show with 879 exhibit booths, will run through Jan. 26.
Subscribe to receive top agriculture news
Be informed daily with these free e-newsletters
You May Also Like
---