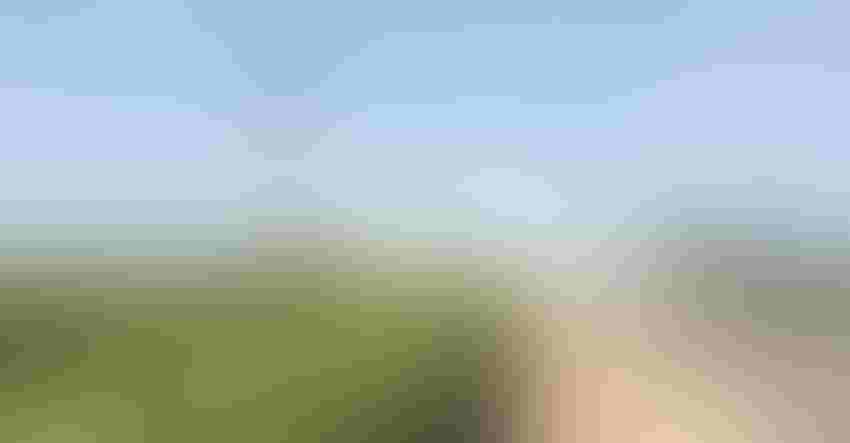 Weather conditions in California's Central Valley can be ripe for pesticide spray drift.
Fresno County Department of Agriculture
Pesticide spray drift, according to the Environmental Protection Agency, is defined as "the movement of pesticide dust or droplets through the air to any site other than the area intended."
Shawn Athayasay monitors pesticide applications for the Fresno County Department of Agriculture, but said her area of concern can be found throughout the Central Valley Region.  "In a lot of the grape growing areas, anywhere there is a valley, you have the kind of weather where you get inversion layers and air is trapped in a dead calm situation.  When you have that kind of situation, dust or spray tends to just hang there and you can see it from miles away until a little bit of breeze picks up, the weather changes, and it moves off site."
So, rule number one, dead calm may not be the best time to spray.  "I think there's a big misconception with a lot of growers that no air movement is good for making an application, but that's not the case.  You need a little bit of air movement — whether it's a dust or liquid spray — to help move it."
Or as Josh Alexander of EPA Region 9 puts it: "It's critical for growers to follow the pesticide label direction, use proper equipment, and apply product during appropriate meteorological conditions."
Athayasay also emphasizes label statements on dusting sulfur to comply with California drift restrictions where the operator of the property and the applicator need to establish a buffer zone to prevent drift onto non-target areas.
Specifically, after evaluating the method (air or ground) and equipment, "Applicators should be aware that in some areas 'dead calm' conditions are associated with an inversion situation," Athayasay said. "In those areas, applying sulfur when there is a minimum air movement of two miles per hour will ensure an inversion situation does not exist."
Don't spray before rain
Conversely, according to the EPA, avoid applying pesticides within 24 hours of predicted rainfall "to ensure that storm winds or rain does not blow or wash pesticide off the treatment area."
"We're getting more residential movement into little rural ranchettes on an acre or two surrounded by large agriculture and not realizing that being surrounded by vineyards means farmers are going to be making applications," she said.  "You can't grow grapes without sulfur because the disease pressure is there no matter whether its wine grapes, table grapes or raisin grapes, you need sulfur.
"A lot of potential problems can be avoided through good neighbor communication and cooperation.  Sometimes the best action is to change the chemistry of the application or wait until the wind dies down, even if it's within the labeled rates."
So, spray timing based on weather conditions is at the top of the list of concerns.  "Then select the right chemistry for that location.  You might decide to use liquid sulfur instead of dust.  It's smart to communicate with any neighbors who might be affected and check out your surroundings before you begin so no field workers get drifted on."
And, as always, when applying sulfur dust, contact your local pest control advisor or county cooperative extension advisor for information regarding best application practices.
Subscribe to receive top agriculture news
Be informed daily with these free e-newsletters
You May Also Like
---