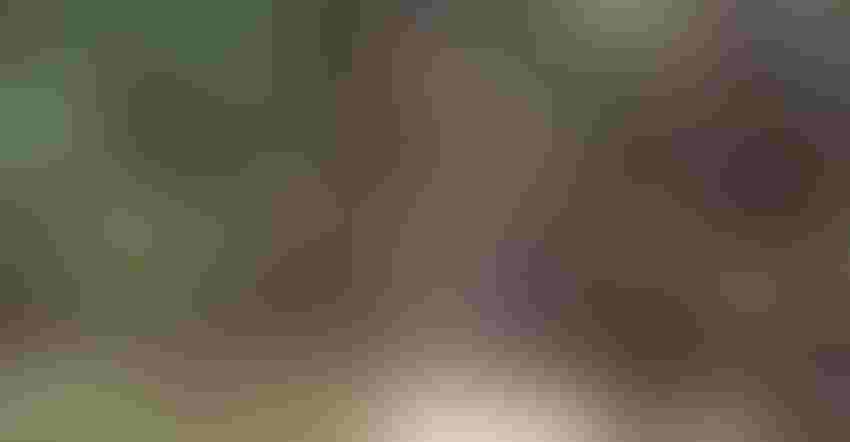 Leafroll disease on Pinot noir shows burgundy red between green main leaf veins accompanied by downward rolling of the leaf margins.
UCANR
Funny how information finds its way to the intended audience.
This item involves a coast-to-coast missive from the grape research folks at Cornell University to the National Grape Research Alliance in Sacramento to our grape-growing readership throughout the West.
It deals with a five-year Cornell study titled: The Best Way to Curtail Grapevine Leafroll Disease…Rogue and Replant?  All quotes come from that research:
"Although leafroll disease remains a concern to the grape and wine industries in New York and beyond, the response to the malady is mixed with producers often failing to fully consider long-term profit-maximizing options.
"Most vineyard managers and owners tolerate the disease without controlling it, despite the documented detrimental impacts on yield and fruit quality.  A few will opt for replanting entire vineyards or roguing diseased vines.  This study illustrated that roguing is the cornerstone of a successful leafroll disease management program."
Grapevine leafroll, introduced in infected planting stock and spread by insect vectors such as the grape mealybug, ranks close to the top of viral grapevine diseases worldwide because it delays ripening and reduces yield.
In New York's Finger Lakes region among the Cabernet franc vineyards, that delay amounted to three weeks with a 25% reduction in yield.  And that translated to the loss of over $16,000 per acre over the 25-year lifespan of those vineyards.
According to the report researchers: "Despite progress in understanding leafroll disease ecology, the best strategy to mitigate disease impacts has remained uncertain."  And that's devastating because there is no cure of vineyard leafroll.  Once a vine is infected, it remains infected until it is rogued or it dies.  Current management practices include a reduction in the number of infected vines and to some extent, controlling vector populations."
Large-scale field trial
What the Cornell researchers did was conduct a long-term, large-scale field trial to demonstrate the effectiveness of roguing.  What they found, bottom line, was that over the trial period, roguing alone — or the combination of roguing and insecticide application --- reduced the percentage of leafroll-infected vines down to .6% from 4% while untreated control plots reported an infection increase from 5.2% to 15.6%.
"For the combined treatment, roguing was the dominant factor in reducing the virus inoculum with insecticides contributing little additional reduction.  It took the full five years (2016-2020) for roguing to achieve a drastic reduction in the number of infected vines."
If, as the researchers believe, roguing and clean replanting is the cornerstone of a successful leafroll disease management program, they advise — a vineyard scouting and counting of diseased vines divided by the number of vines inspected to determine prevalence of the disease.
Once that baseline has been established (moderate disease prevalence ranges from 1 to 25%), an increase would indicate a viral spread.  "If spread occurs and prevalence is 25% or less, flag the vines and two vines on either side, remove them and replace them with clean vines derived from scion and rootstock vine stocks tested for viruses and found to be clean.
"Should the percentage numbers climb higher than 25% of disease prevalence, consideration should be given to removal of the entire vineyard and replanting with clean vines."
Subscribe to receive top agriculture news
Be informed daily with these free e-newsletters
You May Also Like
---