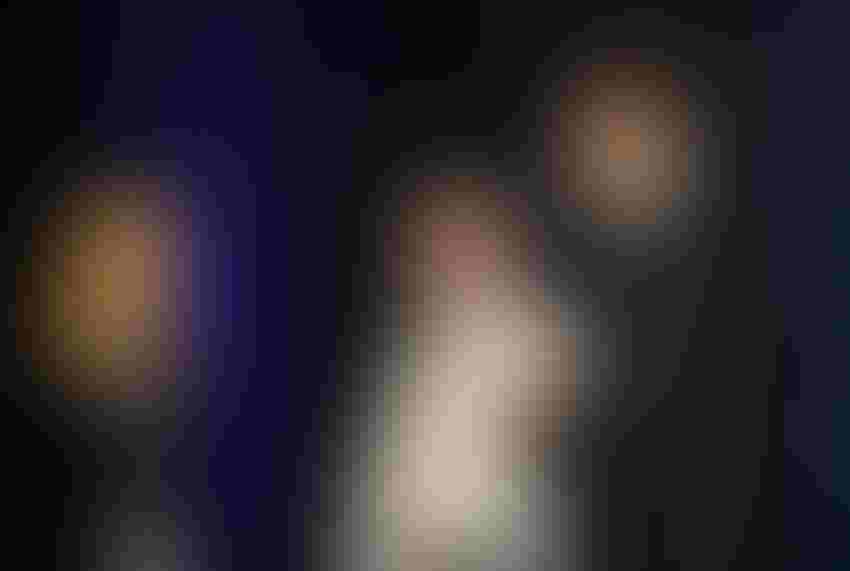 From left, Marissa Lange of LangeTwins Family Winery and Vineyards, Mike Veseth of the Wine Economist and John Aguirre of the California Association of Winegrape Growers talk before giving a "state of the industry" presentation Jan. 30 at the Unified Wine and Grape Symposium in Sacramento, Calif.
Changes in consumer attitudes, more competition among drink choices, a sudden global glut of grapes and increases in productin costs have cast some clouds over a wine industry that has grown accustomed to sunny outlooks over the last few decades.
The U.S. wine market is still growing, but at a lower rate than before, notes Danny Brager, senior vice president of the beverage marketing practice at the Nielsen Co. Annual sales of wine cases rose by just 1.2 percent in 2018 to nearly 410 million cases, slowing a trajectory of annual growth that reached as high as 6 percent in 2011, according to bw166, which tracks the beverage alcohol industry.
Per capita alcohol consumption has remained relatively flat since 2003, and nearly half of regular wine drinkers – including two-thirds of Millennials – said in a recent survey they're trying to drink less alcohol, mainly because of health and wellness concerns.
For those who would drink, there are lots more choices available. Hard seltzers are now a $500 million industry, growing at 200 percent annually; cannabis-infused beverage consumption rose by 61 percent last year in states where it's legal, and the non-alcoholic drink industry is $7 billion bigger than it was four years ago, Brager says.
"The younger generation is looking for an experience along with their eating or drinking," he told a packed main ballroom during the 25th annual Unified Wine and Grape Symposium Jan. 30 in Sacramento, Calif., "And the competitive landscape is much wider than in the past when it was just wine."
BUST AND BOOM
Meanwhile, a light crop worldwide in 2017 was followed by a global bumper crop last year, including as much as a 4.4 million ton harvest in California that beat industry expectations and has left wineries scrambling to sell off excess grapes, experts said during a "State of the Industry" presentation at the symposium.
And yet, an Allied Grape Growers nursery survey found that 22 million vines were sold in California in 2018 – enough to plant about 22,000 new acres, says Jeff Bitter, the organization's president and chief executive officer.
"The reality is a lot of vines went in last year, mostly in the coastal areas," Bitter says. Meanwhile, some growers in coastal areas pulled grapes off vines but had nowhere to send them because of inventory issues, he says.
With two more years of bearing acres coming in, "this is where our concern is," Bitter says. Now may be a good time for growers to take out aging, diseased and underperforming vineyards, he says.
RISING COSTS
Escalating production costs are also a concern, says Marissa Lange, president of the Lodi, Calif.-based LangeTwins Family Winery and Vineyards. As labor and other costs keep going up, prices have not kept pace with the cost of farming in the Lodi area, which represents 20 percent of the California winegrape market, she says.
This has prompted some growers to take drastic measures, including temporarily taking some acreage out of production to increase the value of what remains or moving to more premium grapes, she says.
Retail chains are evolving, as evidenced by Amazon's recent purchase of Whole Foods, and small or niche wines are having a more difficult time getting space on store shelves, Lange says.
"We have several known challenges heading into 2019, and we need an action plan," she says, adding that wineries should make more of an effort to form relationships with sales representatives for downtown distributors. "These are not the first headwinds we've faced, and they will not be the last."
UNLIKELY ADVERSITY
The almost uncharacteristic signs of adversity come as California's wine industry has seen such exponential growth in value and volume in recent years that one could get the impression there's nowhere to go but up.
By the time U.S. wine sales – 97 percent of which are from California – reached $1.53 billion in winery revenues in 2017, wine exports from the Golden State had grown nearly 70 percent in value in the previous decade, according to the San Francisco-based Wine Institute.
"In the past we've talked about a rising tide lifting all boats, but now the tide is receding a bit," Brager says.
However, some warning signs have been gradually developing, Mike Veseth of The Wine Economist told conference-goers. While the U.S. and China were pockets of growth, global wine consumption has leveled off since it peaked in 2007 and 2008, he says.
EYE ON MILLENNIALS
While beverage companies spend millions on new products they hope will lure Millennials, studies have shown the generation is less engaged with wine, beer, spirits, cannabis and even sex, Veseth says. Smart phone applications compete with wine and other products for Millennials' attention.
However, California is "still the envy of the rest of the wine world," Brager says. It has diverse varietals from diverse origins, and its wine consumers are divided equally among men and women and range widely in age, he says. Moreover, studies show that alcoholic beverage consumers turn to wine as they mature.
Brager urges wine producers to focus on "growth pockets where you can play" in developing distribution channels and new products. He says it's imperative to try to reach Millennial and Hispanic consumers "before we lose them," while still appealing to Baby Boomers.
"Don't lose perspective," Bitter says. "Overall, the wine industry is very stable. Inventory changes do manifest themselves in spot markets. If you reside in one of these markets, you will feel these changes more than those that don't."
Subscribe to receive top agriculture news
Be informed daily with these free e-newsletters
You May Also Like
---