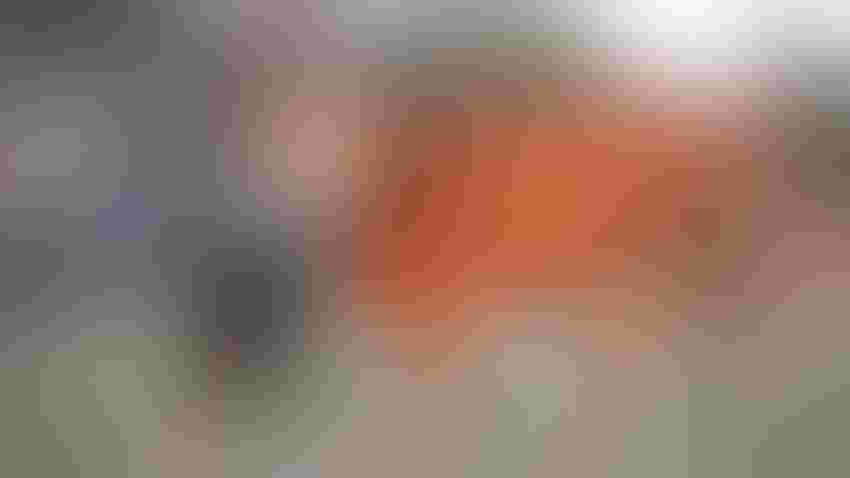 Even with low hay inventory, ranchers can maintain body condition and reproductive performance by managing feed supplies and providing vitamin and mineral supplements.
Pam Caraway
Hay can only be made when the sun shines if the rays are sometimes cutting through the rain. That didn't happen often enough in Louisiana this summer. 
Drought in Louisiana created a hay shortage that has folks scrambling to figure out how to stretch their hay inventory, find another source of hay, or use alternative feed without breaking the budget. 
The last part is the toughest to swallow. 
LSU AgCenter specialists and Extension agents, however, began ruminating on this a couple of months ago – and most have previous experience with this situation – so they have some options for ranchers to consider. They also offer a couple of warnings and a few tips. 
For farmers holding out for rain, the first admonition is to balance that hope with a solid plan. 
"Don't let your cows get pulled down too hard on their body condition before you start with a supplementation plan," LSU AgCenter Area Extension Agent Lee Faulk said. 
If a rain event does deliver a spurt of growth, the yield from that last cutting may not bridge the gap, Faulk warns. He also saw warm-season grasses tapering off as the evenings started cooling in September. "That really puts a halt on growth of warm-season grasses," he said. 
Cool-season grasses are one of the ways to go, as many ranchers know. Retired LSU AgCenter Extension Agent Wink Alison points to a study that showed herds supplemented with 0.2 acres of ryegrass per cow could be fed 14% less hay with no significant difference in weight gain, conception rate, or body condition score. 
However, Faulk cautions, if planting cool-season grass is the plan then ranchers need to order seed now. "The demand is going to be intense," Faulk said. 
Test hay quality 
If the plan is to supplement with hay, ranchers likely will have to go out of state to find it, said LSU Livestock Specialist Ashley Edwards. Whether buying hay or feeding your own, Edwards said, "please, please, please test." 
Knowing the quality of the feed is essential, Alison said. With good quality hay, he said, ranchers have more options for stretching their hay supply. 
Managing a low supply can take several forms, including: 
Limited access. Ensure all cows can access the hay but limit the amount of time to feed or distribute a daily supply. "You can cut your hay use considerably and not drastically impact your animals," Alison said. 

Limited grazing on cool-season annual forages 

Hold cool season grazing to late in the season, then full graze. 

Incorporate some acreage of prepared land with cool-season annual forages. 

Substitute feed – such as soy hulls – for hay. Alison reports, "cattle performance is similar, but the labor requirement is substantially different." 
The success of any of these plans depends on three things, Alison said: ranchers must know the quality of the hay and it must be good quality; the cattle must be in good condition at the start of the feeding season; minimize hay waste as much as possible. 
Payoff is improved reproduction 
Knowing the quality of both available forage and hay also helps ranchers plan nutritional supplements, said Marcelo Vedovatto, LSU AgCenter beef cattle nutritionist. That information is beneficial for economic management and herd performance year 'round.  
"It's good to start offering vitamins before the winter," Vedovatto said. Ranchers, he said, may need to supplement vitamins A, D and E during the winter when decreased sunlight impacts vitamin D levels and green leaves aren't available to supply vitamins A and E. 
In Louisiana Vedovatto said, forage often is deficient in sodium, copper and zinc. He notes that phosphorus concentration is high in Louisiana forages, and supplementing this one is normally unnecessary. When feeding rye in the winter, Vedovatto said, providing magnesium helps avoid grass tetany. 
Vedovatto urges ranchers to pay close attention to sodium intake and trace minerals. Well water is sometimes high in sodium, and supplement blocks also have sodium. If blocks are offered, Vedovatto said ranchers should not supply salt in a separate trough because it will reduce the block intake by the animals. 
Generally, Vedovatto does not recommend blocks. "Intake from blocks normally is too low to provide adequate supplementation, and loose minerals forms are normally a better option," he said. 
Vedovatto encourages mixing mineral supplements with feed or top dressing. With these methods, he said, intake is more consistent across the herd and the practice helps when pre-conditioning calves. 
Another supplementation that works well if the pasture is low in trace minerals or supplements aren't provided with feed is injecting trace minerals, Vedovatto said. If calves are injected prior to weaning, the practice helps improve their immunity. Regarding weight gain, Vedovatto noted, "supplementing works only if your animals are deficient." 
The primary advantage to supplementing trace minerals is improved reproduction. Vedovatto reports that a trace mineral injection normally improves the pregnancy rate in cows deficient in trace minerals and with a body condition score below 5. With that in mind, he recommends using injections only in cows with low BCS. In those cases, he said ranchers can expect the pregnancy rate to improve by about 5%. 
"It's expensive. But at the cattle prices we have today, it probably pays off," Vedovatto said. "If you have one or two more calves in your heard because of the supplementation, it pays off." 
Subscribe to receive top agriculture news
Be informed daily with these free e-newsletters
You May Also Like
---