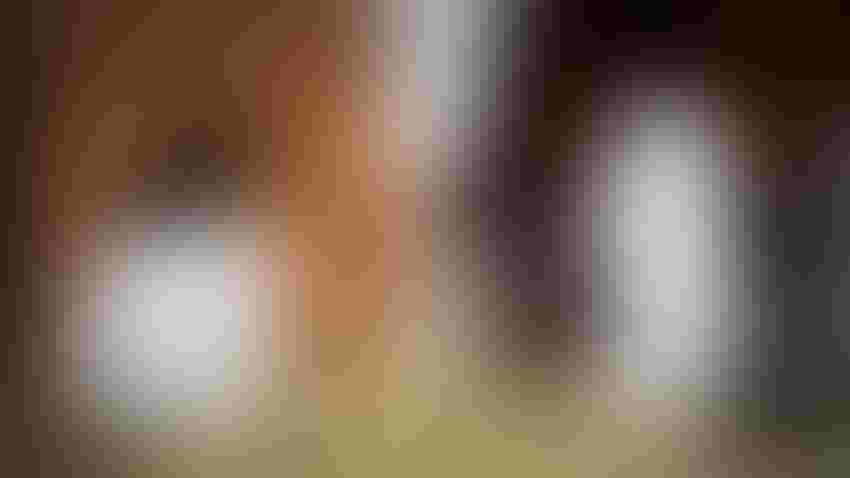 QUALITY CHECK: A hay analysis will ensure the highest quality hay is purchased for your horses. With alfalfa hay, buyers also must make sure hay is free of blister beetles.
Bill Chizek/getty images
Hay inventories are short across the country, which will make it tougher to feed your working horses this winter. Teresa Douthit, equine nutrition specialist at Kansas State University, offers tips on how much hay your horses will need going into winter and what you should know about buying hay, including risks.
Availability and cost. These are going to be major factors. "Most horses will be fed either a basic grass hay or alfalfa," Douthit says. For grass hay in Kansas and the Plains states, brome and native prairie are common. "Sometimes I am contacted by horse owners who want to try feeding something less common. Some of those feedstuffs work just fine," she says, "but others carry a unique set of risks. It is time well spent to investigate potential issues prior to feeding something less common."
Hay analysis. The lower the acid detergent fiber and neutral detergent fiber, generally, the higher quality the hay will be, Douthit explains. "A high ADF will negatively impact digestibility, with less than 31% considered excellent and more than 45% indicating limited nutritive value," she says. "A high NDF will negatively impact intake. So, if the NDF exceeds 65%, they likely won't eat it, and less than 40% is considered excellent.
"We figure that a horse will eat about 2% of its body weight in dry matter per day if given as much as they want," Douthit notes. "For most horses, 10% to 12% crude protein is adequate. Greatly exceeding these protein needs will result in increased nitrogen excretion through the kidneys," she explains. "The kidneys are able to do this, but you will likely notice a very pungent ammonia smell in the urine of these horses."
It is best if the hay analysis included digestible energy, because that's the first nutrient used to balance a ration for horses, but most analyses won't provide that information. If you are requesting the testing, you can ask for DE numbers, Douthit says. "The higher the DE, the less you will need to feed in order to meet the horse's energy needs," she adds.
Physical evaluation. Even if the numbers are good, you will still need to physically evaluate the hay. "You don't want the presence of weeds, deceased animals or trash. But also, you don't want to see or smell dust or mold spores," she says.
"As they eat the hay, they will inhale particulate matter present in the hay, and this is even more pronounced for horses eating from a large round bale, as they may bury their entire head into the bale, and their nostrils are surrounded by dirty air and dusty hay," she says. For feeders mounted above horses' heads, "gravity will put that particulate matter down into the nostrils."
Some horses are more sensitive to exposure to these particles than others, just like humans with asthma. "Exposure to dusty hay can cause these horses to cough, especially during exercise and work," Douthit says. "They may develop a 'heave line' along their abdomen from the increased effort needed to breathe. In advanced cases, these horses become intolerant to exercise."
Alfalfa. Alfalfa hay being fed to horses needs to be free of blister beetles. "While there is not a method that is 100% effective in eliminating the risk of blister beetles, there are things that can be done to reduce the risk," Douthit notes. "Beetles are attracted to flowers, so purchase alfalfa that was put up prior to flowering.
"Another good strategy to reduce blister beetle risk is to buy hay that was put up without the use of a crimper or conditioner," she suggests. "When the hay is cut and begins to dry, the beetles will fall to the ground and move into fresh vegetation elsewhere. They cannot do this if they've been through a crimper and are deceased. A dead beetle will be baled into the hay and is just as toxic when it is dead as it is when it is alive."
You can learn more online at Kansas State University.
Subscribe to receive top agriculture news
Be informed daily with these free e-newsletters
You May Also Like
---