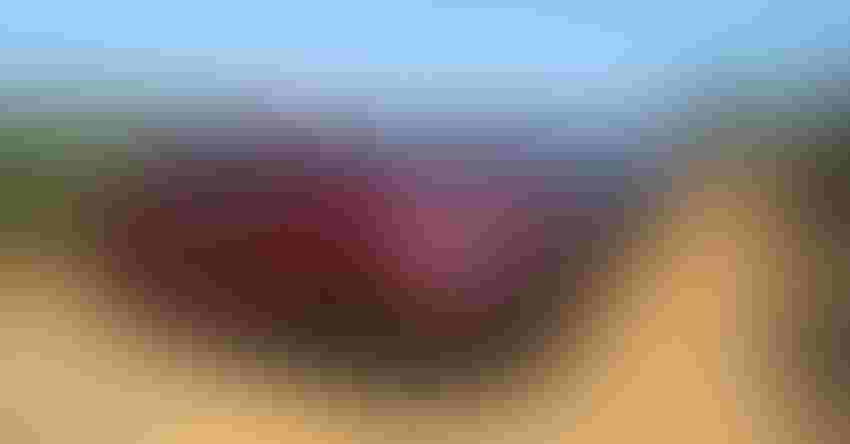 Ford Pro displays its new F-150 Lightning electric pickups during a media day at a vineyard in Sonoma County, Calif. Wilbur-Ellis announced it has acquired 10 of the vehicles for use in California.
Tim Hearden
Wilbur-Ellis is dipping its toe into the electric-vehicle pool with its acquisition of 10 Ford F-150 Lightning trucks for use in California as part of a larger sustainability push, the company is announcing today, May 23.
The San Francisco-based farm products manufacturer will use five of the vehicles in Sonoma County and the other five in the Salinas Valley, Wilbur-Ellis president and CEO John Buckley said. Ford Pro, a unit of the Ford Motor Co. that serves commercial fleets, will also provide charging stations and a cloud-based telematics system that will enable vehicle monitoring to assist maintenance.
The procurement of an initial 10 electric trucks is a far cry from replacing Wilbur-Ellis' fleet of 2,800 vehicles nationwide, Buckley acknowledged. But he said the company is one of the first in ag to use the new Lightning and plans to acquire more electric vehicles, including for use in the Midwest and elsewhere.
"It's really limited by two things – production, including a charging infrastructure, and the knowledge of how to do this right," he told Farm Progress. He said customers will benefit from the information the company gathers from using the initial trucks.
Buckley revealed the acquisition to media in an embargoed statement at the end of an all-day event May 20 hosted by Ford Pro, which touted its electric trucks for on-farm use. Reporters were taken to two vineyards in Sonoma County that are participating in a pilot project using the trucks. That project is being undertaken by the Sonoma County Winegrowers Association.
Wilbur-Ellis says it is incorporating use of the trucks in a "collaboration" with Ford Pro, which says it is trying to overcome companies' reluctance to switch to EV's by making the transition easier. The automaker is bundling vehicles with charging solutions and telematics software to offer a one-stop shop for businesses to accelerate productivity.
"Where is electrification happening? It's happening right here," Ford Pro CEO Ted Cannis said during a panel discussion at Dutton Ranch in Sebastopol, Calif., which is already testing vehicles.
A Ford Pro survey of U.S. fleet purchasing decision makers reveals nearly three-quarters of these customers feel pressure to adopt EVs, while more than 60% considering electric vehicles plan to adopt the technology within two years.
Wilbur-Ellis' goals
Wilbur-Ellis is putting its first EVs in Sonoma County and the Salinas Valley because they're a "microcosm" of California agriculture, Buckley said.
A gradual transition to an electric fleet is among a slew of new stewardship goals unveiled by Wilbur-Ellis, which wants to achieve net-zero absolute carbon emissions by 2050 in alignment with the Paris Climate Agreement.
The company intends to increase the use of renewable energy in its manufacturing and distribution operations, including installing solar panels in various locations, Buckley said.
He also noted creation of the ongoing Wilbur-Ellis Innovation Award as part of the company's 100th anniversary celebration last year. The award invited teams of U.S. college students to propose innovations to more efficiently feed a growing world population. The first winners will be announced this summer, with the top team receiving $25,000.
"Every step we take to protect the environment is important," Buckley said. "But it's also important to raise awareness that each of us – as individuals and organizations – can make a difference … There's no silver bullet, but in these ways and many others, Wilbur-Ellis is working to be part of the solution."
To learn more about Wilbur-Ellis' stewardship program, visit wilburellis.com.
Subscribe to receive top agriculture news
Be informed daily with these free e-newsletters
You May Also Like
---