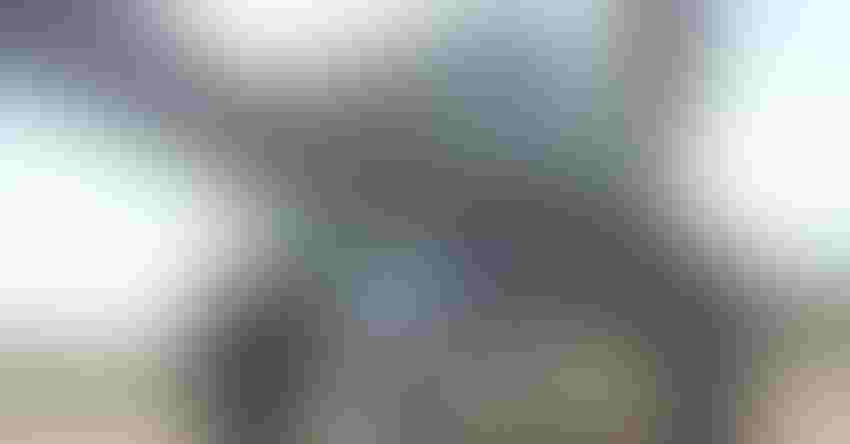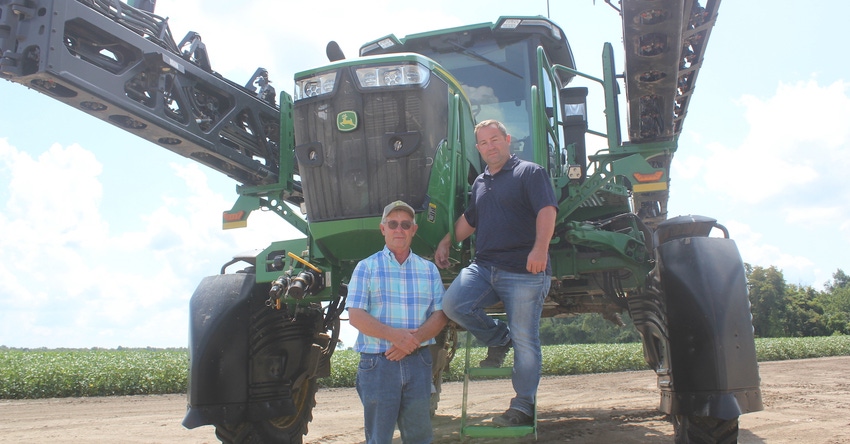 "We're saving money, we're saving chemicals, but at the same time we're also improving public perception." Three reasons Travis Senter and son, Trav, feel targeted spraying is the future of weed control.
Ginger Rowsey
Row crop growers have had their eyes on John Deere's See & Spray system — anxiously anticipating the on-farm arrival of the technology. 
That time is now. 
John Deere will have 50 See & Spray units available for purchase this fall. Company representatives expect an open release for the 2024 growing season. Pricing plans are set to be announced in mid-September. 
See & Spray uses computer vision and machine learning to target in-season weeds in cotton, corn and soybean fields. Spraying just the weed and not the entire field would reduce the amount of herbicides going out, potentially saving farmers lots of money.  
Other potential benefits include, reduced drift, improved environmental stewardship, and less crop response when spraying certain herbicides. A dual-tank configuration provides applicators with more flexibility in tank mixing. The two-tank system could save field passes, reduce herbicide anatagonism, and allow applicators to match contact and systemic herbicides with optimal nozzles.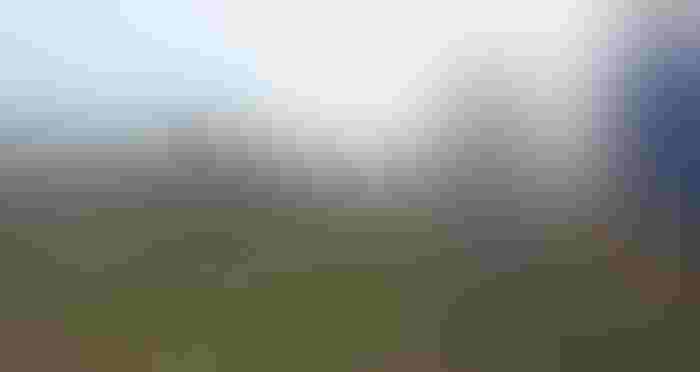 But are these benefits, along with the cost savings in herbicide expenses enough to justify the cost of the new technology? 
"I'm really excited about this technology and the potential to reduce our post-emergence herbicides," said Jason Norsworthy, Distinguished Professor and Elms Farming Chair of Weed Science for University of Arkansas System Division of Agriculture. "I do think it's the future of weed control." 
"I do not expect this technology to allow us to take residuals out of our weed management programs. But I think there is potential for tremendous cost savings when you have strong residuals in the field," he added. 
U of A research 
Norsworthy has been evaluating the See & Spray system in test plots at the U of A Keiser Research Station since 2017. In late August, around 100 visitors got a look at those plots during a See & Spray demonstration.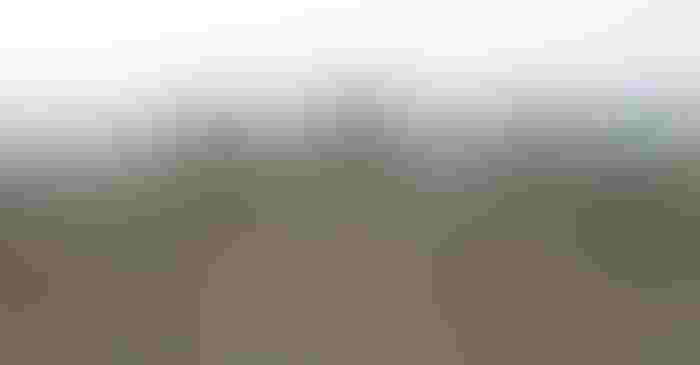 See & Spray has different weed detection sensitivity levels. During the demonstration, a John Deere representative sprayed a cotton test plot with blue dye at the high and low sensitivity settings. Visitors were encouraged to find small weeds that were missed. Out of close to 100 participants only three reported finding an unsprayed weed. That lines up with U of A studies for high and medium settings, according to Norsworthy. 
"In our research, the high sensitivity setting missed 6% of Palmer amaranth that were less than one inch. That is a very, very small weed. The medium sensitivity level achieved similar results," Norsworthy said. 
 "I know people are thinking, 'I'm going to turn it down to the low sensitivity, and I'm about to save a lot of money with this technology.' The problem with that is, if you have Palmer amaranth that are less than one inch and you're spraying on the low sensitivity setting, our research shows that you miss 61% of them. That's not good," he said. "If you come back 14 days later to spray, that very small weed is going to be 12-14 inches tall. That is a warning to everyone that if you turn that sensitivity down, there are some consequences associated with that."  
Residuals needed 
See & Spray's dual-tank configuration allows growers to apply two separate tank mixes in one pass. You can apply targeted spray and traditional broadcast at the same time. There is also the option to combine the two tanks into one large 1,200-gallon tank.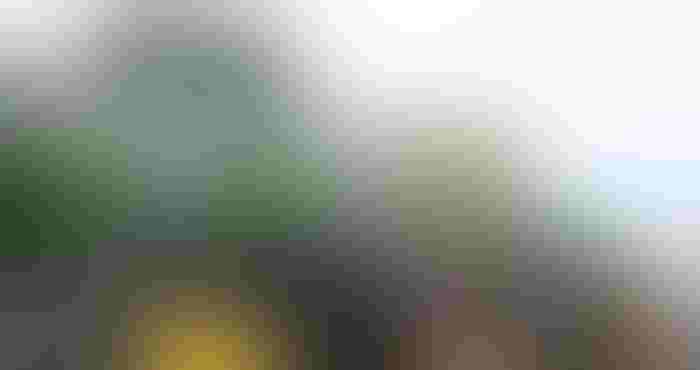 "If a grower brings the dual tank together and only spot sprays residuals, yes, you can cover more acres, but you're going to put more pressure on the post-emergence herbicide," Norsworthy said.  
By broadcasting a residual herbicide, while simultaneously target spraying a non-residual, Arkansas researchers are seeing increased savings in subsequent post applications.  
On follow-up post-emergence applications in cotton, researchers sprayed 47% of a field with targeted spray when a residual had been broadcast, comparted to having to spray 67% of a field on follow up post-emergence application where a residual had been spot sprayed.  
"Cost savings will differ from field to field. In our estimates, we're looking at 20-25% reduction in the first post-emergence herbicides. In cotton we generally make two to three post-emergence applications. What we see is when we take it to that second or third post-emergence application, we're going to see greater and greater reductions in herbicides … if we have broadcast a residual herbicide," Norsworthy added. 
Farmer experiences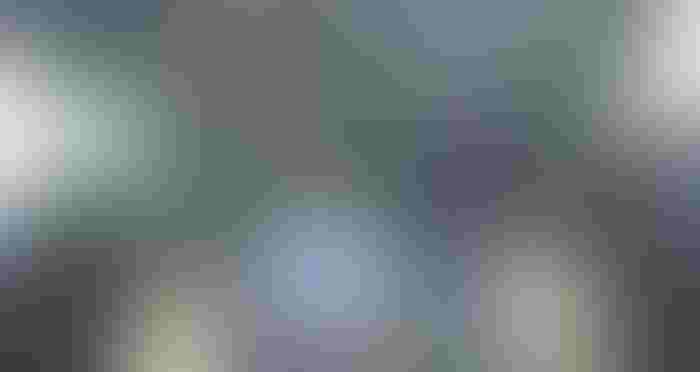 Travis Senter and Travis (Trav) Senter, Jr. are a father-son farm team who run a large row crop operation just down the road from the Keiser Research Center. They were among a select group of growers chosen to test See & Spray in their fields this season. 
"It really worked," the senior Senter told visitors during a panel discussion at the conclusion of the demonstration, "and I think we're just beginning to see what the technology can do." 
The Senters tested the See & Spray system in multiple crops. They saw best results with cotton. They made broadcast applications of residuals with a different sprayer and used the See & Spray to clean up escapes.  
Running the sprayer at the medium sensitivity setting, they reported herbicide savings ranging from 10 – 70 %, depending upon the field.  
"On good clean fields, where you're already using residuals, you'll see a return pretty quickly," Trav said.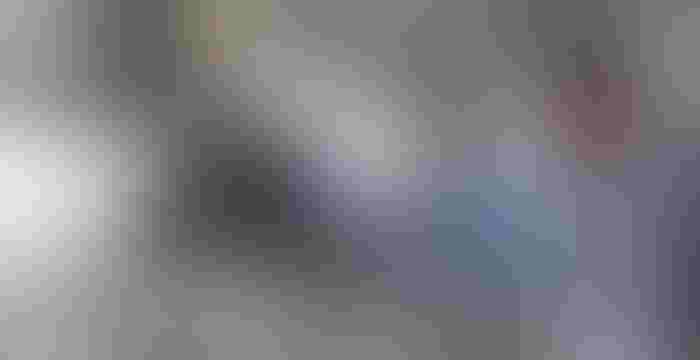 A feature where the Senters see much potential is the weed pressure map that is generated within the John Deere Operations Center.  
"As the software continues to evolve, I think we're going to see further advancements in being able to identify problem spots and better target our spray applications," Trav said. 
The Senters have worked with Blue River and John Deere for years. Many of the images used to train See & Spray's computer vision were taken in their Mississippi County fields. They believe the technology is the future of weed control. 
"We're saving money, we're saving chemicals, but at the same time we're also improving public perception," Trav said. "This technology is showing non-farmers that those of us in agriculture are investing in stewardship." 
And when asked if they would buy the targeted sprayer … 
"We have put our name in the hat to get one next year," Travis said. 
Subscribe to receive top agriculture news
Be informed daily with these free e-newsletters
You May Also Like
---