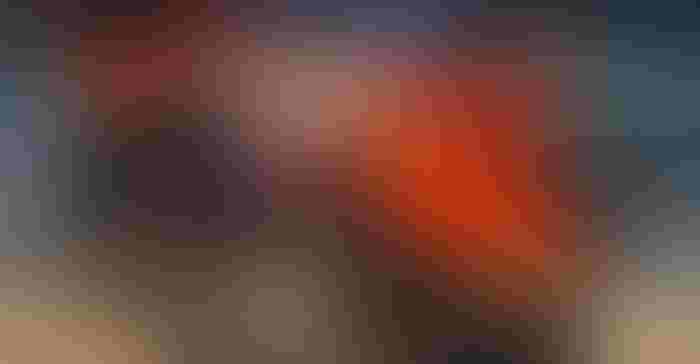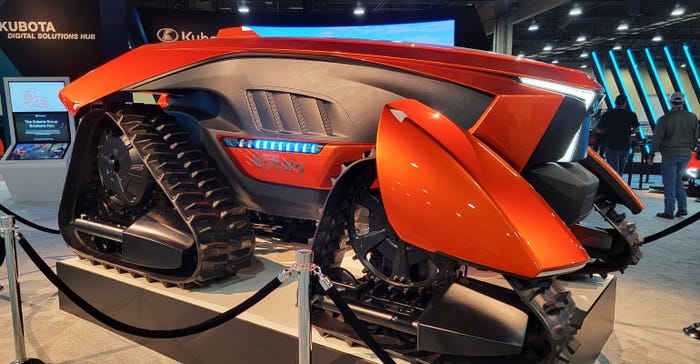 The future? Kubota Wheelman Concept Tractor, a fully automated electric tractor, powered by a mounted rechargeable lithium battery and solar panels, was on display in the showroom at the Kubota's annual dealer meeting in Grapevine, Texas. Shelley E. Huguley
Kubota Tractor Corporation recently celebrated its 50th Anniversary at its annual dealers meeting in Grapevine, Texas. The Japan-based company commemorated its past while also highlighting its future, displaying its first tractor imported to the U.S., the McCulloch D-20, up to a model of the future, an electric, cloud-connected, fully automated machine.  
The company, which expanded into North America in 1972, is known for its large and compact tractors, hay equipment and utility vehicles, as well as its construction equipment and lawnmowers.
"We started out the first year (in North America) with 2,000 units sold. Last year, in 2021, we sold 220,000 units," said Todd Stucke, senior vice president, Marketing, Product Support & Strategic Projects, Kubota North America.  "We've had tremendous growth."
It's agricultural machinery is Kubota's largest North American market.
As Kubota looks forward, Stucke said the company is focused on balancing the past while moving into the future. "We're in a digital world, a technology transformation, and it's coming very fast."
Earlier this year, to keep up with technology and meet needs unique to its North American customers, Kubota opened a new Research and Development Technology Center in Gainesville, Ga. They're also investing in five or six start-up companies focused around technology, Stucke said. "We're trying to bring that (technology) closer to the market in North America. We're trying to localize it as much as we can and utilize the North American technology innovation and apply it to our products. That's the vision we have and its in every segment, it's not just tractors, it's in every area."
As technology continues to evolve, Kubota's focus remains on simplicity and reliability. "Reliability is easy to explain. It's as little down time as possible or as much up time as possible," said Martin Carrier, product marketing director, Kubota Ag Equipment. "The simplicity for us is to make sure our operators can maximize those features because if they're not simple to use they might not be using them and keep doing it marginally.
"Our equipment was never meant to be simplistic. It's intuitive, so it's making sure that that operator can maximize performance. One way to put it, and one of our speakers said it this week, it's making sure the tool is simple enough to make your average operator as good as your best operator."
Kubota equipment is sold and serviced in the U.S. through more than 1,100 Kubota locations and supported by the company's corporate headquarters in Grapevine.
Launching new products
Within the ag sector, the company is launching new models or updates to its hay tools, the narrow tractor models, and livestock tractors.
The M6 and M7 machines are known as the livestock tractors or ranching tractors. "The majority of our business is to livestock farmers," Carrier said. "The features we're bringing this year are transmission features that are to improve the life, ease, work and simplicity of operation of the life of our farmers."
The M7-4 Series, the new generation added to the existing M7 Series, will have Xpress Restart allowing the operator to directly control the main clutch by pressing the brake pedals. This series will ship in the spring of 2023.
RTVs
Kubota is also launching two RTV models: the new Sidekick Stone Gray Edition and the RTV520 Crossroads Editions. The Sidekick comes with 16 factory-installed accessories and the RTV520, for the residential customer, with six installed accessories.  
"It (our accessory strategy) helps improve that customer experience in the end, but it also helps us with our efficiencies as we battle through supply chain challenges," said Michael Gryp, product marketing director, Kubota Turf & RTV. "Some of those challenges we've seen over the last couple of years have caused us to rethink how we're doing things. This is a positive way for us to improve that."
Gryp said Kubota is strong in the industrial side of the RTV business. "And with that Sidekick, you're seeing us aggressively go after that crossover business, which is the fastest growing segment in RTVs."
As Kubota entered into the RTV market, Gryp admits they had some growing pains. "But we've made adjustments and we're selling Sidekicks as fast as we can build them. Orders are coming in faster than we can fill them, so that growth potential for us is tremendous."
Across Kubota products, whether its residential tractors or construction or agriculture tractors, "all of those customers typically have RTVs, and the Sidekick goes along with them," Gryp said. "It's a machine that has the horsepower to be a work machine, but it also has the speed and creature comforts to be a fun machine for them, too."
The Sidekick has a 2,000-pound towing capacity and can handle 1,000 pounds in the cargo bed.
Compact tractors
One area that's grown over the last 10 years and since COVID as more people are moving to the country, and working from home, is Kubota's compact tractor and utility segment, said Chris Box, Kubota product marketing director. "This segment has exploded."
New this spring is the LX20 Series with increased horsepower, starting with a 35-horsepower model working up to a 40-horsepower model. "This can be utilized with bigger implements," Box said.
Kubota is also launching the next generation in its standard L Series compact tractor line. "This has been the number one selling compact tractor for the last decade."
These machines come in 25, 33, 39 and 48-horsepower. "These machines are known for their easy use and a reliable product for first time buyers that are getting into these lifestyle, hobby farms in rural areas and they need a product they can use to work their land."
Also new is Kubota's agreement with Titan on select sizes of their Trac Loader II tires for the compact and utility tractor models. They will be available this spring as well.
Supply chain issues
Kubota, like the rest of the world, continues to face supply chain challenges. "Early on, I think it was more vendor related, getting more parts and pieces," said Tim Boulds, assistant director, Kubota Construction Equipment Product Marketing. "For example, the SCL1000. The heart of it is the hydraulic valve. We had some people go to their facility (vendors) and they came to our facility. Through talks we have been able to get them to commit to higher volumes for us.
"In general, for all of us, is shipping, the lead time from getting it from Japan, where it's being produced, to here."
Carrier, who admitted he's not a supply chain expert, said it's important to distinguish the difference between supply issues and demand. "The biggest challenge we've been facing is an unpredicted demand spike. That triggered everything. We can talk about COVID, we can talk about all those things but ultimately nobody predicted a spike like that when it happened.
"We are not producing less. We are producing more and it's truly a demand challenge, which it is a good problem to have but also the most frustrating because when you bring that issue down to our dealerships and their sales force, the last thing you want to tell a salesman is sell less."
To meet demand and resolve delays, Stucke said Kubota is investing $2.2 billion outside of Japan, including in India and North America. "We're trying to localize as much as we can."  
Subscribe to receive top agriculture news
Be informed daily with these free e-newsletters
You May Also Like
---