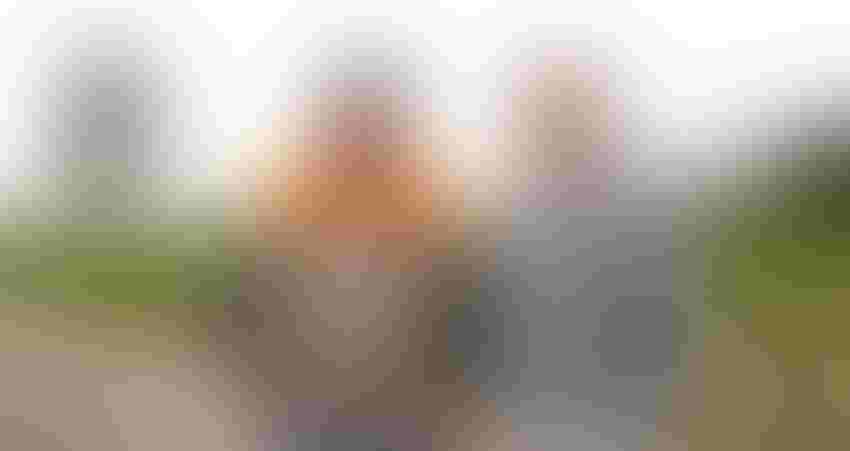 Scott Crabb, a soil conservation technician with NRCS, and Chad Render, Arkansas row crop farmer. Crabb introduced both Render and John Allen McGraw to the irrigation contest. "They do their research and they're willing to try something new," Crabb says of the farmers.
Ginger Rowsey
Determining how much to water a crop can be both an art and a science, and when it comes to irrigation, most farmers have their own unique methods. But as technology advances, more producers are taking the guesswork out of irrigation and saving both water and money. 
Arkansas farmer John Allen McGraw is one of those producers. Recently, McGraw, a fifth-generation farmer in Lincoln County, began experimenting with soil moisture sensors in his furrow irrigation system.  
"I started with one soybean field. I used soil moisture sensors on half of the field, and the other half I watered as I normally would," McGraw recalls. "I cut out a bunch of water by listening to the soil moisture sensors." 
Data from his on-farm experiment shows he reduced his water applications from five to two on the portion of the field where soil moisture sensors were placed. Eliminating three waterings saved McGraw 2.4 million gallons of water, and, according to his estimates, $21 per acre in watering costs. His soybean yields? They were the same on both sides of the field. 
"I harvested 77 bushels per acre soybeans on the entire field," McGraw said. The Arkansas state average is around 50 bushels per acre. "When I can maintain my yields, while still saving a substantial amount of water, that's a huge benefit for me."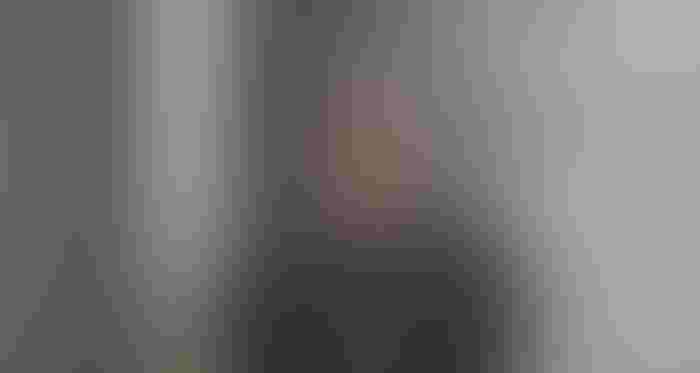 Arkansas producer John Allen McGraw says he has saved millions of gallons of water and maintained yields by using soil moisture sensors to schedule irrigation.
Chad Render also farms in Lincoln County, Ark., as well as neighboring Jefferson County. He grows more than 6,000 acres of corn, soybeans and rice. Like McGraw, Render has paid closer attention to water management in recent years. He installed his first soil moisture sensor three years ago. 
"At first I thought it was a crazy concept, but after that first year I realized how much I was using it," said Render, who now has three soil moisture sensors and is looking to add more. "A lot of times I think we were overwatering early on in the corn and soybeans. We started critically looking at the growth stage where the crop is needing the water and applying water when the crop needs it, not when it looks like it needs it." 
Since implementing water saving technologies, Render said he as has cut out one to two waterings in his corn depending on planting date and rainfall amounts. 
"I'm not going to say we're yielding more from less water, but we're keeping our yields where they were, we're not missing bushels. However, we are saving money, effort and time," Render adds. 
Changing irrigation perceptions 
Soil moisture sensors are designed to give growers peace of mind by letting them know what's going on beneath the ground and how plants are responding to irrigation events. But both Render and McGraw admit it took a little faith to place their trust in the technology. 
"You've been raised from a kid to water when the plant looks like it needs water, or water once a week when it's not raining. That's just what we've done forever, and it's hard to implement these new ideas," Render said. "When I'm checking crops and see plants start to wilt, turn or twist, my farmer mentality is to get some water out there. But with the sensors I can get on my phone and see the moisture is there. It's shown me that what the plant needs is not always what I'm seeing aboveground." 
"When you look at your crop, you'll think you need to be watering, but the soil moisture sensor says don't do it. I've found it best to just listen to it and not second guess it," McGraw said.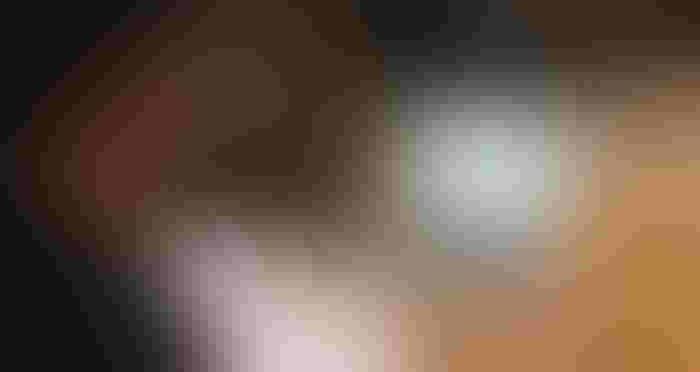 John Allen McGraw scans reports generated by soil moisture sensor software. "I've found it best to listen to the sensors," he says.
McGraw started with a PrecisionKing moisture monitor. He now has three in his fields. While he says the PrecisionKing design is a bit bulky, the system provides dependable data in a user-friendly format. He's also a fan of the Trellis soil moisture monitor system. The Trellis is smaller with a base station that collects data from multiple sensor stations within a two-mile radius. 
"I had 170 acres and five fields on one Trellis sensor. As long as soil type is similar and you're close enough that you're getting the same amount of rain, you can do several fields with one sensor," McGraw said. He plans to add multiple Trellis sensors in 2021. 
"Installing any soil moisture sensor will be costly upfront, but in my experience, if you can eliminate two to three irrigation events by listening to the technology, it will pay for itself the first year." 
More crop per drop 
The catalyst for both farmers to invest in soil moisture monitoring was the University of Arkansas System Division of Agriculture's Most Crop Per Drop Contest. The competition focuses on maximizing yield by maximizing water use efficiency. The winner may not have the highest production per acre but will have harvested the most bushels for every inch of water. 
Researchers say the goal of the program is to encourage producers to experiment with water-saving technologies and strategies. Sensor-based irrigation systems are just one tool used by participants. Others include computerized hole selection programs such as Delta Plastics' Pipe Planner, the UA Rice Irrigation app, alternate wetting and drying and surge valves. 
Contest winners are selected for three categories — corn, rice and soybeans — with winners sharing in more than $30,000 in cash and prizes. 
Render won first place in the corn division, achieving 11.5 bushels per inch of water and an average of 225 bushels per acre. This was his second year to enter the contest. 
"I've never been a guy to enter competition, and I wouldn't have entered this one if Scott Crabb with NRCS had not explained that this is a good way to evaluate your irrigation practices. After the first year, I was hooked on learning what I can do better," Render said.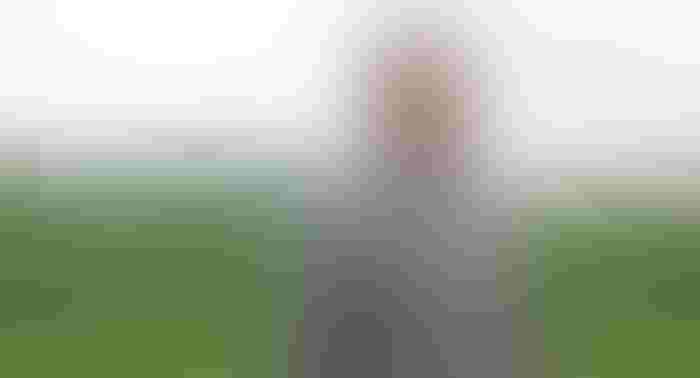 Chad Render was the winner of the Most Crop per Drop Contest in corn. He says technology like Pipe Planner and soil moisture sensors attributed to his win. He's also seen water savings with cover crops like cereal rye.
Render uses Pipe Planner as well as Watermark sensors. He's also seen potential water savings with cover crops, particularly cereal rye and black oats. 
"On some of our sandier soils, we've noticed a significant difference where we plant into the cover crop and then go in and burn it down. The cover just conserves a lot of soil erosion off the beds, it conserves a lot of moisture, and it's like a blanket over that soil. It seems like a better environment when planting into that cover crop," Render said. 
McGraw finished in second place in the soybean category behind Jeremy Weideman of Clay County, Ark. McGraw averaged 4.2 bushels per inch and an average of 77 bushels per acre. In addition to his soil moisture sensors, he says he believes Pipe Planner is a must-have software. He's also experimenting with cereal rye covers. 
In 2019, McGraw won the rice category in Most Crop Per Drop after trying alternate wetting and drying (AWD), a process that involves applying a flood, then letting it soak into the ground until the water level is about 4 inches below the soil surface before applying more water. His 40-acre contest field harvested 208 bushels per acre — about the same as the rest of his rice fields — but he estimated he saved $24 per acre in water pumping costs by implementing AWD. 
"It's not the way my dad taught me to rice farm, but you have to be willing to try new things, and you can always learn something new" McGraw said. "That's why I like the competition. It makes you push the limits." 
McGraw said he plans to continue competing in the contest, with a goal of eventually winning each category. Along with the sport of competition and, of course, the cost-savings he's realized by implementing new practices, he wants to continue optimizing his water management for the future of his farm. 
"There's only so much water, and we can't just use it all up now," McGraw said. "I'm afraid more regulations on water usage are in store. I'm trying to get it figured out now, so I'll be ready if that happens." 
Render agrees. "Water conservation is critical. Anything we can do to relift or recycle water is on our minds to do." 
The deadline to enter the next Most Crop per Drop contest is June 30. Contest rules and entry requirements are available online, or you can reach out to [email protected], call 870-673-2661, or contact your local county Extension or NRCS article. 
Subscribe to receive top agriculture news
Be informed daily with these free e-newsletters
You May Also Like
---