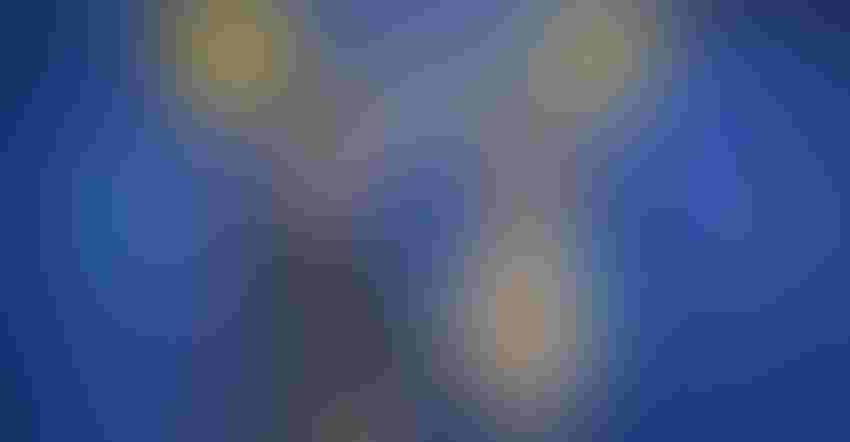 WELL DONE, SON: Shannon Rausch (right) congratulates son Jacob at the conclusion of the 98th Little International at SDSU. The younger Rausch completed his term as manager of the student-run exposition, a position that his father held in 1987.
Kevin Schulz
Editor's note: This is the first of a three-part series overviewing the activities and events of the 98th Little International at South Dakota State University.
South Dakota State University and Little International are synonymous with spring in Brookings.
SDSU students strut their showmanship skills on the green chips in the confines of the Animal Science Arena on the northwest edge of campus. Little "I" as it is familiarly known, gets a reboot after last year's version was canceled due to the COVID-19 pandemic.
That was only the fourth time in SDSU's Little I history that the show was canceled since its origin in 1921. It was canceled in 1926 due to scarlet fever epidemic, as well as in 1944 and 1945 because of World War II.
The 2021 show is back with COVID-19 restrictions in place, and the realization that the "show must go on" is happy news for Jacob Rausch, the manager for this year's show. He was set to be the assistant manager for last year's show.
Like father, like son
Jacob and his assistant manager, Grady Gullickson, oversee the show and the staff of 130 students to ensure the show goes off without a hitch. One could say this is in Jacob's blood, as his dad, Shannon, also held the manager position back in 1987.
Over the years, there have been siblings and cousins serving as show managers, but the Rausches are among the few father-son duos to lead what is considered to be the largest student-run two-day agricultural exposition in the country.
For Shannon, it is rewarding to see his son follow in his footsteps. "Sue and I tried to raise the kids, to give them the opportunities, challenges, and to let them make choices, and try to let them be their own choices," Shannon says, speaking of the path that he and his wife, Sue, laid out for their seven children. The Rausch family runs Rausch Herefords, a Hereford seedstock operation near Hoven, S.D.
Giving back was part of what prompted Shannon to get involved in Little I during his college years. He remembers coming to the Brookings campus during his four years as a high school FFA member to judge livestock during the event.
His plan was to get involved with Little I and help where needed, but Lyndon Hohwieler, the expo assistant manager at the time, "talked me into running for manager as a freshman, so I did," Shannon says. "The tragedy of what we're experiencing now is we don't get to bring those FFA kids to campus; we lose that exposure for SDSU.
"I mean this is fun. But really, the value of what we're doing here is for the future, to get the 4-H and FFA kids here to see what SDSU has, to walk the campus, getting the college experience a little bit for the day."
Due to COVID-19 restrictions, the judging contests that would normally bring 1,600 high schoolers to campus were held virtually.
When Jacob came to his dad asking whether he should try to become Little I manager, Shannon remembers telling his son that it was his choice to make. "I didn't lie to him. I said there's going to be work, and I didn't know what I was saying when I said it's going to have its challenges. There's a lot of work that goes into the preparation. Communication with the team, the interpersonal skills and relationships that you develop — it's a tremendous opportunity."
Seeing the challenges that came to be, Shannon says Jacob was a good fit to lead through the COVID-19 uncertainty. "His position in the family, football team or wherever he is, he's the center," Shannon says. "He's not necessarily the one to draw attention, but he's the one who rallies everybody, 'Let's huddle up.'"
The younger Rausch deflects that trait right back to his father. "I would say I'm fairly similar to my dad, and I've learned a lot about leadership from him," Jacob says, "and the way he was able to raise our big family. There's a lot that a person can learn from growing up in a big family, about, how powerful a unified group or a team is and how they can accomplish things."
Putting on a strong and successful two-day Little I was important for Jacob, and "it was very motivating for me to make sure that I was able to show others how important this was to me, and that as a team we can accomplish a lot."
Last fall, Jacob poured his heart into the "Jacks Are Back" application that is used by organizations to get an event approved by the university. "I feel like my ability to show my passion and effort through that application for the whole event I hope motivated the rest of our exec team and everybody else on staff. And they pitched in and jumped onboard, and everybody was all in and gave 100% effort."
No looking back
Jacob served as assistant manager under Collin Vander Wal for last year's show that was canceled only a few weeks before it was scheduled to take place. Moving into the manager position for this year's show is a natural progression, and when Jacob ran for assistant manager in spring 2019, COVID-19 wasn't on the radar. Knowing now what he didn't know then, does he have any regrets about throwing his hat in the ring two years ago?
"It was a little disappointing not to have a full, packed house, especially during the evening show Saturday night, because that's normally the atmosphere that we have with a lot of the alumni back," he says. "It's really cool to have their support being there and excited to see the show, but that wouldn't have changed my decision in the slightest."
A few days after the show, the last piece of staging — the Little I barn backdrop — was torn down. It's tradition for the manager to sign his or her name to the back of the backdrop, marked with the year served.
"Both Collin Vander Wal and I were painting our names on there because Collin never got a chance to do his last year," Jacob says. "It just kind of finally hit how fast everything had just gone."
Subscribe to receive top agriculture news
Be informed daily with these free e-newsletters
You May Also Like
---