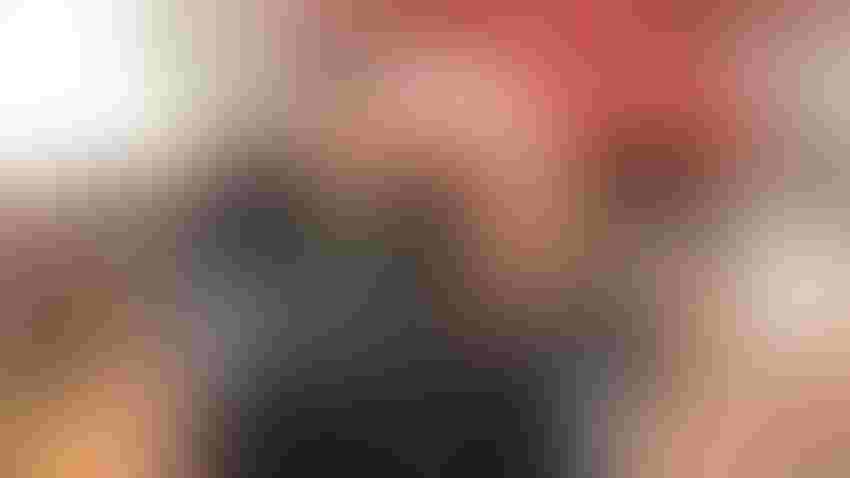 HOST EDITORS: Indiana Prairie Farmer Editor Tom Bechman and Prairie Farmer Editor Holly Spangler are eager to greet you at the 2023 show.
Farm Progress
Good to see you, old friends and new
by Holly Spangler
For many of you — just as it is for many of us — heading to the Farm Progress Show is a rite of passage. I'd argue it's also a good chance to expose your kids to one of the most exciting and diverse displays of agricultural career opportunities they're likely to find anywhere. Sidle up to anyone wearing an official polo in a tent and ask them what they do. I guarantee they'll enjoy telling you about it.
I started bringing my kids to the show young — before they were even born! Today, my son is heading off to college and he's hardly missed a show in all his 18 years. I'd nearly guarantee that the Farm Progress Show is where he nurtured his love of equipment and technology, the exact field he's pursuing in college.
This year is the 70th anniversary of the Farm Progress Show, which began in 1953 on the Earl Buss farm in Armstrong, Ill. And here we are, 70 years later, celebrating agriculture and innovation, at the nation's largest outdoor farm show.
Since 1953, FPS has become the place for new product rollouts — so much so that in recent years, we've convened an editorial New Products Team to fan out across the showgrounds in search of every single new product. We'll tell you about those new products in upcoming issues of your Farm Progress magazine, as well as online.
As we've prepared for this year's show, including publishing the official program, I've marveled over every story, every innovation, every plan. It's clear this industry has emerged from the pandemic with bigger ideas and better products. And even better, you can actually get most of it now!
So whether it's your first show, your seventh or your 70th, don't be a stranger. Stop by the Farm Progress Show Hospitality Building, located in the center of the exhibit field, get a cool drink and say hello to the editors on hand. We'd love to hear what you think of the magazine, the latest story and the stories you'd like to see us cover. And we look forward to hearing what's important to you.
So to our old friends and those yet to be made, we say welcome back. It's good to see you again.
New technology abounds at this year's event
by Tom J. Bechman
The Farm Progress Show was born in 1953 based on history, with an eye toward the present and the future. Prairie Farmer staff were looking for a way to rekindle the spirit of the old corn-husking contests, where thousands of people showed up to watch and visit, while creating a living magazine so advertisers could show off their latest technology. The result was the Farm Progress Show, and the concept is as vibrant today as it was then.
The 2023 show builds off agriculture's rich past, with a nod to those who own red Farmall tractors celebrating 100 years of the Farmall. You can find red tractors in a special display on 12th Street, just west of Central Avenue. Want to see other colors? Check out Antique Row.
For everywhere else on the showgrounds, the past gives way to the present and future. Hundreds of exhibitors display their current products for sale. Many have one or more new products in the lineup that didn't exist at the 2022 Farm Progress Show in Boone, Iowa, which will be the site for the 2024 show. A team of Farm Progress editors will look for those products and publish stories so you can see the ones you missed. Every year, this team finds more than 200 new products. That's ag technology in overdrive!
Some of you come to FPS to check out technology coming soon to market — and you won't be disappointed. Autonomous farming, for example, is already here and growing in acceptance.
In 2022, one company displayed a working autonomous machine. This year, five companies — Raven, Sabanto, Greeneye, Ryse and Ag Leader — will be demonstrating their autonomous machines. Look for them in the Autonomy Zone located near the exhibit field.
Electric vehicles were once rare at the show, but they're becoming more commonplace. Expect to find exhibitors offering everything from electric lawn mowers to all-electric utility tractors and pickups. In the Varied Industries Tent, you'll likely find information on alternative energy sources. These up-and-coming topics could shape the future of agriculture.
Yes, the past, present and future of agriculture are all waiting for you. We hope uncovering details about them makes your visit to the 2023 Farm Progress Show one to remember.
The 2023 Farm Progress Show is Aug. 29-31. Learn more at FarmProgressShow.com, and check out the digital edition of the official program.
Subscribe to receive top agriculture news
Be informed daily with these free e-newsletters
You May Also Like
---