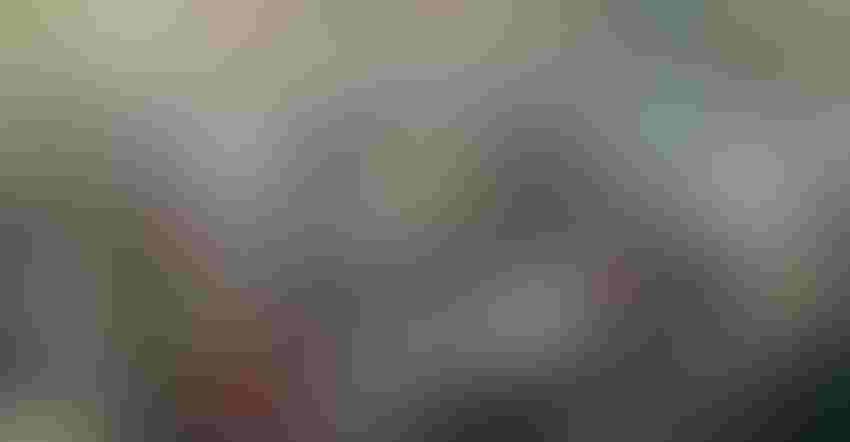 TODAY'S FARM PROGRESS SHOW: Rebuilding an electrical grid from scratch isn't necessary today because the Farm Progress Show rotates between Decatur, Ill., and Boone, Iowa (shown here), but it was a challenge in 1992 at Columbus, Ind.
Chad Colby
Aleesa Dickerson and her Hope FFA members received a check they weren't expecting. Farm Progress, parent company of Indiana Prairie Farmer, asked Bartholomew County REMC to make the check for capital credits for 1992 and 1993 to Hope FFA.
"We were thrilled to receive the check," says Aleesa Dickerson, Hope FFA advisor and vocational-agriculture teacher at Hauser High School. "Our officers helped determine how to put the money to good use."
The money, representing capital credits earned when the Farm Progress Show was held in rural Bartholomew County in 1992, amounted to $616. It was released by the Bartholomew County Rural Electric Member Cooperative when the board of directors elected to retire debt, known as capital credits, in 2016 and 2017 to members of record in 1992 and 1993.
"We were glad that we could give back to the community which supported the Farm Progress Show then," says Matt Jungmann, director of shows for Farm Progress. "We felt it was appropriate to support an outstanding FFA chapter near where the show was held."
Jungmann didn't know about the capital credit funds until Mark Wint, a local resident who helps as an electrician at the show, saw a notice in the local paper. He notified Jungmann.
More about 1992 show
Dan Arnholt, general manager and CEO of Bartholomew County REMC from 1990 until September 2018, explains how the capital credits system used by REMCs operates. Arnholt still helps his wife, Susan, and son Clint farm in Bartholomew County.
He recalls memories from helping behind the scenes to make sure the Farm Progress Show had the power it needed. In those days, the show was hosted by a different farm every year, traveling on a three-year cycle among Indiana, Iowa and Illinois. Today, electrical infrastructure is less of a challenge because the show rotates between permanent sites near Boone, Iowa, and Decatur, Ill. In the 1980s and 1990s, figuring out how to power the equivalent of a small city for three days and pay for it was a major feat.
"The big challenge was to build the electric facilities for tent city [the show site] by the local electric provider," Arnholt says. "The electric requirements were large for only a three-day show. The utilities had to make sure other rate payers weren't subsidizing the cost of the construction for this show. There were always negotiations between the electric provider and Farm Progress on the construction cost. Farm Progress had design requirements which had to be met.
"So, in 1992 when I was with Bartholomew County REMC, I worked with Hoosier Energy's linemen apprentice training group called HEATS [Hoosier Energy Apprenticeship and Training Safety] to build the tent city line and electric facilities on the site. The HEATS training was a four-year apprentice program. Sometime in the four years, the apprentices had to build a primary line that was not energized." 
The Farm Progress Show site fit the bill because it was all put in place before it was energized. "This was an excellent training opportunity for the linemen," Arnholt says. "HEATS used about 10 different Southern Indiana REMCs' equipment and line apprentices at the show site as a great training ground. The 10 REMCs and especially the apprentices were proud to say they built the power grid for the Farm Progress Show site."
About the Author(s)
Subscribe to receive top agriculture news
Be informed daily with these free e-newsletters
You May Also Like
---