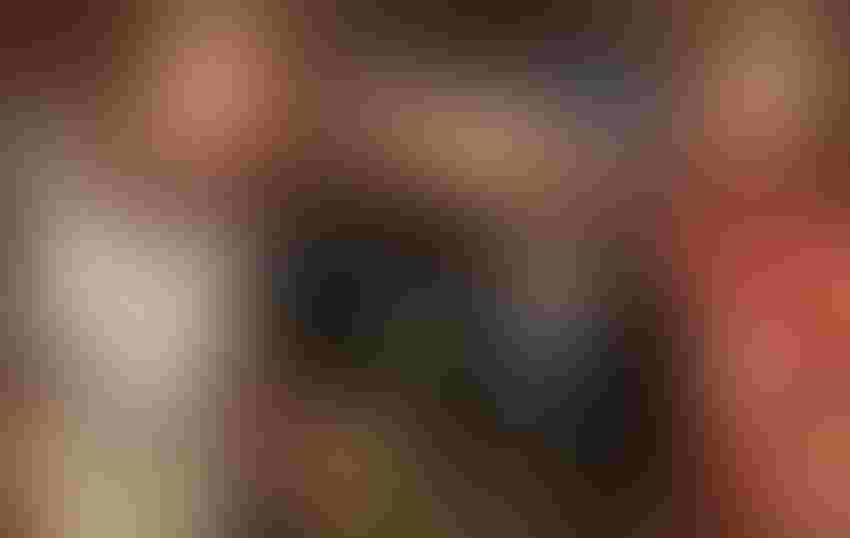 Georgia Commissioner of Agriculture Tyler Harper, second from right, poses with (left to right)Phillip Edwards, UGA Extension, Don Koehler, Georgia Peanut Commission, and Ron Smith, Farm Progress (retired).
Phillip Crosby
Ensuring that the next farm bill continues to work not only for consumers but also for farmers is a key priority for Georgia Commissioner of Agriculture Tyler Harper.
Harper, in an interview with Farm Press during the American Peanut Research and Education Society annual meeting, July 12, said in recent meetings with Secretary of Agriculture Tom Vilsack and House Speaker Kevin McCarthy, "we emphasize the importance of, number one, getting a farm bill across the finish line, but also ensuring that farmers and producers can continue to be successful."
Harper said finding ways to increase reference pricing and maintaining a crop insurance program that continues to be viable and successful are crucial. "Even adding new provisions for things like specialty crops, which are important to the Southeastern U.S., should be on the table. We need to find ways to ensure that those farmers have the same protection as other commodities."
He said other important issues will be to protect programs like rural development and the EQIP conservation program.
"We have so much in the farm bill we can talk about but  investing in research today — what we're discussing here at this conference today — and ensuring that our land grant universities have the resources they need to continue to allow agriculture to innovate and be successful and to continue to be viable for generations to come have to be priorities."
Challenges
The Commissioner said the biggest challenge with farm bill debates is managing regional differences. "Different regions of the country have different opinions on what needs to be in the farm bill. I think you're going to see a lot of conversation around the SNAP program and the nutrition title. There will be a lot of back and forth on what exactly should be included in that particular provision of the farm bill.
"I think there has been some conversation on crop insurance. I don't know where that may end up and where that plane may land, but there definitely will be conversation around what it looks like.
"We hear some back and forth on reference pricing, too. So, we don't know exactly where that plane's landing either, but it's important that we keep those issues that are important to Georgia farmers and to American farmers at the forefront. And that's what we're working to do.
"It is vitally important to ensure that we get what's needed in farm legislation to allow our number one industry to continue to be successful. At the end of the day, agriculture is the backbone of our economy. It's national security. What we're doing is important."
Subscribe to receive top agriculture news
Be informed daily with these free e-newsletters
You May Also Like
---