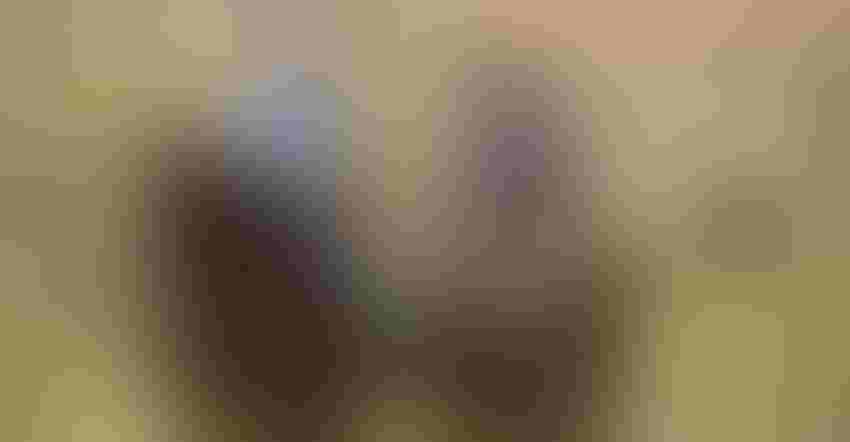 PLANNING: Leading a busy ranch life, Haley and Max Robison with son Max create plans and schedules to help get everything done.
Photos by Becca Hennessy
Planning and time management are vital parts of life for Max and Haley Robison of Dry Creek Ranch in Bowman County, N.D. Aside from running their Red Angus ranch, each of them hold full-time jobs off the ranch, and they will grow to a family of four in the fall.
"I'm currently the southwest field representative for North Dakota Farm Bureau, and also advise the collegiate Farm Bureau chapter at Dickinson State University," Haley says of her off-ranch job.
Max stays busy working in agriculture as the sole North Dakota State University Extension agent in Bowman County. "It's your basic ANR [agriculture and natural resources] position. I do livestock, horticulture, 4-H, a little bit of everything," he says.
Haley is originally from the area, as their fifth-generation ranch is settled on her family's land. "I grew up around Scranton and went to college at DSU [Dickinson State University] for ranch management," she says. "I didn't know what exactly I wanted to do with it, but I knew I wanted to start running cows and ranching again."
Also from a ranching background, Max grew up in southwest Montana. "I worked on ranches through high school and wanted to continue that in college. I went to Northwest College for two years studying ag business and judging livestock, then went to West Texas A&M for ag media and communications for my four-year degree," he says.
After graduation, Max came to North Dakota and began working for one of Haley's neighbors. "We're good family friends, and so we met through them," Haley says.
Passion for industry
With strong backgrounds in production agriculture, both wanted to continue working in the industry. "I guess I always wanted to be a cowboy, thought it was pretty cool that people would pay you to do that," Max says. "Everyone's always looking for help, and if you're just a little better than the next guy, you can get a really good job where people appreciate the work you do.
"There were always jobs in agriculture and things that helped me move along that way. I met Haley and that kind of helped me focus. She's definitely the brains behind everything, but we're both able to channel our passion to do what we like."
Haley originally pursued a degree in elementary education, but changed her path after missing ranch life. "I went to school for a year for that and decided that it wasn't for me. I was heavily involved in 4-H and FFA growing up, and I realized I missed that aspect and it pulled me back," she says. "I transferred to DSU and switched to ranch management."
Aside from their days filled with running a ranch, carrying out full-time jobs and raising a family, the couple also have side businesses. Haley manages the direct meat sales from the ranch.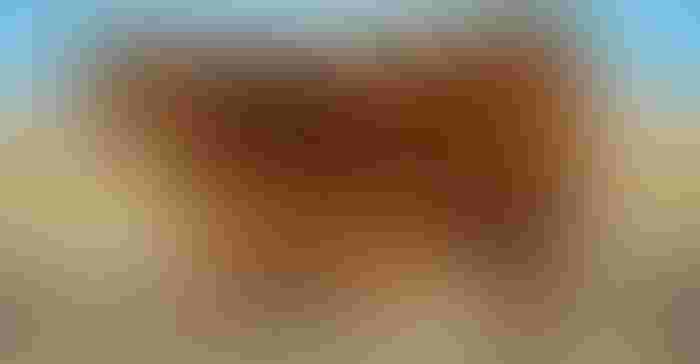 GENERATIONS OF EXCELLENCE: The Robisons are a fifth-generation ranch family in Amidon, N.D., who raise registered and commercial Red Angus.
"It's hard to haul 15 to 20 head of steers to the sale barn and get top price because you don't have a whole lot, and this was the way to make the steer calves a little more profitable. We talked about getting it going and hadn't had the time, but then COVID hit and it worked out for us," Haley says of the direct-market meat business.
She took a small business course on farm-to-market sales and launched their meat sales business in June 2020. "It fits with what we want to do, and we can focus on raising those registered bulls and selling beef stock and also have an outlet for steer calves," she explains.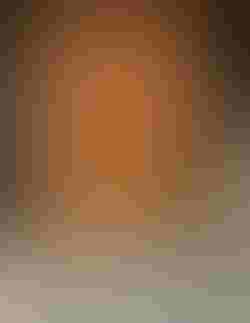 TOOLING PIECES: Aside from being an ag Extension agent with North Dakota State University, Max also runs a custom leather working business through word of mouth and social media.
For Max, leather working started out as a hobby and has grown into a business where he creates custom leather pieces. "You know I made some belts and wallets and let it go. And then I got to college in Texas and met some guys who were really good at it and started working with them," he says. "Any extra income is always pretty helpful. Most of my sales are over social media, and I'm getting a larger sales base locally."
Finding community
"I really enjoy community. I'm a very social person," Max says. "It's great being involved in the 4-H activities with Extension. Some of the fairs are coming up fast, so it's always a little busy or a little stressful."
With a young family, they both enjoy being involved with other producers and activities happening in their community. "We're able to go out to other brandings and ranches, and no matter how big or small your operation is, you're always hoping the other producer can be just as successful as you are," Max says.
"You definitely get to work with the best of the best in these communities, and everyone's trying to better their home community while also being extremely passionate about agriculture," Haley says.
For other young agriculturalists, Max says to "connect with older producers in your community. These guys have been in your shoes and have still made a successful operation."
The Robisons say they have received help from neighboring ranches, community members and friends who have come together in times of need, and they do the same. Haley shares, "You can learn a ton by working with others, and working on someone else's place, you have to gain as much knowledge as you can as quick as you can."
Keeping it together
On the ranch, the best-laid plans can often go astray. "I typically like to plan, and then that goes out the window by Wednesday, so we kind of roll with what needs to get done," Haley says.
Even though planning doesn't always work in ranching, Haley tries to fill days out and be aware of what's going on. "It depends a lot on the time of year," she says. "Springtime is busy and its calving. We have a lot of meetings for Farm Bureau; our side businesses get pushed back in the spring as we're so busy."
She says their toddler is another full-time job, but he loves to do everything alongside them. "It'll be a whole new change with baby No. 2 coming in August, so we'll have to adjust," Haley says.
Max and Haley put in a lot of work hours with late nights and long weekends to get everything done. They are expanding the ranch operation and recently added more registered cows to their operation.
"We might be growing quicker than is wise, but it's one of those things where if the opportunity arises, you have to go for it," Max says.
"We started out with 10 registered cows back in 2016 and are just continually trying to grow and, hopefully, one day are home ranching full time," Haley adds. "You can't be afraid to just jump in and do it. Plan as much as you want, but eventually you just have to take that big step and buy that section of land, or buy your first group of cows."
To find out more about Max and Haley's ranch and side businesses, visit Dry Creek Ranch.
Subscribe to receive top agriculture news
Be informed daily with these free e-newsletters
You May Also Like
---