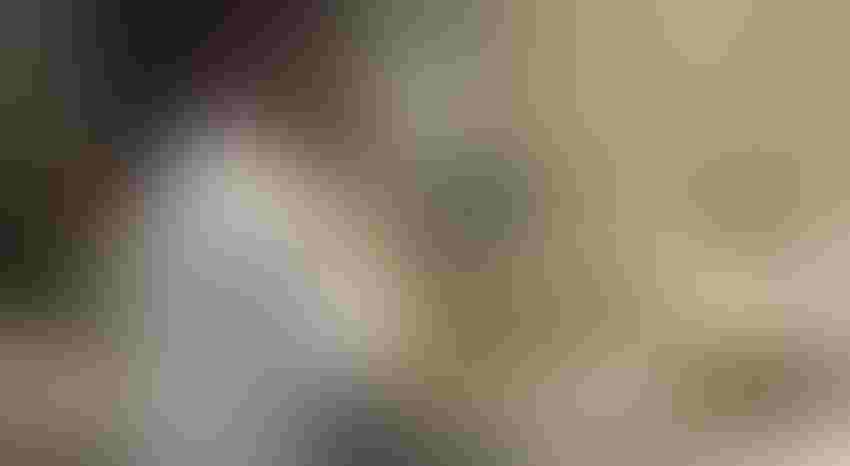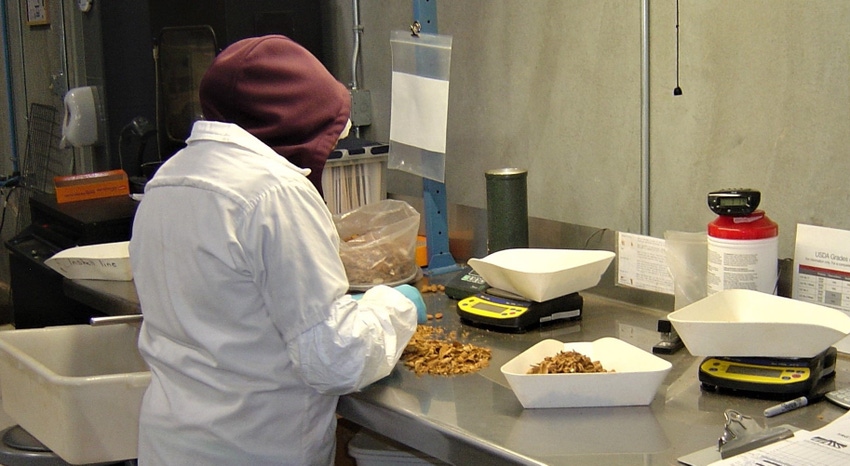 A worker examines almonds at a processing facility in Williams, Calif., in this file photo.
Tim Hearden
As fall harvests have kept thousands of farmworkers busy in California fields and processing facilities, state authorities and private groups are taking steps to curb the spread of COVID-19 in the labor force.
While Gov. Gavin Newsom recently signed a measure to ensure that farmworkers have the information they need to stay healthy, the state Department of Food and Agriculture is expanding a housing program to isolate workers who've been exposed to the virus.
The governor signed Assembly Bill 2043, which calls for an outreach program to teach workers sound practices to prevent infection while directing the state Division of Occupational Safety and Health to ramp up outbreak investigations in agriculture.
"This is a major victory for California's most vulnerable essential workers – farmworkers," said the bill's coauthor, Assemblyman Robert Rivas, D-Hollister. He added the measure "will help protect agricultural communities against the spread of COVID-19 and ensure workers have access to critical workplace safety information and essential state services during the pandemic."
California's Department of Industrial Relations estimates the project will cost about $1.8 million over two years, the Sacramento Bee reported.
Housing for the Harvest
The legislation follows Newsom's approval this summer of the CDFA's Housing for the Harvest program, which provides temporary hotel accommodations for farm and food processing employees to self-isolate if they are COVID-19 positive and do not need hospitalization, or if they've been exposed and can't properly isolate at home.
Initially launched in Fresno and San Joaquin counties, the program has since expanded to eight more counties – Santa Barbara, Kings, Riverside, Tulare, Kern, Madera, Sacramento and San Luis Obispo. Housing for the Harvest will ultimately be made available statewide, providing opt-in support for any counties or regions that are interested, state officials say.
"We know that program is going to be needed in the next growing season, whether it's down in Imperial County or up the coast," CDFA Secretary Karen Ross told the state Board of Food and Agriculture on Oct. 6.
In each county, local governments identify administrators to manage the program and community organizations to provide additional services, like meals, wellness checks and in-language assistance, the CDFA explains. California received the go-ahead for the program from the Federal Emergency Management Agency, which will cover 75 percent of hotel costs.
In Tulare County, the program is being administered by Proteus, Inc., in coordination with the county's Community Care Coalition, which is providing supplemental services to families at home. The Central Valley Community Foundation is providing additional funding.
Neighboring Kings County has enlisted the Kings Community Action Organization to provide quarantine support such as transportation, meals, wellness checks and laundry service. In Kern County, a similar organization – the Community Action Partnership of Kern – will administer the program.
Recipients of the aid "are essential workers who are often forgotten, and we are glad we can help assist them in their time of need," said Michelle Engle-Silva, Proteus' executive director of operations.
The program is offered to workers regardless of their immigration status, the CDFA's Ross has said.
Central Valley outbreaks
The effort comes as COVID-19 outbreaks in the Central Valley, including some at agricultural processors, drew the attention of CalOSHA inspectors this summer. California Attorney General Xavier Becerra's office started contacting agricultural processors, asking detailed questions about their preparedness protocols.
Rivas, the state assemblyman, cited recent studies that found agricultural workers in Monterey County are three times more likely to contract the coronavirus than those in the general population, and Latinos in the county account for 93 percent of COVID-19 cases while only representing 61 percent of the population. Similarly, a UCLA study shows Latino deaths have quintupled since May because of their status as "unsung essential workers," such as agricultural laborers, Rivas said.
Farm operations have been trudging through their harvests with the added burden of making sure workers are wearing masks, maintaining physical distance and taking other precautions against the spread of the virus.
Growers told the Board of Food and Agriculture in August that they could use local and state officials' help in obtaining faster test results, contact tracing and isolating workers who were ill, noting that many of California's estimated 800,000 farmworkers are housed with their families or other workers and pile into van pools to get to the fields.
"We continue to learn about COVID and how to protect ourselves," Fresno County fruit and vegetable grower Joe Del Bosque said during the meeting. "In food safety, the object is to protect the consumer. Now we're trying to protect our workers from our workers, so it took on a little different perspective. We took on the same practices as everyone else – the face coverings, social distancing, taking temperatures in the morning.
"All of this is very important," he said, "but the key to all of this is education."
Companies escalating efforts
Some private companies and farm groups are escalating their own efforts to help workers. The Wonderful Company, whose products range from pistachios and lemons to wine, announced in early October that it would create a $500,000 COVID-19 relief fund for San Luis Obispo and Sonoma counties, which were greatly affected by the pandemic and recent wildfires.
The fund is in addition to a $1 million coronavirus fund set up in August by company co-owners Stewart and Lynda Resnick for the Central Valley.
"Our state has been hit hard by COVID-19 and the recent wildfires, and we want to be there for the residents and our employees on the front lines," said Andy Anzaldo, the company's chief operating officer of philanthropy.
By establishing the relief funds, "we can support the organizations and schools that are having the greatest impact on California's wine region," he said.
Subscribe to receive top agriculture news
Be informed daily with these free e-newsletters
You May Also Like
---