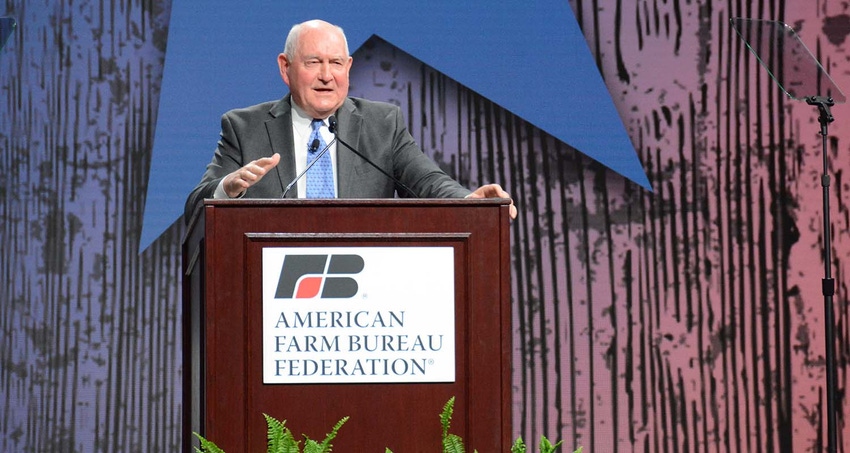 MFP IMMINENT: "I don't expect a 2020 deal, but there will be a third traunch on 2019 payments," U.S. Secretary of Agriculture Sonny Perdue told farm bureau members.
Holly Spangler
U.S. Secretary of Agriculture Sonny Perdue addressed farmers and ranchers at the annual American Farm Bureau Federation convention on Monday, commiserating with them on a tough 2019 while remaining optimistic for 2020.
"We know 2019's been a pretty tough year. Farm disasters, unfair trade retaliation, low prices – affected every farm in America," Perdue told the crowd, gathered in Austin, Texas. "But you kept on keeping on and you persevered."
Coming on the heels of President Donald Trump's visit on Sunday, Perdue reassured that the third round of payments in the 2019 MFP program is coming, though he allows that he hasn't gotten a firm date from the Office of Management and Budget on the allocation.
"It's imminent – although you can define that how you want to in Washington, D.C." Perdue joked.
He also cleared up confusion regarding the 2019 MFP program and what may happen in 2020. While there's no question that the third round of payments for 2019 will be coming soon, new trade deals mean farmers shouldn't expect to see a payment program in 2020.
"In agriculture, we like to grow things and we would rather have trade than aid," Perdue said, pointing to new agreements with Canada, Mexico and China, with several others on the horizon, including North Africa, Spain, Philippines, Portugal, United Kingdom, Australia, New Zealand, Peru.
"So now, let's sell stuff," he said, adding, "Our farmers are going to demonstrate to the world that we can grow a safe, healthy product the Chinese will love."
Perdue acknowledged growing farmer skepticism regarding USDA crop reports and the way the National Ag Statistics Service surveys and collects data, but thinks they're more accurate than farmers realize.
"We got a little conspiratorial thinking NASS is out to get us," he said. "I think we'll find out that while their numbers back in June surprised the market, I think we'll see they're more correct than we knew."
Talking trade
In terms of the China trade deal and the administration's ability to enforce it, Perdue shared a few more specifics during a follow-up press conference. They won't make public numbers on specific commodities and amounts but USDA will provide facts to the president and to the U.S. Trade Representative's office regarding contracts that are in place and orders in hand. USTR is the negotiator on the enforcement provisions, and they'll track whether sales are lagging behind.
"We have the ability to reinstall punitive tariffs, with retaliatory ability on China's part," Perdue explained. "The only thing they could do would be withdraw altogether, and then it's a new ballgame."
Both Perdue and President Trump spoke about the need for better rural broadband so farmers could better utilize ag technology, and the planned $1.1 billion to improve rural connectivity.
"It's about time. They take care of their cities but not you," he said. "We are putting the needs of farmers and ranchers first. We're putting America first," Trump told farmers.
Perdue says they're working as fast as they can to make improvements, citing a coming $550 million from Congress. It's unclear at this point whether that will take shape as 5G, satellite or fiber to homes and farmsteads. He says with acceptance from rural areas, Congress will continue to fund it and the Federal Communications Commission will work to get better maps.
"It's like freckles," Perdue said. "They're scattered all around right now. Our goal is to put enough freckles together so they coalesce."
In the end, Perdue circled back to his optimistic message for farmers.
"2019 was tough but I believe we have brighter days ahead," he said. "I'm a farmer. I'm an optimist. I think 2020's going to be a great year."
About the Author(s)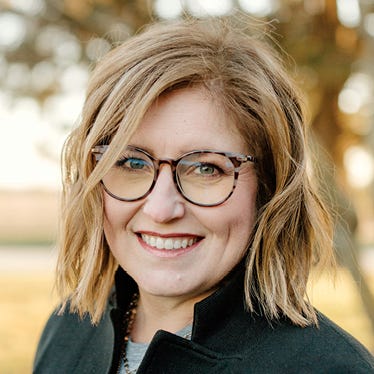 Senior Editor, Prairie Farmer, Farm Progress
Holly Spangler has covered Illinois agriculture for more than two decades, bringing meaningful production agriculture experience to the magazine's coverage. She currently serves as editor of Prairie Farmer magazine and Executive Editor for Farm Progress, managing editorial staff at six magazines throughout the eastern Corn Belt. She began her career with Prairie Farmer just before graduating from the University of Illinois in agricultural communications.
An award-winning writer and photographer, Holly is past president of the American Agricultural Editors Association. In 2015, she became only the 10th U.S. agricultural journalist to earn the Writer of Merit designation and is a five-time winner of the top writing award for editorial opinion in U.S. agriculture. She was named an AAEA Master Writer in 2005. In 2011, Holly was one of 10 recipients worldwide to receive the IFAJ-Alltech Young Leaders in Ag Journalism award. She currently serves on the Illinois Fairgrounds Foundation, the U of I Agricultural Communications Advisory committee, and is an advisory board member for the U of I College of ACES Research Station at Monmouth. Her work in agricultural media has been recognized by the Illinois Soybean Association, Illinois Corn, Illinois Council on Agricultural Education and MidAmerica Croplife Association.
Holly and her husband, John, farm in western Illinois where they raise corn, soybeans and beef cattle on 2,500 acres. Their operation includes 125 head of commercial cows in a cow/calf operation. The family farm includes John's parents and their three children.
Holly frequently speaks to a variety of groups and organizations, sharing the heart, soul and science of agriculture. She and her husband are active in state and local farm organizations. They serve with their local 4-H and FFA programs, their school district, and are active in their church's youth and music ministries.
Subscribe to receive top agriculture news
Be informed daily with these free e-newsletters
You May Also Like
---