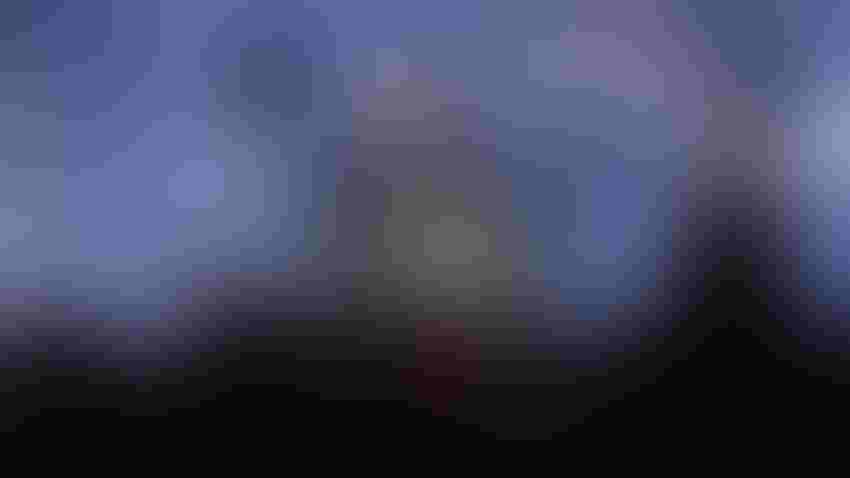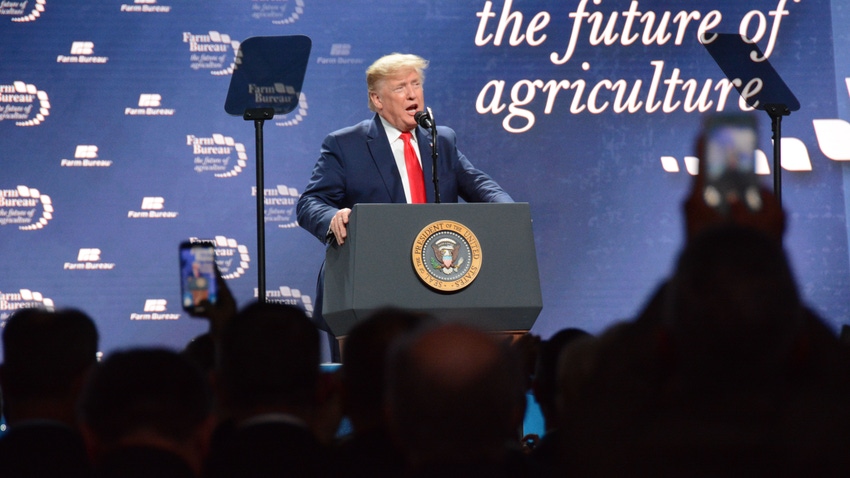 SUPPORT: President Donald Trump shared a recent Wall Street Journal poll with the crowd, saying, "83% of farmers and ranchers approve of President Trump. Who the hell are the 17%? Don't raise your hand, it may be dangerous."
Photo by Holly Spangler
President Donald Trump got right to the point as he addressed American Farm Bureau Federation members late Sunday afternoon, saying of the China trade deal, "I've told everybody you're going to buy a lot of land and you've got to get much bigger tractors right now."
Speaking for about 45 minutes during his third trip to the annual convention, this year held in Austin, Texas, Trump thanked farmers for standing by him and reiterated the administration's trade, regulatory and economic successes.
"We were stuck with one of the worst trade deals in history. They said we'll never get a deal done with China," he reminded the crowd, telling them the trade deal would be a "bonanza." Under the agreement, China promises to buy on average $40 to $50 billion in American agricultural products annually for each of the next two years, tripling U.S. ag exports to China. Trump pointed to a list of commodities that would benefit from the trade deal, including beef, pork, soybeans, poultry, seafood, rice, dairy, ethanol, eggs, animal feed, and biotech products.
Thanks to the words "on average," however, the deal leaves room for China to flex on import levels in 2020 and 2021, as AFBF economist Veronica Nigh explains in a recent market report.  You get an average of $40 billion with either $1 billion and $79 billion, or $40 billion and $40 billion.
Trump also touted USMCA, which was passed by the Senate last Thursday, saying it replaced "the catastrophe, the disaster known as NAFTA." Ag economists have said NAFTA had tremendous value for agriculture, allowing the U.S. to export $40 billion worth of agricultural goods to Mexico and Canada in 2018.
"I don't think the farmers have been in this position, maybe ever. I think China will go all out. It's much bigger and much better than I even thought we'd get," Trump told farm bureau members. "Most of all, the deal is very, very enforceable. That's something we negotiated the most."
Trump acknowledged that China targeted agriculture in the trade war, adding that he didn't blame them. However, he said, China had treated the U.S. unfairly in previous deals, and he believed previous administrations had treated agriculture unfairly in making those deals.
"Frankly, they [previous administrations] treated you stupidly. Stupid to put our grain farmers in this position," he said. "We are winning for our farmers and we are winning like never before."
Economic success
Trump claimed net farm income is up more than $30 billion, an increase of nearly 50% in three years, adding that "under the previous administration, net farm income plummeted by 20%." In fact, net farm income peaked in 2013 during the Obama administration.
The administration handed out $16 billion last year, and $12 billion the year before, to make up for lost trade war profits, totaling $28 billion over two years. They also distributed $9 billion in disaster relief and assistance to farmers, accounting for much of the $30 billion net farm increase Trump hailed during his speech.
"Farmers came to me and said 'we don't want anything. We just want a level playing field.' And now you have it," he said.
Trump said he believes better days – and better numbers – are to come, as his administration continues to "fix problems and clean up messes that others have neglected for decades."
The president also defended Market Facilitation Payment distribution formulas, saying payments also went to small farmers. "We have a formula that's working very well. If it's not, call me directly and I'll call Sonny and give him hell."
THREE TIMES: USDA Secretary Sonny Perdue introduced the president, saying, "When President Trump came to your convention in New Orleans last year and in Nashville the year before, he said he'd come back. He has kept his promise to you."
Impeachment mention
Trump took the chance to vent about impeachment, telling the crowd, "We're achieving what no other administration has ever achieved before. What do I get? I get impeached! But that's ok. The farmers are sticking with Trump."
That garnered a standing ovation, which was repeated when Trump hit on tax cuts and specifically the estate tax. "You don't have to worry about that anymore. There's no more estate tax. No more death tax. So good."
He also criticized "far-left" Democrats, saying they want to destroy farmers' way of life by adding regulations, reducing healthcare and raising taxes, and that they want to shut down oil and gas production in the U.S.
Trump garnered another standing ovation when he turned attention to the Waters of the U.S. rule that his administration overturned, noting, "When it comes to the environment, I will always trust a farmer over a bureaucrat or a left-wing extremist."
Get connected
Trump said his administration will soon award another $1.1 billion to improve rural broadband connectivity, and the FCC will soon vote on a plan to send another $20 billion to rural areas to improve internet access.
"It's about time. They take care of their cities but not you," he said. "We are putting the needs of farmers and ranchers first. We're putting America first."
The president closed his speech on a familiar theme, building up the agricultural audience for their values and work ethic.
"You embody the spirit that has always defined this magnificent nation. You look at an empty field in the dead of winter and you envision the spark of life in the peak of spring. You see differently than other people.
"Farmers have always been the keepers of our great American values. You champion the love of family and the glory of God. You teach your children to celebrate our nation, defend our freedom, honor our values, and to always respect and cherish our great American flag."
About the Author(s)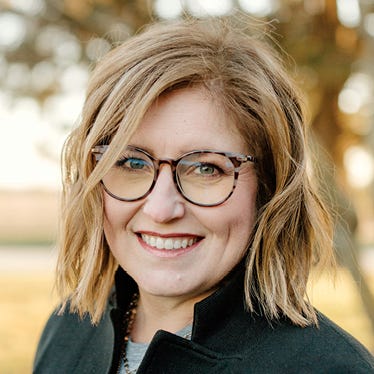 Senior Editor, Prairie Farmer, Farm Progress
Holly Spangler has covered Illinois agriculture for more than two decades, bringing meaningful production agriculture experience to the magazine's coverage. She currently serves as editor of Prairie Farmer magazine and Executive Editor for Farm Progress, managing editorial staff at six magazines throughout the eastern Corn Belt. She began her career with Prairie Farmer just before graduating from the University of Illinois in agricultural communications.
An award-winning writer and photographer, Holly is past president of the American Agricultural Editors Association. In 2015, she became only the 10th U.S. agricultural journalist to earn the Writer of Merit designation and is a five-time winner of the top writing award for editorial opinion in U.S. agriculture. She was named an AAEA Master Writer in 2005. In 2011, Holly was one of 10 recipients worldwide to receive the IFAJ-Alltech Young Leaders in Ag Journalism award. She currently serves on the Illinois Fairgrounds Foundation, the U of I Agricultural Communications Advisory committee, and is an advisory board member for the U of I College of ACES Research Station at Monmouth. Her work in agricultural media has been recognized by the Illinois Soybean Association, Illinois Corn, Illinois Council on Agricultural Education and MidAmerica Croplife Association.
Holly and her husband, John, farm in western Illinois where they raise corn, soybeans and beef cattle on 2,500 acres. Their operation includes 125 head of commercial cows in a cow/calf operation. The family farm includes John's parents and their three children.
Holly frequently speaks to a variety of groups and organizations, sharing the heart, soul and science of agriculture. She and her husband are active in state and local farm organizations. They serve with their local 4-H and FFA programs, their school district, and are active in their church's youth and music ministries.
Subscribe to receive top agriculture news
Be informed daily with these free e-newsletters
You May Also Like
---