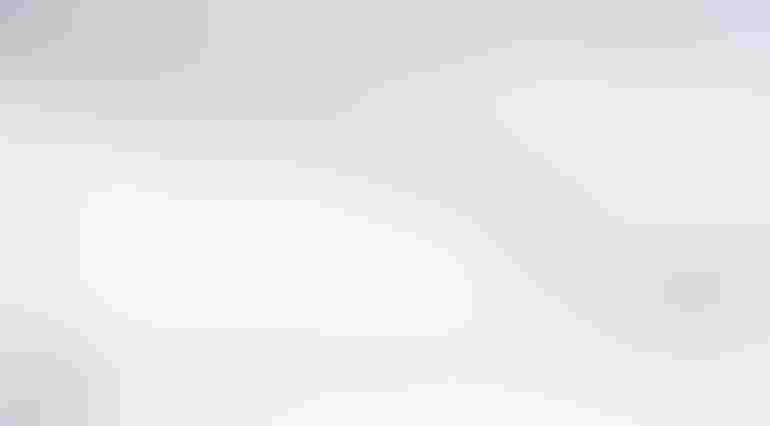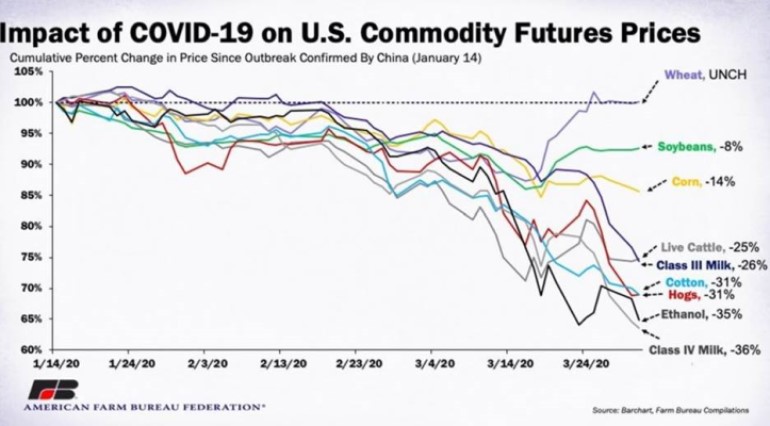 "After years of a down farm economy and damaging severe weather, the COVID-19 ripple effects are forcing farmers and ranchers to face heartbreaking financial realities," American Farm Bureau Federation president Zippy Duvall said during a call with three other farmers from across the country.
In the past month, dairy prices have dropped 26-36%, corn futures have dropped 14%, soybean futures are down 8% and cotton futures have plummeted 31%. Hog futures are down 31%. A surge in demand for beef emptied grocery store meat aisles, but there is no lack of supply. Despite a rise in retail prices in some areas, the prices paid to cattle ranchers have fallen 25%, Duvall said.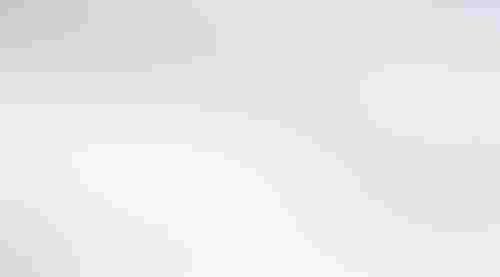 From dairy farmers with nowhere to send their milk and cattle ranchers reeling from plummeting beef prices, the impact of the coronavirus is rippling through farm country. Corn, cotton and soybean futures have tumbled, ethanol plants have been idled, and some fruit and vegetable farmers are finding their best option is leaving produce in the field.
Schools, restaurants and universities that were among the main purchasers of milk and milk products were suddenly shuttered, leaving dairy farmers with far more milk than plants are capable of processing. The sometimes-empty supermarket milk coolers reflect supply chain adaptation challenges, not lack of supply. Duvall said he spoke with Walmart executives, who noted that restrictions in the milk case of 1-2 gal. per customer are no longer posted in their stores, and he encouraged other stores to follow suit.
"The consumer demand pales in comparison in the dramatic drop from schools and universities to redirect to grocery stores," Duvall said. Experts do not expect retail demand for dairy to make up for lost foodservice and restaurant demand. According to Economic Research Service (ERS) data for 2007-10 (the most recent data), 25% of dairy is consumed away from home.
Speaking on a University of Illinois webinar on Friday afternoon, U.S. Department of Agriculture Chief Economist Robert Johansson said he expects domestic use of ethanol to fall by at least 10%, which is a pretty significant impact mostly due to the lower domestic gasoline usage. Johannsen said breakeven prices for ethanol were already in the red for most of 2020 and saw a more dramatic decline in the last month. He said China is expected to possibly increase its purchases of ethanol as part of the Phase One trade deal, but it is still soon to tell whether that will materialize.
Peter Bakken, a cattle farmer in Minnesota, shared on the Farm Bureau-hosted call that his rations consist of modified dried distillers grains totaling 25%, and he already needs to modify those rations because ethanol production is down so much. "[Feed] prices haven't gone up, but availability is a big concern," he said.
Although the Food & Drug Administration has allowed for waste food to be used for animal feed, James Alderman, a vegetable farmer in Florida, said with no feedlots near his farm, it's not economical to spend the money on harvesting and packing the vegetables, so instead he is letting vegetables rot in the fields.
He owns 12,000 acres of vegetable fields and warned that it may be warranted to limit vegetable and fruit imports from other countries, such as Mexico, which is competing against struggling U.S. farmers. He said U.S. food production is vital to national security, and just as seen with medical supplies from foreign suppliers, if not addressed, we "might be looking at getting all of our produce from third-world countries."
While the impact to agriculture has been acute and immediate on many fronts, there is more to come if farmers and ranchers are forced to downsize or stop farming and ranching altogether.
"There are millions of people involved in producing America's food supply. Fewer farms mean fewer farm workers, truck drivers, processors and manufacturers and potentially higher food prices – not today, maybe not even this year, but farmers won't be the only ones affected by the long-term agricultural impacts of the coronavirus pandemic if prices continue to drop and markets aren't restored," Duvall explained. "We're all in this together. No one is more mindful of that than farmers and ranchers who keep planting, harvesting and finding new and creative ways to ensure their products reach America's dinner tables."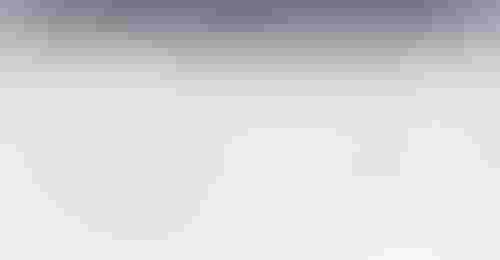 As highlighted by this chart, Johansson said there had been some optimism for agriculture following the signing of the Phase One deal with China, but the level of optimism has dropped considerably now.
Subscribe to receive top agriculture news
Be informed daily with these free e-newsletters
You May Also Like
---