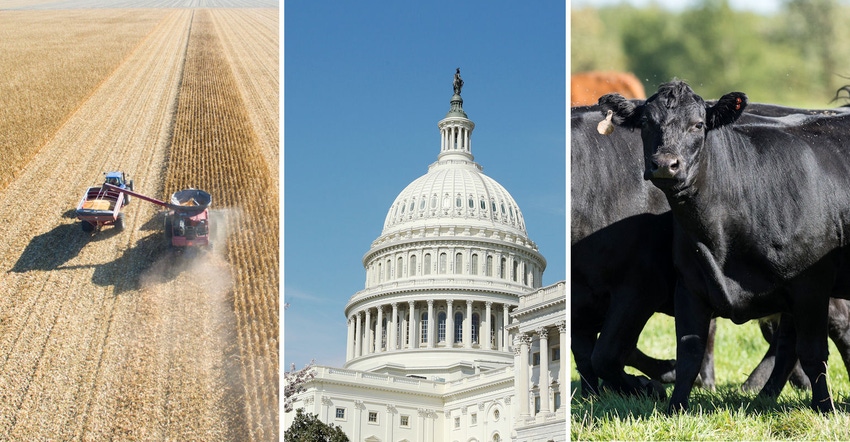 NolanBerg11/flySnow/SteveOehlenschlager/ThinkstockPhotos
Missed some agricultural news this week? Here's a quick look at seven ag stories you might have missed.
1. Agriculture Secretary Sonny Perdue heard from farmers frustrated by hurricanes and a trade war on a visit to North Carolina. – WRAL
2. Francisco Sanchez-Bayo from the University of Sydney, Australia, and Kris Wyckhuys from the China Academy of Agricultural Sciences in Beijing, reviewed 73 historical reports of insect declines around the world to determine what is driving the decline and potential future impacts. The main factors influencing insect numbers were identified as habitat loss and biological factors. – European Scientist
3. Sen. Debbie Stabenow, D-Michigan, ranking member of the Senate Ag Committee, urged lenders to estimate the farm bill benefits as they work with farmers to analyze their financial needs for the upcoming year. A farm bill listening session is Feb. 26 in Washington, D.C. USDA is seeking public input on the changes to existing programs. – Feedstuffs, American Agriculturalist
4. Bulgaria has confirmed a new case of African swine fever in a wild boar. Bulgaria reported its first outbreak in August. More than 1 million pigs in China have died from African swine fever since the disease was first detected there in August. – Reuters, South China Morning Post
5. A start-up company based in Seattle, Wash., hopes to establish a market for buyers and sellers of Carbon Removal Certificates with a long-range goal of helping reverse climate change. – Kansas Farmer
6. Missouri farmer Adrian Cox is retiring from corn yield contests, so he's passing along some advice. The farmer raised 318 bushel per acre corn in a drought year. He planted Dekalb Disease Shield DKC64-35RIB Brand Blend. – Missouri Ruralist
7. Retired Col. David Dworak says farm leaders can learn a lot from the decisions made by Union and Confederate generals during the Battle of Gettysburg.  – American Agriculturalist
And your bonus.
A doctoral student in the Department of Earth and Environment at Boston University has been mining data to study green vegetation on the Earth's surface. He says China and India have been getting greener. In India, the greening is due to an expansion of irrigated agriculture. In China, it's due to a massive reforestation effort. - NPR
Subscribe to receive top agriculture news
Be informed daily with these free e-newsletters
You May Also Like
---