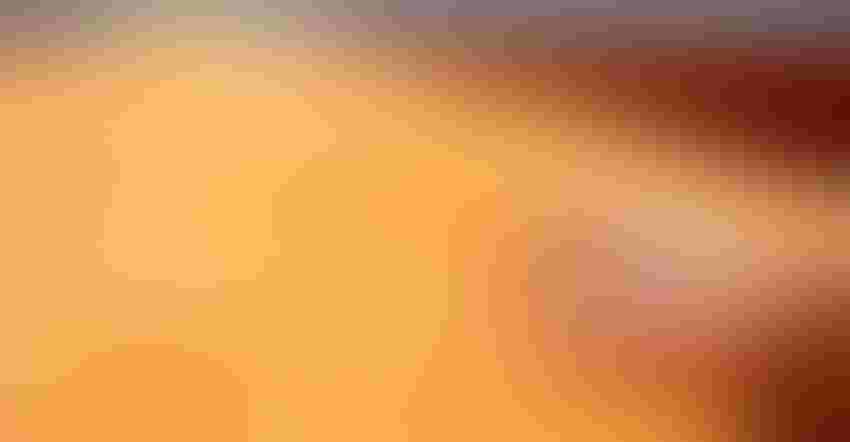 REACHING FOR MORE: Adrian Cox learned years ago that growing corn takes attention to detail. Getting more out of corn takes even more management centered on making every kernel count. He offers his yield contest winning strategy.
stevanovicigor/Getty Images
Adrian Cox entered his last National Corn Growers Association yield contest. The Trenton, Mo., farmer turned in the highest nonirrigated corn yield for the state with just more than 318 bushels per acre in a drought year. While it is not his first time winning the national contest, it is his last.
Cox is not retiring from farming, just contests.
"It is fun to push that piece of dirt and see what you can get out of the land, but I'm at the point in my life where I don't have anything to prove anymore," he says. "I want to see what the next generation can do."
So, Cox is offering 10 decisions that are part of his high-yielding, contest-winning, corn production strategy:
Restore the nitrogen. Since this is high-yielding ground, much of the nitrogen is taken up by the plant. Therefore, it needs to be replenished. Cox does one preemergence application of 300 pounds of anhydrous ammonia in late February or the first of March.

Seed treatment. Corn seed is treated with Invigor8 from Genesis Ag. "It helps with emergence," Cox says. He also uses Amplify-D, a Conklin product, in place of graphite as a seed lubricant in the planter box. It offers an additional micronutrient pack for seed.

Plant according to soil temperature. Cox buries a soil thermometer in his contest field and monitors it. When temperatures start to rise, he makes a note when it reaches 50 degrees F. Typically, he starts planting in surrounding fields and returns to the contest field. "I let it get a little warmer than others," he says. Last year, the winning field was planted March 23.

Never plant contest field first. When it comes to planting, Cox says it is 50% the machine and 50% the operator. "I want to work the bugs out on the other fields," he says, "not the contest field." He will adjust planters, electronic devices and pressure settings. He sows the contest field about midway through the planting season.

Planting rate. Cox aims for higher planting rates about 35,600. Last year, his stand was not perfect with only 34,000 standing. He wants the planting rate to equal emergence rate. However, that is not always the case. Cox then looks at weather and planter to determine if something went wrong. "I like it to be in the mid-35,000s," he says.

Starter fertilizer with a kick. At planting, Cox uses a starter fertilizer from Agri-Solutions, Inc. — 6-24-6-1-Zn. "It has a little bit of sulphur and zinc," he says. Into that, he mixes Genesis Ag's Zenergy, an in-furrow corn biological, Enviroboost, which supports plant biology, and Carbose, a sugar source. "This mixture gets the plants off to a good start," he says.

Early-season weed control. After emergence, Cox applies Halex mixed with atrazine for weed control. He likes it put on earlier when the corn plant is small but admits it all depends on the weather. This application is the final tire trip across the field.

Midseason plant boost. In June, Cox flies on a mixture of Carbose for a sugar lift, VitaNterra with organic acids such as humunic and fulvic acid, and Microboom, a complex micronutrient package. "At this point, everything is done with a plane," he says. There is another application in July.

Late-season push. In summer 2018, drought took hold of much of Missouri. For the first time, Cox put on two applications of Cryptomyte, one in July and the other in August. At $35 per acre, he admits to being a little concerned given the dry conditions. The Cryptomyte added test weight to field — quite a bit. "This kernel was so full of life at the end of the growing season there was hardly any dent," he says. "The outside edge of the kernel was flat. The corn weighed almost 61 pounds."

Harvest check. Cox harvested the contest field early — Sept. 27. Typically, he likes to shell corn in October, but the crop was planted thick, and he was concerned about stalk quality because of the drought. Cox says farmers should take cues from the plants when determining optimum harvest date. "The corn came out of the field at 16% moisture," he says. "So, this year, early harvesting worked."
Cox says he is anxious to see the next generation build on the strategies of today. "I think it is about taking a younger person and making them passionate about getting the most out of their fields," he says. "It will be fun to see what they add to the mix to make production better."
Subscribe to receive top agriculture news
Be informed daily with these free e-newsletters
You May Also Like
---