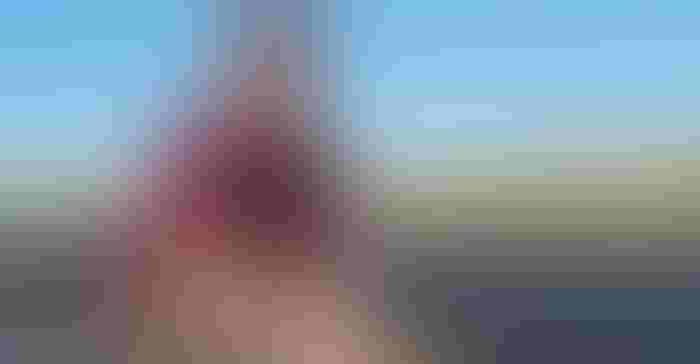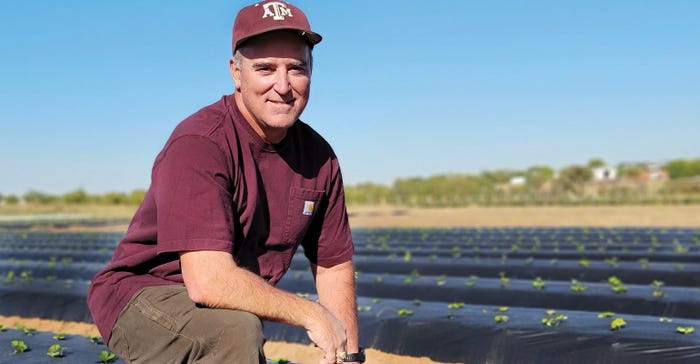 Tim Sutton owns and operates Goober Bub's Orchard and Bakery with his wife Jeanna. They grow strawberries and blackberries and farm honeybees. "I like growing stuff and being outside. That's why we love doing this," Sutton said. Shelley E. Huguley
Family vacations are where memories are made. But rather than only reminisce, Tim and Jeanna Sutton are replicating the sweet moments shared with their children years ago at their newly established Goober Bub's Orchard and Bakery, a "u-pick" strawberry and blackberry farm near Justin, Texas. 
"We used to take our kids to a camp outside of Branson," Tim recalls. "There was a 'pick your own' blueberry place. It's still there — Persimmon Hill Blueberry Farm. We would go and have a big blueberry muffin, a Thunder Muffin, and just enjoy being outside. We went every year. I thought, God, this would be so much fun to do and a lot better than sitting in front of a computer every day. My wife got tired of me watching YouTube videos and said, 'Why don't you just do it?'"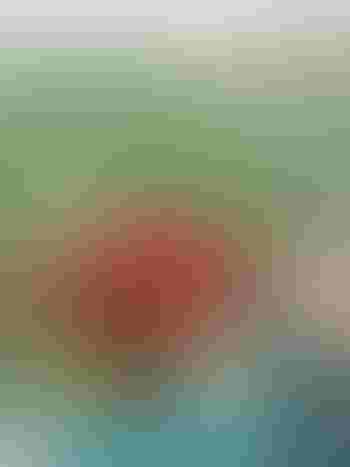 Strawberries ready for picking at Goober Bub's last spring. (Photo by Goober Bub's Orchard & Bakery)
And so, they did it. But rather than grow blueberries, which require a lower soil pH than what's in their region, the Suttons chose strawberries and blackberries, along with adding their 30 honeybee colonies to the operation, which help with pollination.  
Goober Bub's 
In the summer of 2020, with half a down payment on thousands of strawberry plants, a prospective farm and a whole lot of faith, Goober Bub's was born.  
"I had to order my plants at the beginning of July, a month before we owned any property, because that was the deadline to get the plants. I didn't have water and I didn't have electricity or any of those things that usually come in handy," Tim jokes. 
They didn't have equipment, either. "But we ordered plants anyway — 30,000 plants — all of which arrived before the land was closed on." By August, the land was theirs and the Suttons, with the help of their children, Bailey and Lance, and his wife Joy, Bailey's husband, Tyler, and volunteers, planted their first strawberry crop in October, including six strawberry varieties. The 1,200 blackberry plants were planted the following winter in February. 
"It's a family affair," Tim said. And for now, a Saturday/Sunday operation. "We can't plant until the weekends. My wife teaches, my daughter teaches, and my son works for an investment company." And during the week, Tim is a salesman for Hewlett Packard. He said the farm "is my five-to-nine job. It can be 5 to 9 in the morning or 5 to 9 in the evening. But this is what I love." 
Challenges  
The Suttons opened Goober Bub's to the public April 16th, the third Saturday in April. But like anything new, the learning curve was steep and as is all-too familiar in farming, weather was their biggest foe.  
"We may have been able to open earlier, except we had a late-March freeze which killed all the blossoms that were currently on the plants. And then in April, we had a hailstorm. So, my initial strawberries were bruised because of the hail.  
"It's farming... that's what they tell me," he said. 
He also learned that deer like strawberries as well. "I lost probably 5,000 of my 30,000 plants, or at least the initial growth, to deer damage. They like the young foliage. They chewed them up. They got in in November and I couldn't keep them out." Sutton has since installed an electric fence.  
Supply chain issues further complicated matters. "My preference was to find slightly used equipment just because new equipment's so expensive. It was tough to find any," he said.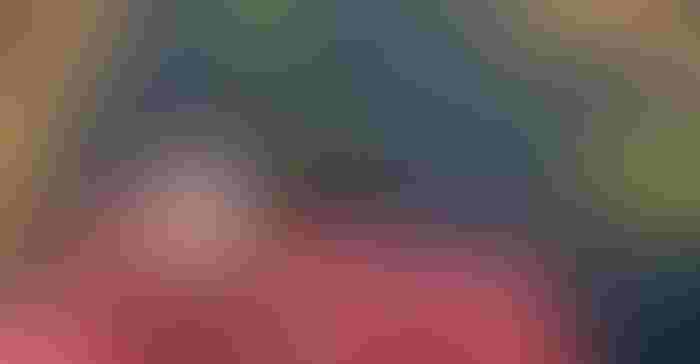 Goober Bub's sells homemade jalapeno strawberry jelly and t-shirts in addition to strawberries, blackberries and honey. (Photo by Shelley E. Huguley)
Tim located a tractor but before he could purchase it, it was sold.  "I missed out on that," he said, adding that once the plants arrived, he knew he had to "grab the first thing" he could.  
"I was looking for something that was three or four years old that I didn't have to work on. I'm not a diesel mechanic," Tim admits. "I'm not a real farmer yet. I don't know how to fix everything."  
The cost of freight for supplies also weighed heavily. From the plants to equipment to irrigation supplies, "all that had to be shipped and freight charges were a lot higher than they've ever been." 
See, Agritourism, a 'growing' industry in Texas
The plants are purchased from a grower in Carbondale, Illinois, who first purchases the tips from a Canadian producer. "They put those in the trays and finish out or grow those tips for about four weeks. Then they come to us as plug plants.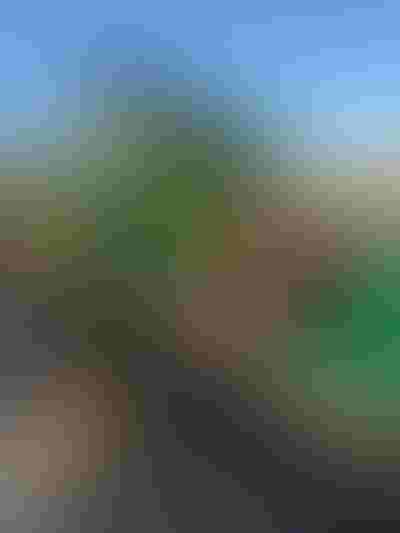 Annie Sutton, bottom left, watches her dad, Lance Sutton, left, and her Aunt Bailey Pirtle, plant strawberries this fall while her grandfather, Tim Sutton (aka Bub), drives the tractor. (Photo by Goober Bub's Orchard and Bakery) 
"The grower in Illinois drives them down. We're their last deliveries because they take care of other parts of the country first that have an earlier planting date than we do." 
See, Ranch offers 'quintessential Texas experience'
As with any commodity, timing is essential. The strawberries are planted in the fall, so they'll bear fruit in the spring. "But you want the plants to be the right size to produce just the right amount of strawberries, big strawberries. If you plant them too early, the plants get too big, and they produce a lot of small strawberries." 
Production 
Before the plugs are planted, the Suttons run a raised bed maker with two large shovels on the front. "We make two passes. One just to make the raised dirt bed and then the second pass lays the plastic and also the drip tape."  
Next, the strawberries are planted using a water wheel planter, the 1670 Rain-Flo Transplanter, which houses two 80-gallon tanks filled with water. "The water goes down into these wheels which roll along and punch holes through the plastic, and then also fill the holes with water. Then you've got two seats, and behind those, two more seats, where you've got four people riding along close to the ground, putting plants in as quick as possible. We have four people planting, and three or four people taking the plants out of the trays and tossing them onto the plastic. So, the only thing the people riding in the chairs have to do is put them in the ground," Tim said. "With four people we're planting a plant every second."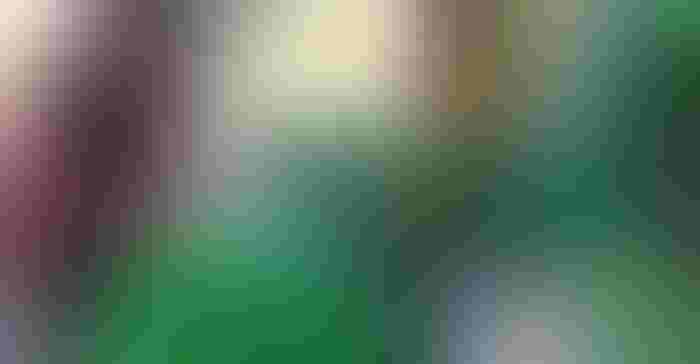 The 1670 Rain-Flo Transplanter is used to plant the strawberry plugs. As the two wheels turn, the metal triangles poke holes in the black plastic where the plugs are placed and water is injected into the holes. (Photo by Shelley E. Huguley)
Tim admits it's hard work but "it's also great family time." 
The strawberries are annuals, so they will be replanted each year as well as the plastic and drip installed and removed each season.  
Resources 
As Tim reflects on his first year of production, he said he's surprised at the resiliency of strawberry plants. "I had no experience. They went through very hard freezes, a hailstorm and still survived me. I'm sure I made a lot of mistakes."  
He credits resources such as Texas A&M AgriLife Extension and Research, the University of Arkansas, the MidAmerica Strawberry Growers Association as well as other strawberry growers for helping him navigate his new venture.  
See, Agritourism thriving in Oklahoma 
"On our trips to Branson, that was part of my research I did over a couple of summers is I went and talked to a couple of other growers in and around southwest Missouri and northwest Arkansas. They've been a great resource."  
Despite Goober Bub's initial challenges, the Sutton family welcomed guests last spring, selling strawberries by the pound. People are looking for activities, an experience, Tim said.  
"They are amazed to find that strawberries grow on plants and not in plastic containers. Most people have never seen that before." 
Much like the harvest sentiment on a large commodity farm, guests get to experience the "feeling" of harvest on a smaller scale as they pick their own strawberries. "That's what we do every weekend is have a family harvest but at the individual level," Tim said. 
For more information about Goober Bub's and when they are open for picking, follow them on Facebook or Instagram or their website.  
Subscribe to receive top agriculture news
Be informed daily with these free e-newsletters
You May Also Like
---