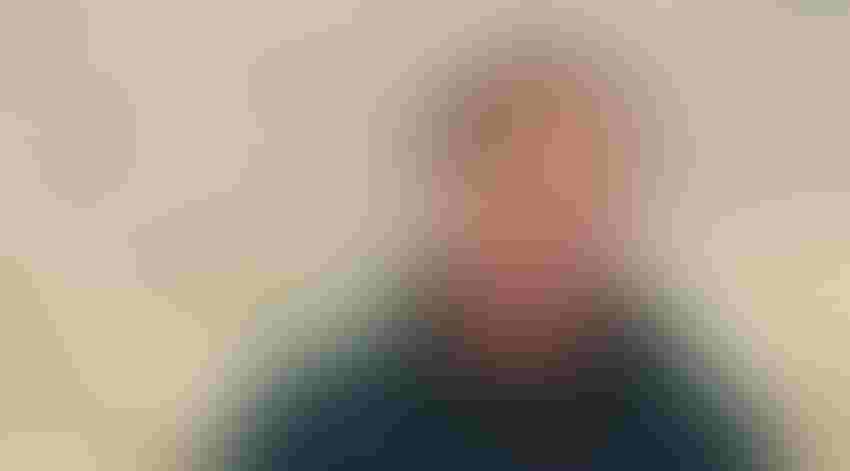 Chris Pannkuk, a former Washington State University international specialist, stands in a village near Ghazni, Afghanistan, in the early 2000s. He conducted projects there for a Danish relief agency and WSU from 2002-2016.
Chris Pannkuk
Chris Pannkuk has worked as an agricultural development specialist in numerous areas of conflict around the world, including Iraq, Syria, Armenia and Azerbaijan. Lately, his heart is with people in Afghanistan, where he helped farmers for 15 years.
He first arrived there in 2002 as part of a "Future Harvest Consortium" doing initial soil and water assessments in Kabul. The following year, he set up weather monitors at provincial research stations in the war-ravaged nation and began an agricultural development program there at the request of a Danish relief agency.
He later joined Washington State University's faculty and worked with other U.S. land-grant universities and international organizations to develop research capabilities at universities in Afghanistan. They collaborated on numerous grant-funded projects over the years, working in rural communities and villages to build an Extension program, teach farmers to grow alternative crops and create career opportunities for women.
Like many of his colleagues, Pannkuk watched with chagrin at the speed at which the Taliban retook the country after a 20-year U.S. military and humanitarian presence, sending many of the Afghan citizens he befriended into hiding.
Related: Extension programs scramble to save Afghan partners
"I'm very skeptical of the Taliban," said Pannkuk, now a semi-retired consultant in Moscow, Idaho. "I've been there and worked through that whole thing, and you heard lots of stories working in areas of Afghanistan where there's low security."
Pannkuk spent much of his time around Jalalabad in eastern Afghanistan, and the road to the capital Kabul was "always a little dicey" because of the threat of Taliban insurgents, he said. He was stranded on that road on April 22, 2004 – the day NFL star-turned-soldier Pat Tillman was killed by friendly fire about 50 miles away.
"We never had armed guards to get around the country," he told Farm Progress. "We just relied on our partners to make sure we were safe. Nobody was ever accosted, but that said, we have a lot of Afghan friends who were kidnapped by the Taliban."
Compiling lists
Pannkuk is among dozens of university officials across the U.S. that have been hastily compiling lists of their many fellow workers and partners in farmer outreach programs in Afghanistan to submit to the U.S. Agency for International Development as potential refugees.
Other universities working in Afghanistan included the University of California, Davis, Texas A&M, Purdue University, Michigan State University and the University of Maryland.
The universities' grant-funded projects were among nearly $3.9 billion in U.S. humanitarian aid given to Afghanistan since 2002, including more than $543 million since fiscal year 2020, according to The Associated Press. Much of the work centered around agriculture, which employs more than 80% of the nation's labor force and generates more than 40% of its economic output, the UC has explained.
With the hardline Taliban back in power, any Afghans who worked for or with Western institutions are in danger, officials say. Pannkuk said the number of refugees affiliated with the universities could approach 10,000.
"It's a really hard situation," he said.
Crop development
Pannkuk was director of international research and agriculture development at WSU, which had faculty in Afghanistan from 2006-17. He took part in five separate development projects in that country before semi-retiring in 2016.
He and others helped growers find alternatives to poppies, which were used for the opium trade that funded Taliban activities. They built the capacity of Afghanistan's Ministry of Agriculture, Irrigation and Livestock, whose officials toured agricultural facilities on the U.S.' West Coast in 2015.
Pannkuk worked closely with Jim Hill, the now-retired associate dean of international programs at UC Davis. Leading one project from 2009-17, UC Davis helped Afghanistan's agriculture by supplying grapevines, providing market surveys, introducing livestock producers to new technology and forage-monitoring systems, and creating an e-Afghan Ag website to support agricultural development. Hill visited the country for short periods four or five times a year, he said.
The nascent Extension system in the war-torn nation assisted growers in improving both crop and livestock production.
"It was a wide range of things, from forages, which are absolutely critical to livestock production, to pistachios, which are a big crop for them," Hill told Farm Progress. "For example, they were using natural populations of pistachios, but we only need one male tree for every 15 or so females. One of the things we did was help them with grafting … to increase their pistachio production."
Hopes and fears
Hill holds out hope that most of the growers helped by the Extension program will stay on their farms.
"I think in the whole, they will continue to use some of the technologies that we provided for them," he said. "I'm sure in the forage area, they'll continue to use crop rotations to improve the soil, improve production and forages. In the more peri-urban areas, we did a lot of horticultural crops for their local markets."
Pannkuk said he expected Afghanistan's social system to revert to the way it was before the Taliban last seized power in the 1990s, when women were able to get an education. With the Taliban's resurgence, he worries most for the people he worked with in Afghanistan's agricultural ministry, he said.
Subscribe to receive top agriculture news
Be informed daily with these free e-newsletters
You May Also Like
---