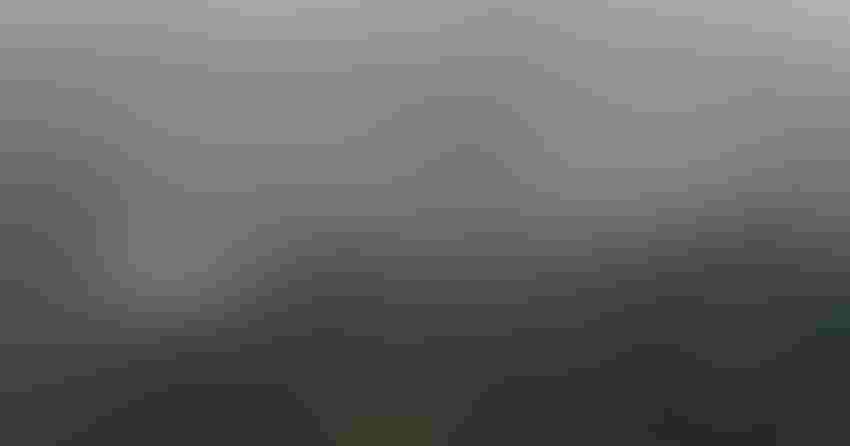 A US military helicopter is pictured flying above the U.S. embassy in Kabul on Aug. 15, 2021. Several hundred employees of the U.S. embassy in Kabul have been evacuated from Afghanistan, a US defense official said on Aug. 15, as the Taliban entered the capital.
WAKIL KOHSAR/AFP via Getty Images
Land-grant universities throughout the U.S., including two on the West Coast, are hastily compiling lists of their many workers and partners in farmer outreach programs in Afghanistan to submit as potential refugees as the rapid re-emergence of the Taliban has put their lives in peril.
The University of California, Davis, led a consortium that also included Washington State University and several others from 2009-17 to help Afghanistan strengthen its agricultural Extension system and stabilize its agriculture-based economy. The project is one of many led by U.S. institutions and nonprofit organizations related to ag in the war-torn country, and some were still ongoing until recently.
The universities – which also include Texas A&M, Purdue University, Michigan State University and the University of Maryland – are preparing thousands of names of prospective evacuees to submit to the U.S. Agency for International Development. The people, about 20% of whom are women, are mostly Afghan citizens who've worked for or with the universities and are now in hiding, said Jim Hill, a retired associate dean of international programs for UC Davis.
"Anyone who had in their background any employment with a U.S. organization is at risk," Hill told Farm Progress. "We're actually in touch with some of them through email. They're hunkered down at friends' houses right now, and they're very much afraid."
Up to 10,000 refugees
Chris Pannkuk, a consultant in Moscow, Idaho, who was WSU's director of international research and agriculture development, said he has come up with a list of about 125 people and their families who were colleagues on the UC Davis-led project alone. And he was involved in four similar projects at WSU, each with their own lists.
"From all these projects in the whole consortium of universities, if it's not 10,000 people I'd be surprised," Pannkuk told Farm Progress. "There were a lot of us out there."
He said he's heard in recent days from numerous former colleagues who are still in Afghanistan, and he's losing sleep worrying about them.
"I don't know how they're going to work this out getting visas for these people," he said. "How they're going to get from the provinces to the (Kabul) airport still sounds a little dicey."
The universities' grant-funded projects were among nearly $3.9 billion in U.S. humanitarian aid given to Afghanistan since 2002, including more than $543 million since fiscal year 2020, according to The Associated Press. While much attention has been paid to the Afghan interpreters who helped American troops, the USDA, USAID, nonprofit organizations and others provided or hired thousands of workers focused on developing the nation's infrastructure, educational and agricultural sectors, the AP noted.
Agriculture in Afghanistan employs more than 80% of the labor force and generates more than 40% of the country's economic output, the UC has explained.
The resurgence of the Taliban after the 20-year U.S.-led military operation has created an estimated 80,000 Afghan refugee candidates, of which the Pentagon announced it can take 22,000, according to Newsweek. In addition, some 15,000 American citizens remained in the country as of Aug. 18, according to NBC News.
Developing farmland
Among the would-be Afghan refugees are about 350 employees of Roots of Peace, a San Rafael, Calif.-based nonprofit that has been working to turn conflict zones into farmland, San Francisco's KRON-TV reported. CEO Heidi Kuhn told the station she's sent letters asking President Joe Biden for help in getting them out.
There were already nearly 2.5 million registered refugees from Afghanistan, comprising the largest protracted refugee population in Asia and the second largest in the world, according to the United Nations.
One of the key players in the humanitarian effort in Afghanistan since 2003 has been UC Davis, which helped the nation's agriculture by supplying grapevines, providing market surveys, introducing livestock producers to new technology and forage-monitoring systems, and creating an e-Afghan Ag website to support agricultural development, according to the university.
The Afghan region is a "center of origin" for many important crops on the U.S. West Coast, including grapes, almonds and walnuts, the UC's Hill said.
"They grow a lot of citrus there, although it's not the center of origin for citrus," he said. "They produce a lot of the crops that we produce here, but their technology is just rudimentary."
In their latest project, funded by the USDA's National Institute of Food and Agriculture, UC Davis, WSU, Purdue and others worked to develop a viable and credible agricultural extension system in Afghanistan. Hill led the cooperative effort, collaborating with Afghanistan's Ministry of Agriculture, Irrigation and Livestock, but most of the work on the ground was done by Afghans.
"We had hundreds of field days," Hill said. "I have no doubt in my mind that we made significant contributions, but in a small way when you compare it to the agriculture we have here. There were clearly improvements in what they were doing."
About the Author(s)
Subscribe to receive top agriculture news
Be informed daily with these free e-newsletters
You May Also Like
---