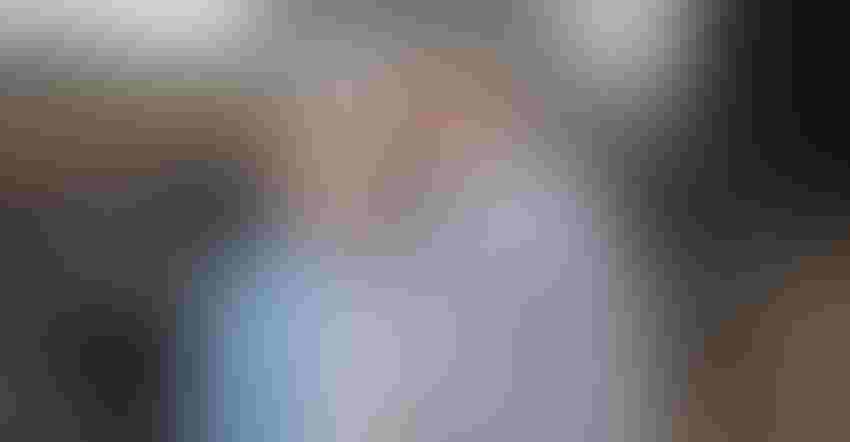 WORKING TOGETHER: Both Deb and Greg Smoker are involved in feeding and doing chores to make their Wanatah, Ind., cattle operation successful.
Photos by Tom J. Bechman
When Greg and Deb Smoker officially receive the Master Farmer award on July 19, it will be only the second time in the modern era that three generations of the same family have earned the award in Indiana. Today, the Master Farmer program is co-sponsored by Indiana Prairie Farmer and the Purdue College of Agriculture.
Greg's father, James, received the award in 1996. Greg's grandfather Dwight was named a Master Farmer in 1972. The only other three-generation recipients are the Becks: Scott (2007), Sonny (1979) and Francis (1972.)
Related: Welcome Indiana's new Master Farmers
Just because Greg's grandfather and father established the farm in the cattle and crops business doesn't mean it was easy sledding for Greg and his wife, Deb. Greg joined the operation just as the ag economy peaked and was beginning a downward slide into the 1980s.
Several years later, when Greg and Deb were operating the farm, older cattle buildings — innovative when they were built by Greg's father and grandfather — needed significant repairs or replacement. Managing through those challenges required lots of hard work and a sharp pencil to eke out a profit.
Related: What others say about Greg and Deb Smoker 
Smoker Farms along U.S. 30 east of Wanatah, Ind., is known for its large, older white barn and the feedlots situated behind it. Today, there are five monoslope buildings for feeding out cattle. The Smokers feed out about 2,000 head per year. In the past, lots of Holstein steers were fed out on the farm. Now, they typically stock the feedlots with dairy and beef breed cross cattle. Calves usually enter the feedlot at 400 to 500 pounds and leave about 330 days later at market weight.
"We developed ration programs on DOS-based computer programs in the 1990s, and we still use those older programs today," Greg says. "At one time, we acquired and fed lots of leftover food products, like cereal or candy bars. Today, we stick to normal feedstuffs, but still use computer programs to arrive at least-cost rations."
Deb is a hands-on partner in both the livestock and crops operations.
"I help feed and do chores each morning," Deb says. "My job in the fall in the field is driving the grain cart."
Greg adds, "Deb and I work together as partners around here, whether it's feeding cattle or bouncing ideas off of each other."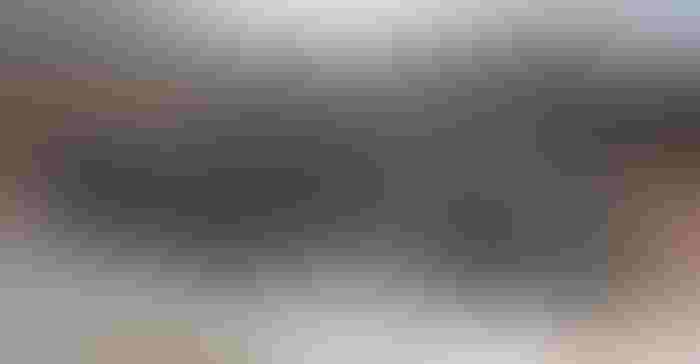 FAMILY TRADITION: Raising cattle in feedlots has been a tradition at Smoker Farms, dating back to Greg's grandfather Dwight Smoker.
Both agree that one key to navigating their way through challenging times has been relying on input from a team of talented advisers. The Smokers were using farm consultants before farm consulting was cool.
Their team includes Tom Peters, a nationally recognized beef nutritionist; Dr. Tom Troxel, a veterinarian and adviser on animal health issues, including building design; Temple Grandin, who provided advice on designing loadout and vaccination facilities; and staff at Purdue's Animal Disease Diagnostic Laboratory.
Growing crops and seed
Greg and Deb believe adding value is the name of the game when it comes to raising crops. They have grown seed corn for Pioneer for many years on several fields where they invested in irrigation. Many soils in their area are sandy. Seed corn produced on the farm is typically processed at the Pioneer seed facility near Plymouth.
Their son Jacob, who joined them in the farm business, provides management on the crop side of the operation. Besides seed corn, they grow non-GMO corn for specialty markets and non-GMO soybeans for premiums.
"We're always looking for ways to diversify the cropping mix, so we're always seeking new opportunities," Greg says. "Growing non-GMO crops means you must pay careful attention to weed control. We have weeds like Palmer amaranth here, and you can't let a weed like that get a foothold."
Greg and Deb Smoker at a glance
Age: 63 (Greg)
Location: Wanatah, LaPorte County, Ind.
Beginning: Greg entered farming working for his dad for wages. One of his earlier memories is of his dad sneaking him out of the house at age 6 to rotary-hoe corn without his mom knowing.
Farm today: Greg and Deb feed out 2,000 head of cattle annually in five monoslope feedlot barns. Both are actively involved in feeding and daily chores. They're shifting to feeding out Holstein-beef breed crosses. Their son Jacob, now part of the operation, spends more of his time on crops. They grow 700 acres of seed corn for Pioneer, and non-GMO corn and non-GMO soybeans for premiums.
Children: Jacob and wife Jill, Wanatah; Matt, automotive service adviser, and wife Jennifer, Wanatah; Joe, Army Reserve, and wife Madalyn, DeMotte, Ind.; Melissa, elementary school teacher, and husband Jacob McGough, Battleground, Ind.
Full-time employees: Steve Bos, Zachary Lindborg and Denny Leek
Leadership activities: Greg and Deb are active in Indiana Farm Bureau, where Greg served on the state livestock policy committee and Deb helps with Ag in the Classroom. They've hosted numerous local, state and international visitors. When they grew cucumbers, they cooperated through the Society of St. Andrew so volunteers and FFA members could glean fields, donating cucumbers to food pantries. They're involved in church activities and have supported 4-H dairy feeder steer projects locally and statewide.
Nominator: Jacob Smoker, son
Notable: Deb was an Extension 4-H youth educator and later became a teacher. She was instrumental in the decision to offer vocational-agriculture classes and FFA at South Central High School.
Subscribe to receive top agriculture news
Be informed daily with these free e-newsletters
You May Also Like
---