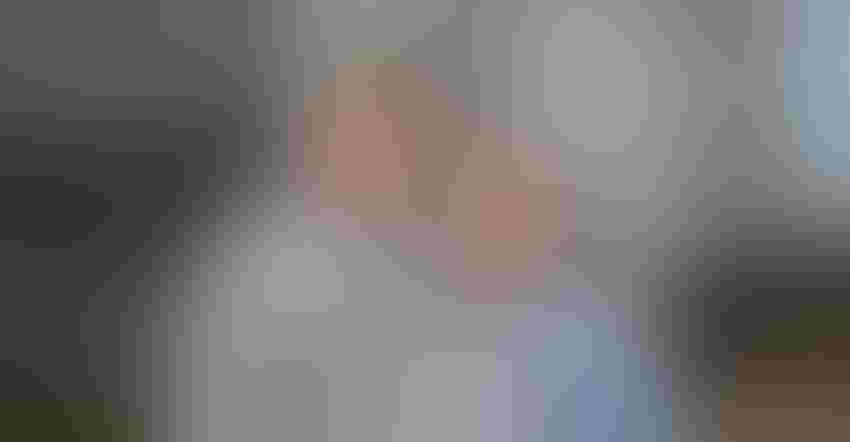 COMPLETE TEAM: Greg and Deb Smoker do many things together, including daily chores for their large feedlot and whatever it takes to keep the crop operation humming.
Tom J. Bechman
If you want to learn about a farm couple, listen to what others say. When you do that for Greg and Deb Smoker, you get a picture of people you want to be your friends and neighbors. When you meet them in person, you truly feel like they've been your friends for life.
Their son Jacob nominated them for the Master Farmer award, but from comments included in their letters of support, it's likely he could have found plenty of others to nominate them as well. They get the honor of being nominated by their son.
Related: Smokers continue legacy of success 
Thomas Peters, Oregon, Ill., has worked with the Smokers as their consulting nutritionist for their cattle operation for almost 30 years. "I work with feedyards in nine states and five countries," Peters says. "However, the Smoker feedyard is one of my favorite places to consult. … Open-minded and thoughtful in the farm actions, these are people who adapt and are perceptive to challenges and constant change. It amazes me that this farm is located so closely to municipalities and urban sprawl; thus they are cognizant of pressures and perceptions of non-farm people trying to impact, often negatively, agriculture."
Peters also notices how closely Greg and Deb work together. "[They] work 'hand-in-hand' on daily operations: cattle feeding, treatment, movement and management," he says. "Deb can daily be seen mixing and delivering feed in the feed truck to cattle."
Keith Baker is a longtime seed supplier to the operation. "The Smokers always make you feel like our business relationship is more of a partnership," he says. "Seeking questions on how they can improve and implementing the plan is quite rewarding for both of us.
"Legacy — that's the Smokers. Greg and Deb are following the legacy of Greg's grandfather and father. They are continuing that legacy proudly to the next generation. And with grandkids, maybe [to] a fifth generation!"
More comments
Perhaps nobody knows a farm couple better than a trusted veterinarian. "Greg and Deb have a partnership that I admire," says Tom Troxel, owner of South County Veterinary Services, Hanna, Ind.
"They stay informed on the issues of farming and animal agriculture and are so progressive in keeping optimal records, following protocols and reaching out for expertise."
Troxel appreciates how the Smokers relate to their community too. "Instead of hiding from their community, they opened their farm to the public many times," he says. "This has strengthened the valuable working relationship that LaPorte County's ag community has with its public servants."
The level of trust, respect and communication Greg and Deb share impresses their lender, Amy Brouillette. "Greg and Deb operate as a team, openly challenging each other, so together, they can make the right decisions for their operation and grow in an industry that's ever-changing," she says.
Victoria Ubben, now living in Santa Fe, N.M., says most of what she understands about farming is because of three years she was a pastor in Wanatah, Ind., working with Greg and Deb. "They have committed not only their lives to farming, but to educating others about the value of and the business of farming in Indiana," she says. "They are dedicated to farming, and support Indiana agriculture in many ways. They educate others, share with those in need, provide [memorable] experiences for people and partner with established groups. This is what Indiana farming looks like to those new or unfamiliar with the business of agriculture."
Subscribe to receive top agriculture news
Be informed daily with these free e-newsletters
You May Also Like
---